Beyoncé Pregnant With Twins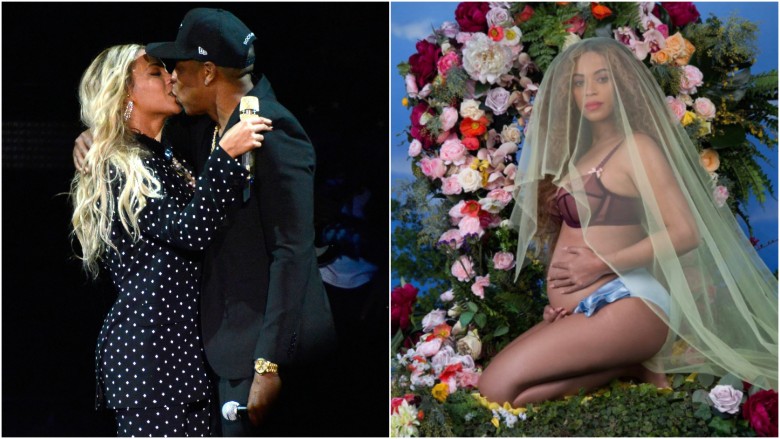 Getty Images
Blue Ivy is going to be a big sister twice over—Beyoncé, 35, is pregnant with twins!
The "Flawless" singer announced the news on Instagram on Feb. 1, 2017. "We would like to share our love and happiness," Queen Bey captioned a snap of herself cradling her baby bump. "We have been blessed two times over. We are incredibly grateful that our family will be growing by two, and we thank you for your well wishes." She signed the post: "The Carters," representing her husband, 47-year-old rapper Jay Z (real name Shawn Carter.)
Rumors of a second pregnancy have been brewing since daughter Blue Ivy was born in 2012, but until now, that chatter was unfounded. In late January 2017, the baby whispers grew louder, and on Jan. 27, 2017, the singer was featured in a video ad for her Ivy Park clothing line, rocking a green hoodie that instantly triggered baby bump rumors. The video was removed within hours of the speculation, but as The Hollywood Gossip reports, screenshots are forever.
In late January 2017, Life & Style reported in its print edition (via Hollywood Life) that Beyoncé was roughly four months along. "She feels like she has been trying to have a second baby since Blue was born," a source dished. "Her dream has finally come true."
Another insider told Hollywood Life, "Everyone in Beyoncé's inner circle is keeping quiet when it comes to the pregnancy rumors, which is unusual because normally they would just deny them outright. When there's been pregnancy stories before everyone has just laughed them off, but this time round there's a noticeable silence on the subject, which makes me think it's true." The source added, "There's no doubting that Beyoncé has been wearing a lot of baggy, over-sized clothing recently, and that's soooo not like her usually—and everyone in her crowd knows how much she and Jay would like another baby. I wouldn't be surprised if there's an announcement very soon."