The Real Meaning Behind Rod Wave's 'Tombstone'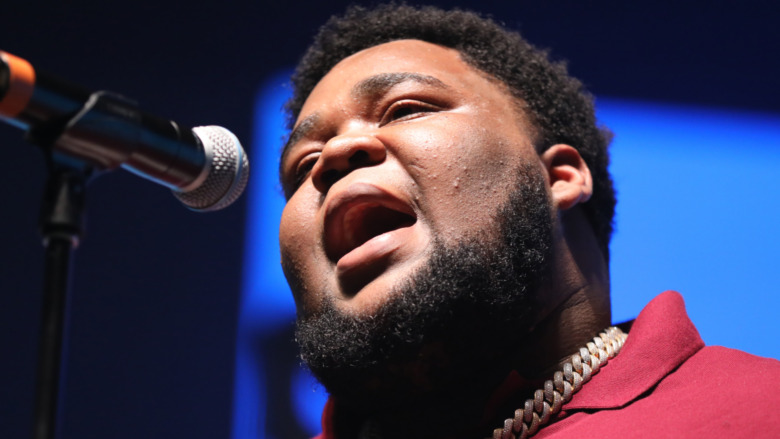 Danielle Del Valle/Getty Images
Rapper Rod Wave's "Tombstone" reveals the harsh reality of being Black in America. Born Rodarious Green, the artist has been steadily climbing the charts with his "SoulFly" album, released in March 2021. The Florida native's third studio album spawned his first No.1 on the Billboard Top 200 chart the following month and logged "the biggest week for an R&B/hip-hop album in 2021" to date, reported Billboard. It also marked a huge moment for a man who's struggled to find his purpose in life.
"I feel like before music, I didn't really know what I wanted to do. I didn't know where I was going to end up. I was scared to even have people depending on me," he told Billboard in 2020. "But now, I'm making music and actually living life and being the one that people depend on. It feels good. It gives me a reason to wake up. It gave me a purpose. It made me want to live and have kids. Live and see 50, 60. Because before music, I was ready to crash out."
Rod Wave's endeavors have certainly connected with his growing fan base, and "Tombstone" is one of the tracks keeping this album on repeat. Keep reading to find out what the powerful ballad really means.
Rod Wave's 'Tombstone' music video is chilling
The somber "Tombstone" music video clearly brings the song to life. The footage begins with a young Black boy watching television while his father sleeps on the couch, then cuts to a snowy outdoor scene of Rod Wave singing alone, dressed in black. The next scene shows the boy walking alone as two white police officers exit a cop car. 
The video then flashes back to an earlier scene in the boy's home. His parents are arguing. The boy's father throws a plate of food onto the floor and then strikes his mother. The boy tries to intervene but can't stop the violence. 
The video circles back to the boy walking outide as the two officers approach him from behind, shouting orders, guns drawn. The boy does not turn around or stop walking, and one of the officers shoots.  
The music video then cuts back to the earlier scene in the boy's home. Following the domestic violence, the child sits down with his mother, using American Sign Language to ask if she is okay. "I'm fine," she signs. "I love you," he responds. At this moment, the viewer realizes the boy was not disobeying the officers. He was unable to hear their orders because he's deaf.
The video concludes with the boy taking his last breath on the pavement and then becoming part of the earth as he's laid to rest in a heavenly scene.
Rod Wave talks about 'Tombstone' and his legacy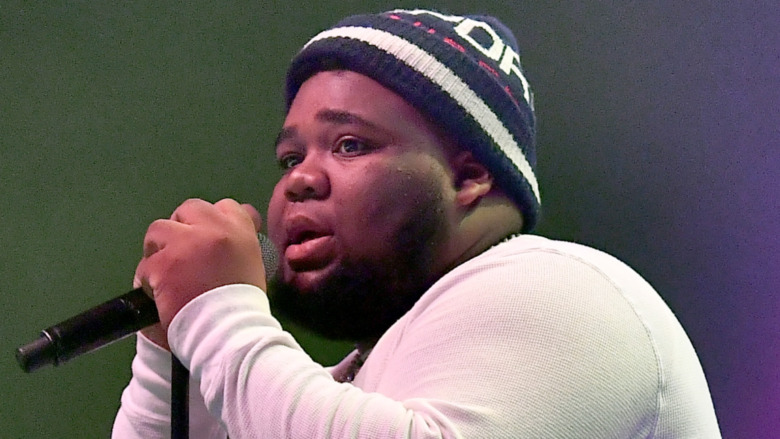 Paras Griffin/Getty Images
Rod Wave's music addresses the grim circumstances surrounding the Black community in America — a reality reflected in "Tombstone." As Stereogum describes it, the track is not just about the story depicted in its music video. Rather, the song "laments the psychic wages of street life." Rod Wave begins the song by questioning his own mortality. "When this s*** over, it's over," he sings. "I don't know what's after..."
Rod Wave discussed the track, his personal challenges, relationships, and the end of his own life with Genius. He talked about trying to make ends meet and bracing for bad news every time he checks his phone. "My phone say seven missed calls. I know it's bad news," he sings in "Tombstone." True to the song's title, the artist warns that he doesn't want to sell records because he's dead. "It's hard to appreciate someone 'til it's gone..." he told Genius. "That's when there's all this GOAT talk, and all this legend talk and all that."
Though "Tombstone" tackles tough subject matter, the track concludes with a bittersweet message. "By the river, they will carry me," he sings, backed by a choir. "I'll be resting in peace. Finally."

If you or someone you know is dealing with domestic abuse, you can call the National Domestic Violence Hotline at 1−800−799−7233. You can also find more information, resources, and support at their website.