The Truth About Yoko Ono's Kids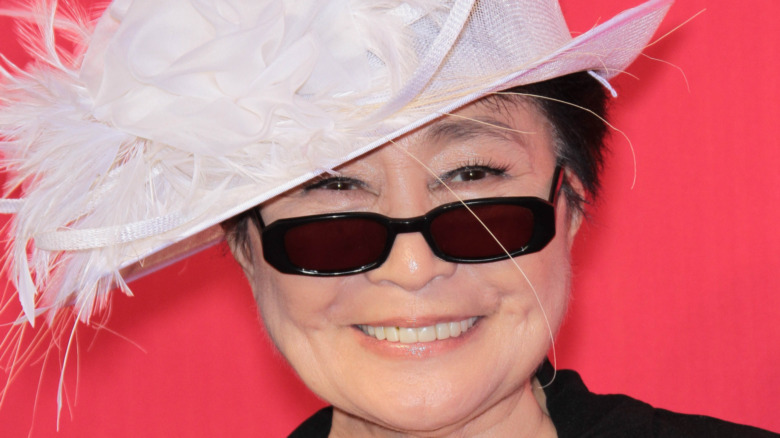 Shutterstock
Yoko Ono's romance and marriage to music legend John Lennon was nothing short of iconic. What with their 1981 Rolling Stone cover, their legendary bed-ins, and Ono's widely rumored role in the Beatles' breakup. Littler known to many, however, was that Ono had already been twice-married before the relationship that will arguably loom over the rest of her life — with a resulting child aside from her famous son with Lennon, Sean.
With her first husband, composer and pianist Toshi Ichiyanagi, Ono got to know a feeling with which she has acquainted herself all too well: being primarily known by a more famous husband's reputation. "Who was I but Toshi's wife?" Ono once said (via The New York Times) about a historic co-performance she had put together with Ichiyanagi. With her second husband, American film producer Anthony Cox, Ono bore her first child, Kyoko Ono Cox. Things got awkward on Christmas 1968, according to Vanity Fair, when Lennon sent Cox — to whom Ono was still married — a telegram informing him she would be moving her things out, with a side note addressed to Kyoko, "Lots of love and kisses, John and Mommy."
Ono's blended family life got increasingly complicated by the time Sean was born in 1975. Let's visit a few things you might not have heard about the icon's two children!
Sean Lennon is used to comparisons to his famous parents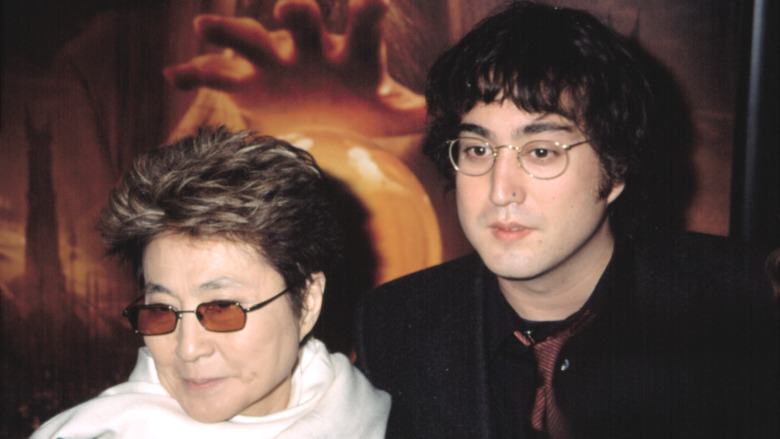 Shutterstock
When actor Macaulay Culkin joked on "The Joe Rogan Experience" in 2018 that his children with girlfriend Brenda Song would be like "a bunch of Sean Lennons running around," one thing at least became evident: The son of Yoko Ono and John Lennon had become something of a pop-culture phenomenon himself. With those parents and Sir Elton John as his godfather (via Smooth Radio), this probably isn't too surprising.
After Sean's birth in 1975, John strayed from music to focus on fatherhood, a fact resented by his older son with ex-wife Cynthia, Julian, according to The Telegraph. Despite this, Sean and Julian have always appeared close in the public eye. The younger half-brother once reportedly divulged that "Julian is the reason I started playing music"(via the U.K.'s Express).
As a musician, Sean knows the double-edged sword of living under a famous father's shadow within the same industry. "Honestly, I don't play music in terms of trying to compete with my dad, because I don't think I could play if I did that," Sean shared with "The Talk" in 2020 (via The Ville). With his John-esque round, wire-framed spectacles and Ono-esque heart-shaped face, Sean, however, welcomes lookalike comparisons to both parents, laughingly musing on the talk show that, "I look like him, I look like her ... frankly, I think they're cool-looking so I don't mind."  
Kyoko Chan Cox is Yoko Ono's 'lost daughter,' once quite literally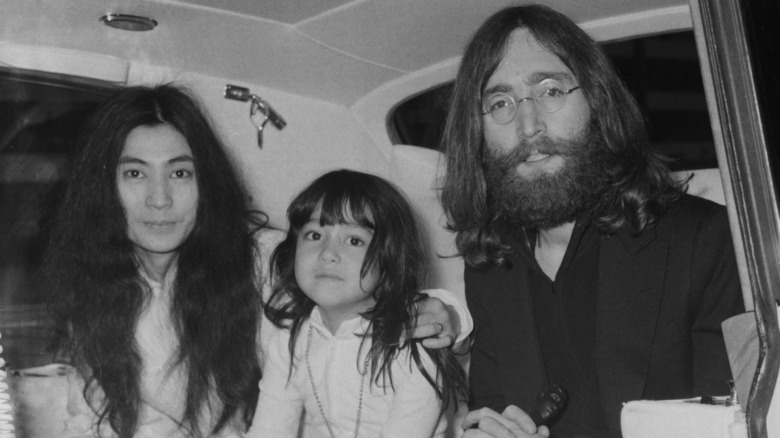 George Stroud/Getty Images
While Sean Lennon might have been compared to dad John Lennon and mom Yoko Ono all his life, Ono's other child — daughter Kyoko Chan Cox with her second husband Anthony Cox — is one often forgotten by history. This is in large part due to Anthony hiding her from Ono and Lennon, according to Amo Mama, after a court had granted him custody of their daughter. When the Lennons finally won a custody lawsuit in 1971 in the U.S. Virgin Islands, Anthony and Kyoko had already shacked up in a California-based cult called The Walk. (After all, a cult does seem an effective way to hide a person.)
According to a 1986 People exclusive, Anthony claims his daughter, inside the cult, "was taught with tutors, studied in foreign schools and has a conception of the world that's very mature." Despite this, Anthony and Kyoko both left The Walk in 1977 and he insists that Kyoko "came out of the experience smelling like a rose."
After that, despite a 2014 tweet showing Ono joined by her daughter in 1969 at a bed-in, Amo Mama reported it took Kyoko tracking Ono down in 1997 to reunite the pair after 23 years apart. The joyful reunion also comes after Ono's heartfelt 1971 song, "Don't Worry Kyoko (Mummy's Only Looking for Her Hand in the Snow)" – an ode inspired by all the worrisome custody business, per New York Magazine.