Will Smith Gets 'Real' With Fans About His Thoughts On His Body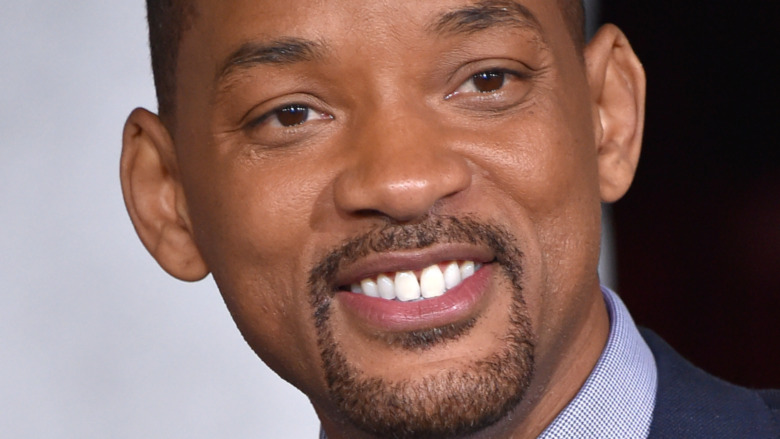 Shutterstock
Will Smith just went viral on Instagram due to a surprising admission he made about his looks. Of course, Smith is widely known for his film career — and that includes his appearance. In fact, it's his job to look a certain way for roles.
Smith detailed his intense workout regime for the 2016 film "Suicide Squad," revealing that training was so rigorous that he tore a leg muscle. "It was really scary to be in that position," he told Men's Journal. "When you're 47 years old, no injury is a mild injury anymore. I was stepping back to throw a blow, and my calf popped. Everyone heard it. The doctor there told me that I was going to be down for six weeks, but I couldn't allow that."
Smith also explained that he stuck to a strict diet for the part, and usually ate a grilled chicken breast with broccoli and a sweet potato for dinner. Carbs were forbidden on Christmas, and "it was terrible," according to Smith.
In Smith's latest Instagram post, he once again spoke about his weight. 
Will Smith's latest photo has his famous friends talking
Will Smith posted an Instagram photo on May 2 that featured the actor almost shirtless, wearing black briefs with a completely unzipped jacket on top. He captioned the photo: "I'm gonna be real wit yall – I'm in the worst shape of my life." 
His famous friends disagreed and showered him with compliments — and joked about their own pandemic weight gain. MC Lyte added, "Lies." DJ Jazzy Jeff said, "We're twins..." Questlove chimed in with, "This is the most amazing post in the history of social media." "Same," shared JWoww, adding crying-laughing smiley faces and hands raised in praise. "live your best life."
It's clear Smith's friends think he's doing just fine in the body department, and think that he shouldn't be fretting about his appearance.
This isn't the first time Smith addressed his weight. In 2019, he told People about his relationship with food. "I love food. But I realize my relationship with food was that I eat for fun. I eat for joy," he said. "I get bored and I start to eat. I realized I'm a grazer. I put something in my mouth every 30 minutes, all throughout the day." He noted that he was re-examining that relationship after an indulgent family vacation.