How Many Children Do Bill And Melinda Gates Have?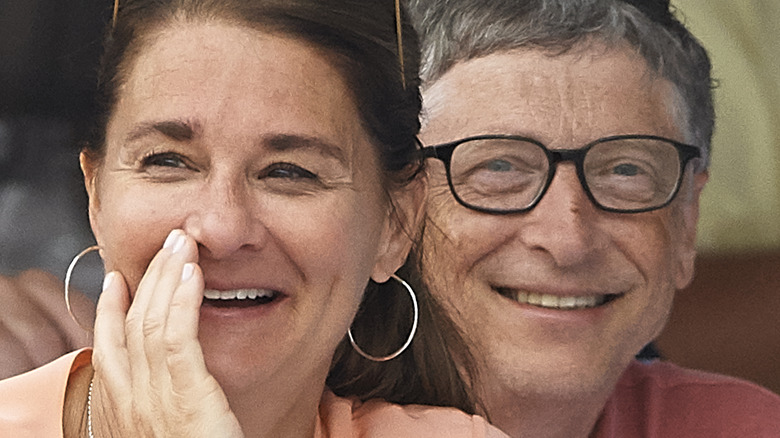 Fotopress/Getty Images
On May 3, billionaire philanthropists Bill and Melinda Gates shocked the world by announcing their divorce. "After a great deal of thought and a lot of work on our relationship, we have made the decision to end our marriage," Bill tweeted in a statement. "We no longer believe we can grow together as a couple in this next phase of our lives." Per TMZ, the couple first met a trade show in New York in 1987. After working as General Manager of Information Products for Microsoft — the company Bill co-founded — Melinda and Bill tied the knot on January 1, 1994. At the time of their divorce bombshell, they had been together for 27 years.
Despite being known as some of the world's richest people, Bill and Melinda Gates are also famous for their low-key parenting style. Unlike some billionaires who flaunt their wealth, the pair have made a point to raise their kids in modest ways. "There are still things we do in our home that I wanted to make sure we did as parents and that our kids participated in so they would know what it was to grow up and have responsibilities," Melinda told Business Insider in 2019. "One example is we always do the dishes together after dinner as a family." Undoubtedly, the news of their parents' separation will have a huge impact on the children. Speaking of, how many children do Bill and Melinda Gates have?
Bill and Melinda Gates have three children
According to Fox Business, Bill and Melinda Gates share three children together: Jennifer, Rory, and Phoebe. The oldest child of the Gates clan and a graduate of Stanford University, Jennifer announced her engagement to fellow Stanford alum Nayel Nassar in June 2020. "Nayel Nassar, you are one of a kind. Absolutely swept me off my feet this past weekend, surprising me in the most meaningful location over one of our many shared passions," she wrote on Instagram, alongside a picture of the pair kneeling in the snow. Per CNBC, Jennifer is currently studying medicine at Icahn School of Medicine at Mount Sinai in New York City and was inspired to become a doctor thanks in part to her parents' philanthropic work. "I grew up hearing about children's mortality at the dinner table, about polio, about the HIV/AIDS epidemic," she told the outlet.
While Jennifer is quite active on social media, and frequently posts pictures of her equestrian pursuits — yep, she's a decorated show jumper! — her two younger siblings are a bit quieter. Jennifer's brother, Rory, is private on social media, though he is believed to be currently enrolled at the University of Chicago. The youngest Gates child, Phoebe, indicated on her private Instagram that she is also headed to Stanford, like her older sister. In the midst of Bill and Melinda's big announcement, our thoughts are with all three children and their parents.