The Truth About Jimmy Carter's Wife, Rosalynn Carter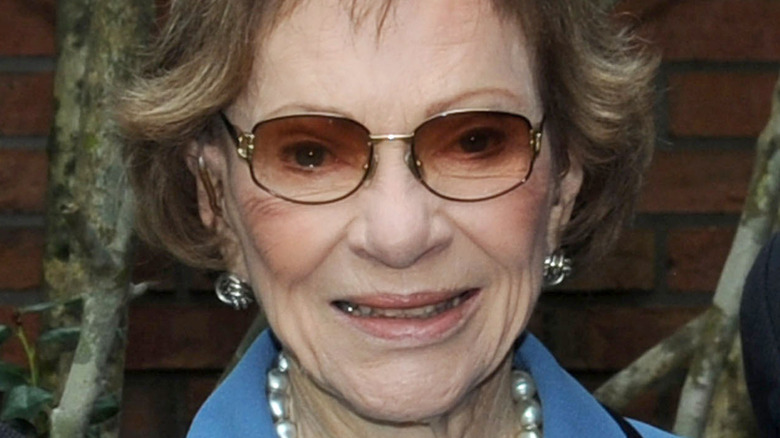 Chris Mckay/Getty Images
Plains, Georgia native Eleanor "Rosalynn" Carter was not exactly your typical first lady. In fact, the 39th first lady once famously told the New York Times in 1977, "I've never had time for friends, besides, I never was one for coffee klatches." While a statement like that could certainly ruffle a few feathers, many people attribute her no-nonsense "work hard, then work harder" attitude to her tough upbringing.
According to the National First Ladies Library, Rosalynn's blue collar working father died when she was only 13 years old and then it was up to her mother, Allethea, to take the reins and provide a life for her family. While Allthea got a job as a dressmaker, Rosalynn did her part, too, going to work at a hairdresser's shop, per the National First Ladies Library.
The work ethic she cultivated as a young woman would later prove to be useful when both she and her husband, Jimmy Carter, worked long hours to run their peanut company. "We'd come home at night, we'd get up in the morning, we'd go to work. Which is the way I think a lot of people live," she revealed during an interview (via The MacNeil Lehrer Report).
But what else is there to know about the famous first lady? Keep reading after the jump to find out!
Rosalynn Carter wasn't much for fashion as first lady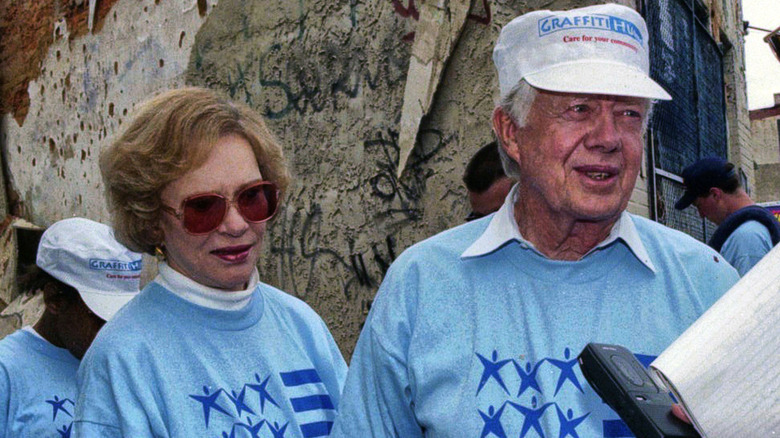 Bill Tompkins/Getty Images
It has often been recounted that Rosalynn Carter could not care less about first lady fashion etiquette. In fact, as reported by the New York Times, after a grueling day's work, instead of changing into something a bit more formal, the first lady opted to arrive to the Kennedy Center for a viewing of "Mark Twain Tonight!" wearing her work attire — a beige jumper and navy blouse. We think it's pretty safe to say that first lady Jackie Kennedy would NEVER!
Luckily for Rosalynn, what she lacked in fashion sense, she made up for with her political endeavors. "She wants to do something national in impact and realizes she's in a position to use that influence to do good. She has never said this, but [has] always felt that In her heart she believes the Lord has put her in a unique situation where she could got [sic] things done. She thinks she has powers and does not think they come from her," Mary King wrote about her dear friend. 
The New York Times also referenced the first lady's penchant to be the first one in and the last one out each day. "If her first breathless weeks in the White House are any clue, she may become the most activist First Lady since Eleanor Roosevelt, whose public years she has thoroughly studied," the publication penned about the first lady's work ethic.
Rosalynn Carter is a cherished advocate for the mental health community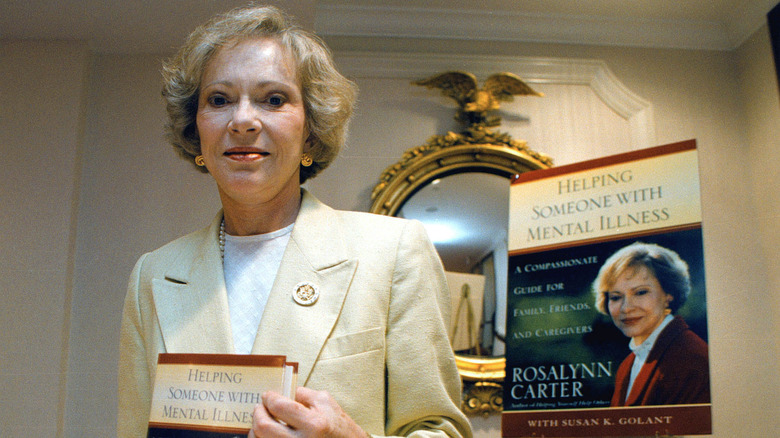 Georges De Keerle/Getty Images
Perhaps one of Rosalynn Carter's greatest areas of achievement, however, is the work she ha done serving as a mental health advocate. Widely known as the "first lady of mental health," the American Psychological Association reported that Rosalynn started out on the endeavor back in 1966 after meeting a woman who spent long hours in a factory, only to go home and provide care for her mentally ill daughter while her husband went to work. After that one encounter, Rosalynn hit the ground running making it her personal mission to provide better mental health services for patients and their caregivers, as well as combat the stigma surrounding mental health diagnoses. 
When asked during an interview with Parade in November 2013 about the legacy she hoped to leave in the world, the former first lady answered that she hoped she had "contributed something to the mental health field." "But I hope people will think — I've had so many wonderful opportunities, I tried to take advantage of them," she added.
As the recipient of the Presidential Citation for her work in the mental health field, it's apparent that the former first lady made good on that goal and then some! Bravo, Rosalynn Carter!