Inside Jimmy Carter's Marriage With His Wife Rosalynn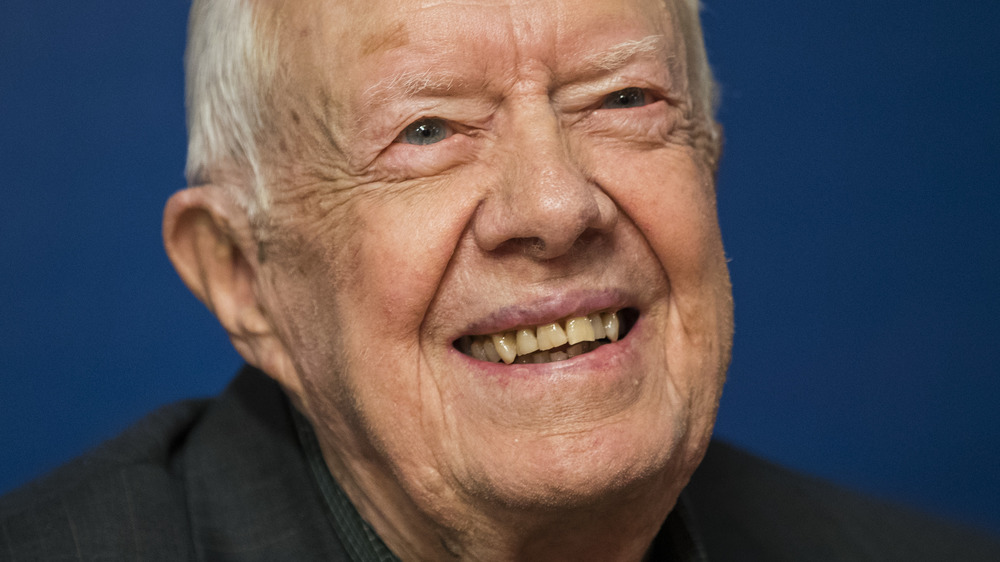 Drew Angerer/Getty Images
We may receive a commission on purchases made from links.
Former President Jimmy Carter and his wife Rosalynn Carter married young and became the longest-married presidential couple in 2020. While he knew almost immediately in their romance that he wanted to marry her, they had known one another for years before sharing their first kiss.
USA Today explained that the former president's younger sister Ruth was Rosalynn's best friend as they grew up in Plains, Georgia. Not only were Rosalynn and Ruth best friends as children, but the two families lived next door to one another.
According to Biography, Rosalynn was just 17 years old and a freshman at Georgia Southwestern College when the future first couple's dynamic changed. Jimmy Carter was at the Naval Academy after attending college in Georgia. Once he returned home after that academic year, the two started to see one another differently. "I always said I fell in love with a photograph of him on (Ruth's) bedroom wall," she detailed in the book What Makes a Marriage Last.
The night of the pair's first official date, he had plans to go out with another gal. Those plans fell through, and when he saw Ruth and Rosalynn walking together, he suggested they head to the movies as a group. Jimmy kissed Rosalynn during their date, and that kiss broke a first-date rule that Rosalynn had for herself (via Today).
"The best thing I ever did was marry Rosalynn. That's the pinnacle of my life," he said in 2015 during a C-SPAN interview shared via Twitter.
The Carters' love for one another remains steady and strong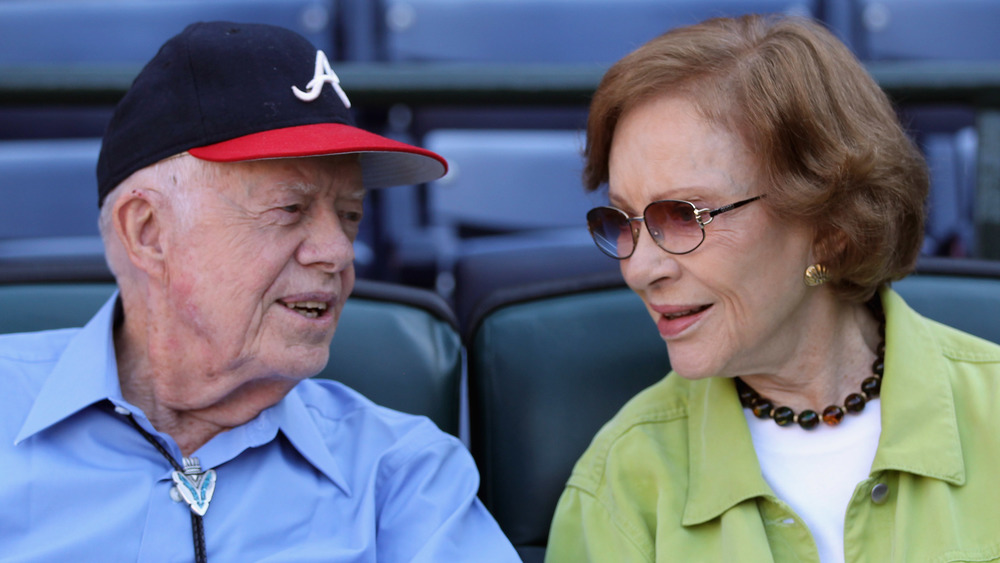 Jamie Squire/Getty Images
The sparks were still flying for former President Jimmy Carter and Rosalynn Carter decades after their 1946 wedding, as was demonstrated via the "Kiss Cam" at an Atlanta Braves baseball game in 2015 (via Twitter). Years later, an anniversary smooch was captured on the Kiss Cam for the Atlanta Hawks in 2020 and shared via the team's Twitter page as well.
A Facebook post from the couple's friend Jill Stuckey showed that they're affectionate in private, too. She snapped Jimmy and Rosalynn sharing a New Year's Eve kiss in the car as 2020 wrapped. "I caught these folks kissing in my driveway tonight! If that doesn't make your New Year start out right nothing will!! HAPPY NEW YEAR," Stuckey wrote.
Rosalynn turned down Jimmy's first proposal that came a few months after they'd started dating. She wanted to finish college first and was worried about their romance moving too quickly. That following spring, however, she visited him in Annapolis and he proposed again. This time, she accepted, and they wed at the Plains Methodist Church shortly after his Naval Academy graduation (via People).
The Carters navigated plenty of challenges throughout their decades-long marriage, including his stint as president, and a painful election loss after the first term. After the loss, they returned to Georgia and the ranch house they'd owned before his political run; Carter built the house (via CNBC). They stayed in the area after that and people have never been able to get enough of their sweet love story.