The Real Meaning Behind 'Film Out' By BTS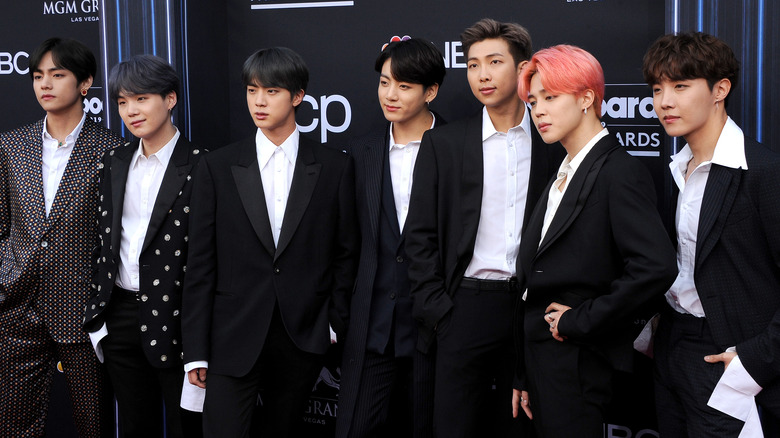 Shutterstock
South Korean boy band BTS, also known as the Bangtan Boys, released a new single entitled "Film Out" at the beginning of April. The track will be featured on the group's Japanese album "BTS, The Best," set to debut on June 16 of this year, as well as in the Japanese movie "SIGNAL The Movie Cold Case Investigation Unit." The album will follow on the heels of the band's 2020 Japanese album, "Map of the Soul: The Journey."
BTS is made up of seven members — Jungkook, Jin, V, RM, Suga, J-Hope, and Jimin —and has become so popular in recent years that they were invited to perform at the 2021 Grammy Awards. Naturally, BTS boasts a huge fan base, many members of which enjoy speculating as to the hidden meaning behind their emotion-provoking lyrics. In the band's secret world, referred to as the Bangtan Universe, its members take on the identities of fictional characters and explore deep topics and themes relevant to modern times, such as domestic violence. After the release of "Film Out," many fans pointed out the parallels between the music video and other Bangtan Universe content, including the 2018 hit song "Fake Love." The connection between these two videos sparked a slew of fan speculations on social media regarding the underlying meanings hidden in BTS' latest hit.
Read on to discover some of the fan theories behind BTS' new hit track.
Fans think there are too many parallels between 'Film Out' and 'Fake Love' to ignore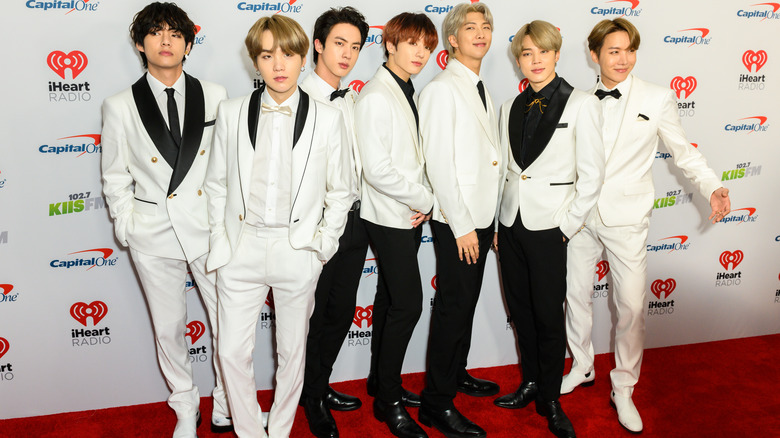 Shutterstock
Many of the fan theories regarding BTS' "Film Out" center around the story portrayed in "Fake Love," and not only because many of the shots and scenes are similar. Among the eerily similar scenes is one in which Jin and Jungkook are both seen running toward the camera as if escaping something dangerous (via Elite Daily). One Twitter user posted images from both "Fake Love" and "Film Out" that illustrated the two band members mid-run. Underneath these photos were two additional images, both featuring different types of hourglasses filled with sand, a parallel that other users were quick to point out as well.
According to Teen Vogue, another fan theory brings in themes from Lewis Carroll's "Alice Through The Looking Glass." In "Film Out," Jin runs away from what appears to be the same room that was destroyed by a blast in "Fake Love." Fans believe this might be a reference to the Red Queen in Carroll's best-seller when she tells Alice, "If you want to get somewhere else, you must run at least twice as fast as that!" Many fans took to Twitter to express their suspicions that "Film Out" is a parallel universe of "Fake Love," just as Alice discovers an alternate universe in Carroll's book.
Theories continue to abound as fans discover more parallels between "Film Out" and other songs/stories that make up the Bangtan Universe.