This Is Why Chris Hemsworth's Fans Are Fuming At Him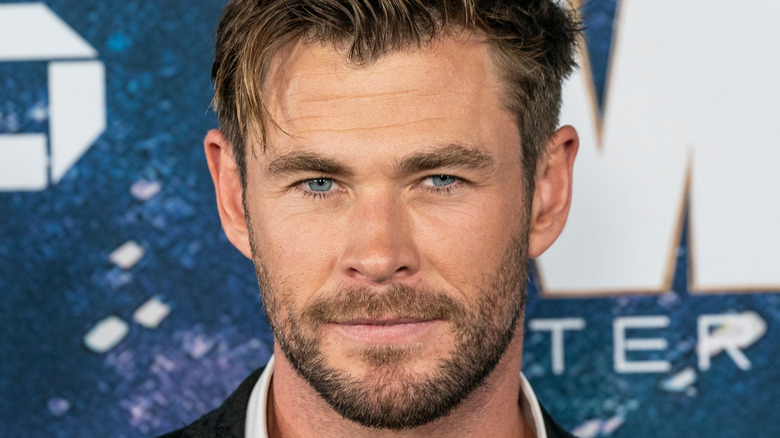 Shutterstock
The COVID-19 pandemic has, among its many devastating ramifications, shone a stark light on the contrast between those with financial privilege and those without. In March 2020, Madonna became the first propagator of this reality, as a since-deleted Instagram video showed the ex-icon monologuing in a luxurious bathtub in a costume necklace. "That's the thing about COVID-19," Madonna said (via Global News) surrounded by rose petals. "It doesn't care about how rich you are, how famous you are." The singer's additional quip about COVID-19 being "the great equalizer" particularly drew widespread ire. One Twitter user summed up the majority of reactions by calling Madonna "tone [deaf]" and writing, "Yeah, anyone of any age or ethnicity can get it. What in the world is equal about the care we are receiving compared to celebrities?"
Even once-universally beloved stars like Ellen DeGeneres were not immune to committing lockdown-related verbal faux-pas, with the TV host joking on her show (via CNN) that "quarantine ... is like being in jail." YouTube commenters on a show clip of DeGeneres were quick to snark back, like one who observed, "Sitting inside her fifteen million dollar mansion complaining and comparing it to a prison..."
Now, "Thor" star Chris Hemsworth — so far virtually blemish-free in reputation — found himself falling into the same web of negativity by May 2021. Find out how Thor ruined his goodwill with fans around the world.
Chris Hemsworth's "white party" has some fans in lockdown seeing red
It was innocent enough an act by itself — Chris Hemsworth and wife Elsa Pataky threw a "white party" on May 1 with an intimate gathering of friends in their Australian residence of Byron Bay, as the Daily Mail reported. Pataky's Instagram post of the party revealed invitees included pal Matt Damon, brother Liam, and Chris' Hollywood stunt double. "Fun white party with our best friends," Pataky captioned her joyous Instagram memories. While there might seem nothing overtly tone-deaf about people gathering at a time when COVID-19 vaccinations in the developed world are on the rise dramatically, fans in other countries took umbrage.
"Must be great to live in a country that doesn't have Covid anymore. Brazil is so distant from that reality," one fan wrote in Pataky's comments. Another in Ontario, Canada did not hold back the green-eyed wave of emotions flooding through, noting, "So jealous you get to hang out with your best friends, [here] we cannot even hang out with people outside our household."
Several commenters pointed out to others, however, that the loosely populated country of Australia had been "done with COVID for a while," as one wrote. "I feel like half her posts need a disclaimer to remind people that... THEY ARE LIVING A DIFFERENT LIFE!"
Here's hoping the need for jealousy will soon be over and we can all leave the masks behind and closely hug our friends indoors as well.