Inside Mick Jagger And Keith Richards' Difficult Relationship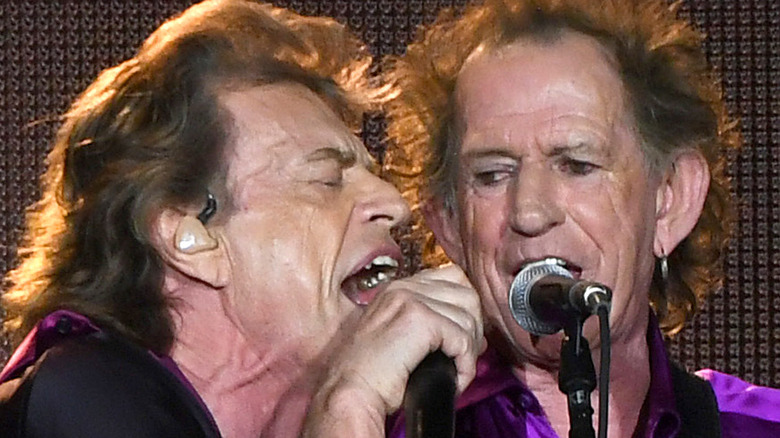 Kevin Mazur/Getty Images
The Rolling Stones have been around for several decades. The band has outshined numerous controversies and legal troubles, while crafting unique music styles over the years and producing one hit album after another. The soul of the band lies in singer and frontman Mick Jagger and lead guitarist Keith Richards. The duo has had some remarkable performances on a stage where their vocals and chords have complemented each other's, leaving the audience in an uproar.
The relationship between Richards and Jagger has been through a lot, too. According to Biography, the two got acquainted at a train station in Dartford, England in October 1961. However, this wasn't the first time they'd known each other. Both Jagger and Richards grew up in Dartford and even attended grammar school together. They had, however, since lost touch.
So how has Richards and Jagger's relationship evolved over the years? Have they grown closer, or have money, fame, and vanity led to a crack between two of the greatest on-stage rock performers of all time? "Sometimes he can get up my end, and I have no doubt that I can certainly piss him off," Richards wrote in his autobiography "Life." "Most guys, you know where you stand with. Mick and I don't quite know how we stand with each other, and we never have."
The intricacies of Richard and Jagger's relationship might never be fully known, but their connection did go through the trial of time to produce something fruitful.
Mick Jagger and Keith Richards may have an almost-perfect relationship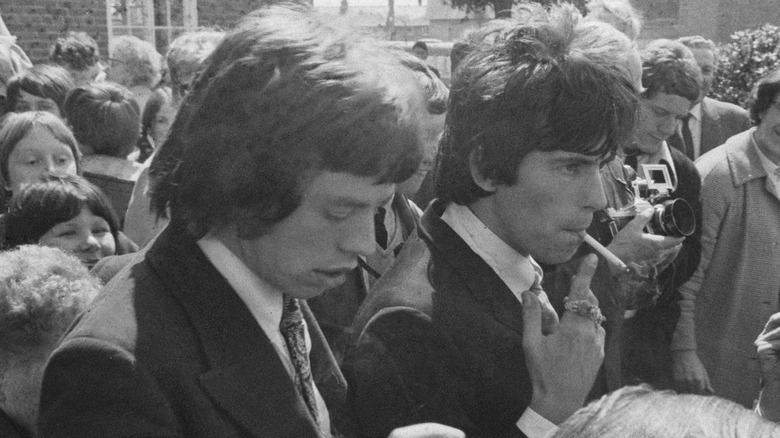 Evening Standard/Getty Images
Ahead of the 30th anniversary of his first studio album "Talk is Cheap" in March 2019, Keith Richards spoke about how he actually feels about his friendship with Mick Jagger. In a conversation with The Sun, Richards recalled the period when he was working on an album with the band, and drummer Charlie Watts was "playing his arse off."
"I can never praise Charlie enough and I can praise Mick Jagger 99% of the time," Richards told The Sun, adding that Jagger would say the same about him if he was presented with the question. Richards then went on to talk about how a lot of rumors did not justify how he actually felt for Jagger and how the dynamics were between the two rockers. "Things happen between Mick and me because it's just two guys working together. You only hear about the odd bust-up. I love the man 99% of the time," Richards explained.
Besides, Richards is grateful for everything Jagger brings to the table with his presence, especially when it comes to "fronting the whole thing." He told The Sun how his experience working solo on "Talk is Cheap" made him learn a "lot more about the dynamics of being a frontman." "I understood the pressure. My feelings towards Mick became, 'Yeah, I get it, man,'" Richards said.
Keith Richards didn't want Mick Jagger to accept knighthood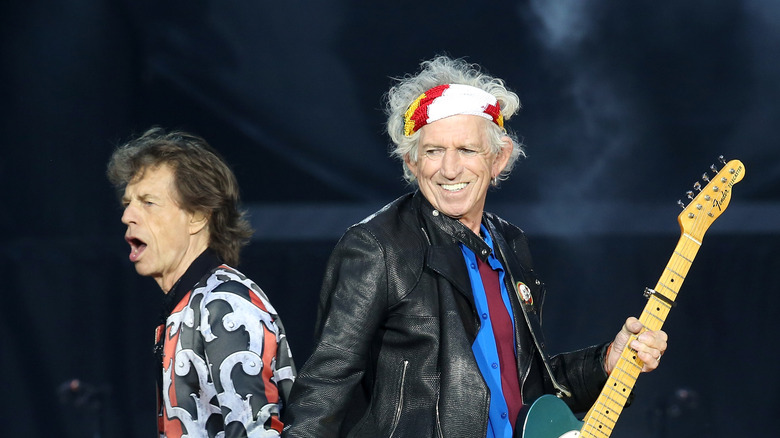 Simone Joyner/Getty Images
While Keith Richards and Mick Jagger did have an amicable relationship, there was one thing that Richards wasn't too fond of — Jagger's knighthood. According to The Daily Mail, Richards threatened to pull out of a planned tour in protest of Jagger accepting the honor in 2003.
"I don't want to step out on stage with someone wearing a coronet and sporting the old ermine. I told Mick it's a paltry honour ... it's not what the Stones is about, is it?" Richards said, adding that they didn't offer the title to him because they knew he'd turn it down. "You have to kneel and I'm not going to kneel for anyone," he clarified. Richards also recalled how Jagger told him that Tony Blair insisted that Jagger accept the honor, to which Richards replied that he could always turn it down. However, that wasn't something that Jagger had in his mind, as he ultimately accepted the title.
But irrespective of the odds that the two find themselves in, Jagger and Richards are said to be pretty close — after all, it takes more than a bunch of songs, drugs, and controversies to make a band as commercially and culturally successful as The Rolling Stones.