Tamron Hall Quits After NBC Hires Megyn Kelly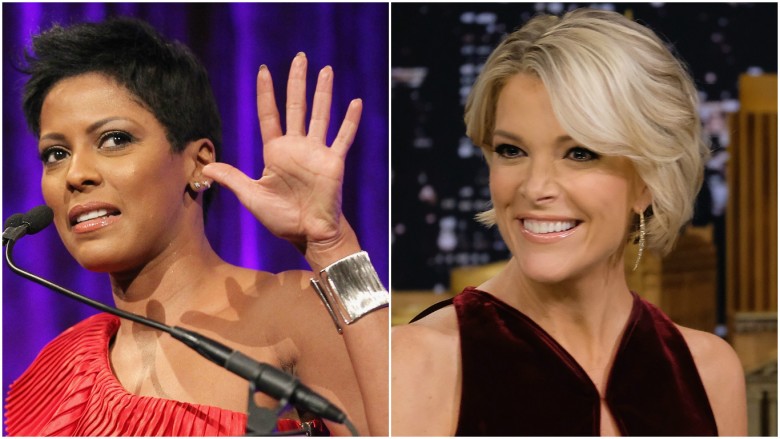 Getty Images
Journalist Megyn Kelly may be the only person happy about her move to NBC.
A source told Us Weekly that Today host Tamron Hall was informed just "minutes before going on air [Jan. 27, 2017] that she and Al [Roker] were being taken off the show for Megyn Kelly." As a result, Hall, 46, walked away from both her Today show spot and her gig as a reporter at MSNBC. Hall and Roker, 62, co-hosted the top-rated Today's Take, which was reportedly canceled in favor of Kelly's new role on the network.
Many folks on the Today staff, both on and off air, were allegedly blindsided by the changes. "Everyone has been left in the dark and no one knows why there's such a disruption when shows are doing so well across the board," an insider told Page Six. Another source said, "People are p***ed. The third hour was beating every syndicated show across the board. They were in over their head and bit off more than they can chew when they hired Megyn."
An insider revealed to Us Weekly that Hall was devastated by the news. "She was a wreck in commercial breaks and couldn't believe the company would tell her just before going live on MSNBC. It was especially surprising after receiving an email of praise from the co-executive producer just days before about how they were No. 1 in the ratings for seven weeks in a row."
Despite the shakeups, NBC suits weren't expecting Hall to walk. A source told Page Six, "Tamron was offered a multiyear, multimillion-dollar deal to stay at the Today show and she turned it down. People inside NBC were shocked. They expected her to stay." An insider told People, "[Hall] was offered a lot of money to stay...and she turned it down. She doesn't currently have another offer, but her contract was up. And they offered her a new deal."
"Tamron is an exceptional journalist, we valued and enjoyed her work at Today and MSNBC and hoped that she would decide to stay," NBC said in a statement. "We are disappointed that she has chosen to leave, but we wish her all the best."
Some sources aren't convinced that Hall wasn't eased out. "[The network] wasn't fighting that hard to keep her," a source told Us Weekly. "They see Megyn as more valuable." A network insider admitted that the new lineup may feel "more balanced with liberal and conservative voices. [The network hopes it] will appeal to more people."
Insiders say there's bad blood between Hall and NBC. A source told Page Six, "Tamron doesn't know Megyn, but of course it's insulting. Her show was beating Kelly Ripa and Nightly News would rate well when she would fill in for Lester Holt. It was a very tense few days for everyone. There was a lot of crying...Tamron never wanted this fight, but she was ready for it."