Inside Elon Musk And Kanye West's Friendship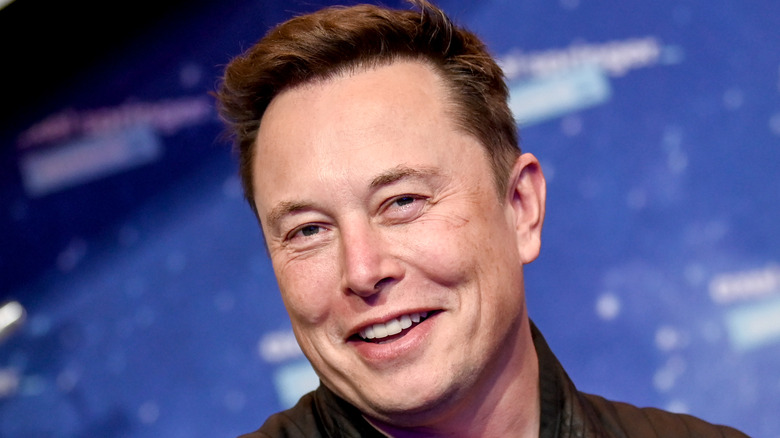 Pool/Getty Images
Elon Musk and Kanye West are both titans of their respective industries, and they share a mutual respect for each other that has spawned into an intriguing friendship. July 2020 was filled with a series of interesting exchanges between the tech magnate and the musician. To commemorate a nearly decade-old photo of West visiting the SpaceX rocket factory, Musk replied to his own tweet from Dec. 23, 2011. "Almost a decade ago. Original Dragon in the background," he wrote.
Nearly four years after the "Graduation" artist visited that factory, Musk wrote a glowing piece for his pal's inclusion on Time's "100 Most Influential People" list in April 2015. The South African billionaire defended West's sometimes abrasive behavior. "The dude doesn't believe in false modesty, and he shouldn't," Musk wrote. "But Kanye does think. Constantly. About everything."
The two have supported each other as friends and creators. "I really love my Tesla. I'm in the future. Thank you Elon," West tweeted in April 2018. Meanwhile, as covered by South China Morning Post, Musk has been spotted wearing Yeezy sneakers.
West put on a demonstrative display of his friendship in October 2018. The designer visited the College for Creative Studies in Detroit, and at one point delivered an impassioned speech while standing on a table. "Elon Musk? I don't care who's over at his house, leave that man the f**k alone," West shouted, as covered by Complex.
Keep reading to see how Musk supported West in a time of crisis.
Elon Musk was worried about Kanye West
Kanye West shared a photo on Twitter alongside Elon Musk on July 1, 2020 with the two wearing semi-matching outfits. A few days later, the decorated musician announced on Twitter that he would be running in the 2020 Presidential Election. "You have my full support!" the Tesla CEO responded. According to West, he had previously consulted with Musk about his presidential aspirations. "We've been talking about this for years," he told Forbes in a July 8 interview.
Musk opened up about his relationship with the "Gold Digger" rapper in a piece for The New York Times that was released in late July 2020. "I've known him for at least 10 years, maybe longer," Musk said. The outlet added: "that while they see each other about once every six months, they text 'fairly often.'"
Earlier that month, West had a meltdown on Twitter which concerned many, including Musk, and he decided to reach out via text. "When he was about a third of the way through the tweet rampage ... I sent him a text saying, you know, just checking on you, a lot of people are worried," the SpaceX founder said. Musk told the Times that West called him back via Facetime while hanging out with a group of friends. Although West appeared in good spirits, Musk was still worried. "He seemed fine on the call. But it sounds like things are, you know, not fine," he told the outlet.