Matt Roloff's Net Worth: How Much Is The Little People, Big World Star Worth?
We may receive a commission on purchases made from links.
Matt Roloff first graced the small screen in 2006, and for many fans, it was reality love at first sight. The patriarch is head of the Roloff family, the clan portrayed on "Little People Big World," which has now gone 22 seasons strong on TLC. Fans have seen the family go through plenty of ups and downs in their lives. There have been marriages, a turbulent 2018 divorce, youngsters leaving for college, new grandchildren, and enough life events that we feel like we're literally members of the Roloff family ... along with Amy, Jeremy, Zach, Molly, and Jacob and their respective spouses. 
The Roloffs have come a long way in their lives thanks to their hit reality show, but things were not always so hunky-dory. "I wasn't spending enough time with Amy and the kids or tending to their needs, and I wasn't tending to our finances as well as I should have," Matt wrote in his book, "Little Family, Big Values" (via Radar Online). "It wasn't long before our resources began to dry up, and we were in trouble." 
Thankfully, Matt recovered financially and has enjoyed stardom and success, even if there's more to the unassuming fellow than meets the eye. Keep scrolling for his net worth today.
It's 'Little People, Big Bucks' for Matt Roloff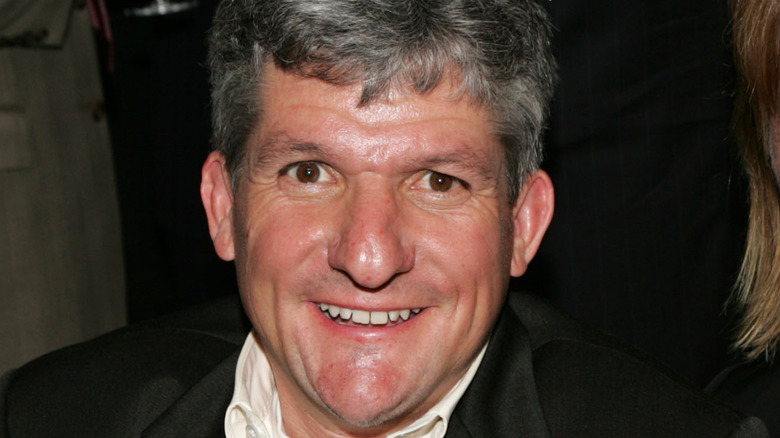 Thos Robinson/Getty Images
It pays to be a reality star; just ask Matt Roloff. According to Celebrity Net Worth, he has amassed an impressive fortune of $6 million. 
The star seemingly has many irons in the fire business-wise, but mainly, there are his "Little People, Big World" earnings. Matt's salary per episode is not public knowledge, but according to Business Insider, it's looking good. "For those docu-ensembles, especially if they're nobodies, per episode it ranges from low-end, like $1,500 an episode, to $3,000 at the high end," an agent told the outlet. "And then after three years of success, it can go up to $7,000 to $10,000 an episode. After that, you start moving into the Kardashian level." The show has been on the air for 20-plus seasons, so it's likely he's on a wealthier rung of that ladder.
Matt has authored three books and makes money from his Oregon farm during pumpkin season. According to Cinemaholic, the farm sees "almost 30,000 visitors every year." Impressive! Matt and his girlfriend, Caryn Chandler, bought a home in Arizona for $375,000, with two bedrooms and "stunning mountain views," per The Sun. But back to the farm. Interestingly enough, ex-wife Amy "sold a portion of the iconic property" to Matt in 2019 for $667,000, according to Radar Online. Considering they reportedly picked up the large property for $185,000 in 1990, it's safe to say that has matured well.