How Much Are The Chainsmokers Really Worth?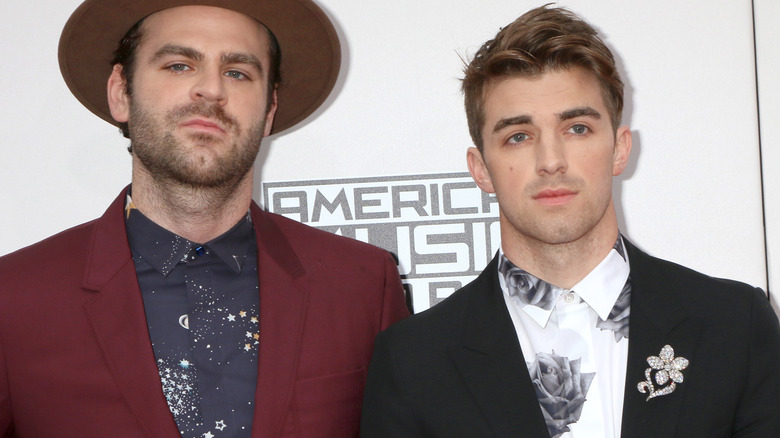 Shutterstock
The Chainsmokers are probably best known for their hits "Closer," "Don't Let Me Down," and "Something Just Like This" — as well as, more recently, receiving backlash for their crowded July 2020 concert in the Hamptons, according to The New York Times. There was reportedly little social distancing at the event, which was a concern during the peak of the coronavirus pandemic.
Before they packed stadiums and festivals, members Drew Taggart and Alex Pall released "#Selfie" in 2014, according to USA Today. Everyone knew their name after the song went viral. "The video inherently had this viral concept built into it, which certainly helped get it off the ground," Pall said.
Taggart opened up to Digital Spy in 2016 about how the group was adjusting to their newfound fame. "A relationship with attention is really an odd thing," he said. "At the end of the day we just want to make records that we love and play shows for our fans." He continued, "But also you're up there for discussion in front of a bunch of people who don't really know who you are. They can put you into a category based on the tiniest thing and that's something we're just getting used to — growing thick skin and being able to let things go."
Even though The Chainsmokers have been around for less than a decade, they have an impressive bank account. Keep reading to see how much the duo is really worth.
The Chainsmokers have amassed quite the fortune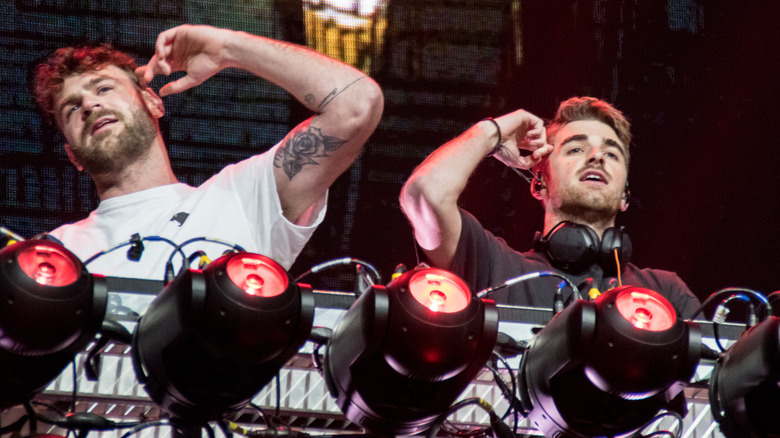 Shutterstock
In addition to "#SELFIE," The Chainsmokers really burst onto the pop and EDM scene in 2016, when they released their song "Closer." It spent 11 weeks on Billboard's Hot 100 chart and went 12x platinum, per Your EDM.
Their 2017 debut album, "Memories: Do Not Open," hit No. 1 on the Billboard 200 chart and went platinum. The group reportedly brought in $38 million between June 2016-June 2017, via MTV. 
But when asked about their No. 7 spot on the Forbes' Highest-Paid Celebrities Under 30 list in 2018, they disputed the $45.5 million figure. "Well, that's not it. I would not be here right now," Drew Taggart joked.
The Chainsmokers reportedly bring in an estimated $200,000 per show, per Wonderwall. According to a 2019 Forbes report, the duo made $46 million that year — though they may again dispute that figure. Forbes also reported that they took home $68 million in 2020. They also have a three-year residency deal with Wynn Nightlife in Las Vegas that has been extended until 2021. In addition to their music career, they also invest in tequila, and founded Mantis, a venture firm and closed their first funding round in 2020 with $35 million.
Their hard work clearly paid off when they dropped a combined $6 million on luxurious homes in California's Laurel Canyon and West Hollywood neighborhoods, according to Architectural Digest. All in all, Drew Taggart and Alex Pall are worth $80 million apiece, per Celebrity Net Worth.