Why Chantel Jeffries And Drew Taggart Split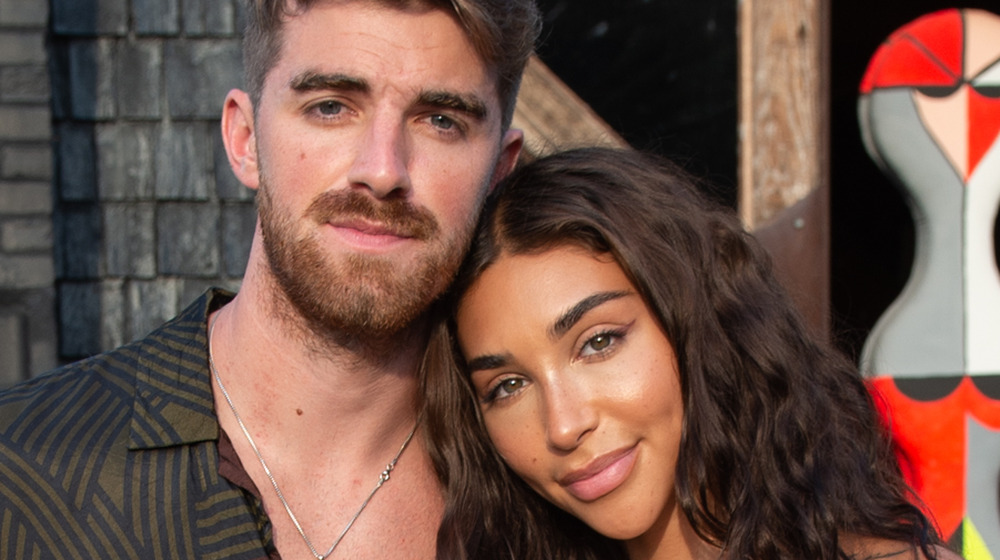 Mark Sagliocco/Getty Images
Chantel Jeffries and Drew Taggart seemed to make the cutest couple, but like plenty of other Hollywood duos, their relationship has come to an end. The Perfect Match actor and The Chainsmokers frontman called it quits on their romance after a year of dating.
Jeffries and Taggart were first romantically linked in February 2020 when they were spotted at a Miami Super Bowl party, according to Us Weekly. The two continued to fuel romance rumors as they enjoyed a handful of date nights around Los Angeles, including one double date with Taggart's bandmate Alex Pall. By July, the duo went Instagram official, with Jeffries sharing photos of the pair at dinner. She simply captioned two photos with a pleading face emoji, which showed the duo having a wonderful time out to eat. In one, Jeffries and Taggart shared a sweet kiss. 
Since then, Jeffries and the "Closer" artist kept their relationship low-key, but when she celebrated her former beau's birthday in December 2020, things seemed to be serious. "You make this planet feel like home. Happy birthday, I love you as much as pie and I'll love you as long as pi continues," Jeffries wrote on Instagram. "Wish I was saying this out loud so it would be punnier, anyways can't wait to do everything on earth with you."
However, it appears forever has come to an end as the pair have gone their separate ways. Keep scrolling to find out why Jeffries and Taggart broke up. 
Chantel Jeffries and Drew Taggart's split was 'amicable'
Chantel Jeffries and Drew Taggart are the latest Hollywood couple to part ways. The American actor and the famous musician have ended their relationship after a year of dating, Us Weekly reported. "They broke up a month ago," Taggart's rep told the outlet on April 3, 2021. "It was an amicable breakup, and they remain friends."
Jeffries still has a few posts of Taggart on her social media page, including his December 2020 birthday tribute, as well as snapshots from her birthday celebrations in October 2020. Jeffries, Taggart, and more of their friends posed for a collage of pics while ringing in her milestone. "Love you all so much ... thanks for making my day so special," she captioned the post.
Prior to dating the electronic DJ, Jeffries was romantically linked to Justin Bieber, whom she dated on and off from 2014 to 2016, as well as The Weeknd in April 2018 (via Hollywood Life). Following her brief fling with the "Blinding Lights" artist, Jeffries opened up about her love life to Us Weekly, revealing her ideal man is "someone that's generally a best friend and has similar interests."
In November 2018, she elaborated on her perfect partner, noting she wants a man who is "someone that I can learn from, because I always feel like, when you're learning, you're growing, and I don't ever want to be like stagnant," Jeffries shared with Us Weekly.