Tallulah Willis' Engagement Ring Is Quite Impressive - Exclusive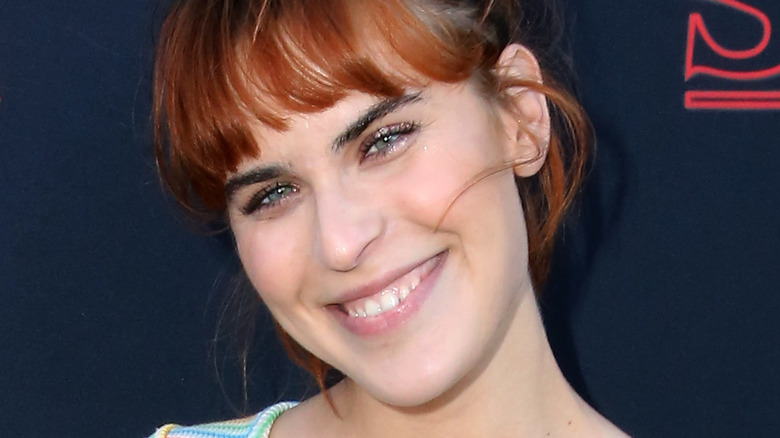 Rachel Murray/Getty Images
On May 4, 2021, Tallulah Willis — the youngest daughter of actors Bruce Willis and Demi Moore — announced via her Instagram that she is engaged to her boyfriend, director Dillon Buss, per E! News. The publication wrote that she and Buss have been dating since February 2020. She hasn't been shy about her love for her now-fiancé, writing on Instagram that she'd "never loved more than this," a caption that accompanied a photo of her snuggling with Buss in bed. While the proposal was beautiful and encapsulated the couple's love for one another, some fans couldn't get over one specific thing: Willis' engagement ring.
In a different Instagram post about the ring, Willis stated that she "had to be in the drivers [sic] seat," meaning that she wanted control over what her engagement ring would look like. She then described how she and designer Karina Noel worked on a design that felt "like it was on a delicaté [sic] finger of a resident of Rivendell/Ancient other worldly [sic] aliens." And it's safe to say that the "group effort" paid off, as the ring is absolutely stunning. 
Kimberly Abruzzo, a GIA Graduate Gemologist and Applied Jewelry Professional with Rare Carat, spoke with Nicki Swift about what she called a "door-knocker" ring and its fantastic diamond. Keep scrolling to find out what she said about the stunning piece of jewelry.
Tallulah Willis' engagement ring is on trend
Tallulah Willis hasn't been shy about showing off her incredible engagement ring on Instagram. She posted a series of photos of her posing with her fiancé, Dillon Buss, and even gave her followers a close-up of the massive sparkler in action. Kimberly Abruzzo, a gemologist and applied jewelry professional with Rare Carat, told Nicki Swift that the diamond was approximately five to six carats and an emerald-cut design. "Paris Hilton and Bethenny Frankel also chose emerald shapes for their recent engagements; the cut is classic and on-trend," Abruzzo says.
The gem expert also stated that Willis chose "a sleek tapered band that looks like it's 18K gold." (You can tell because if it were 14-karat gold, it'd "look less bright yellow in tone.") She went on to say that emerald cuts "require high clarity," so she told Nicki that it's safe to say Willis' diamond was "a very clean stone. In diamond lingo, no lower than a VS1 on the GIA clarity scale."
The Gemological Institute of America (GIA) has a diamond clarity scale with 11 grades, ranging from Flawless to Included. If Willis' engagement ring is Very Slightly Included (VS1) or higher, chances are good that the diamond will appear perfect to anyone who isn't a trained grader of gemstones. It certainly looks flawless in the photos the actor posted!
Tallulah Willis' ring could have cost more if it were a different color
Kimberly Abruzzo, a gemologist and applied jewelry professional with Rare Carat, explained to Nicki Swift that Tallulah Willis' engagement ring, while impressive, could have been even more expensive. While the diamond used needed to be incredibly clear, clarity isn't the only way diamonds are classified — they are also judged by their color. "To compensate for the cost of a high clarity diamond," Abruzzo said, it's "likely the designer went down to a lower color," evidenced by the yellow hues of the gem. The yellow still looks incredibly vibrant, though, set against the yellow gold band, she noted.
"This could be down to the I through J range on the GIA scale," Abruzzo says. "It's a smart way to save cash if your heart's not set on platinum." With the high clarity but low color of the diamond, Abruzzo estimates that the ring probably cost somewhere "between $100K – $150K." She also told Nicki Swift that the ring would have been a lot more expensive "if it was set in platinum, requiring a D, E, or F colorless diamond."
All told, the ring is gorgeous, and we're very excited Willis got the ring (and the man) of her dreams!