The Truth About Paul McCartney And George Harrison's Friendship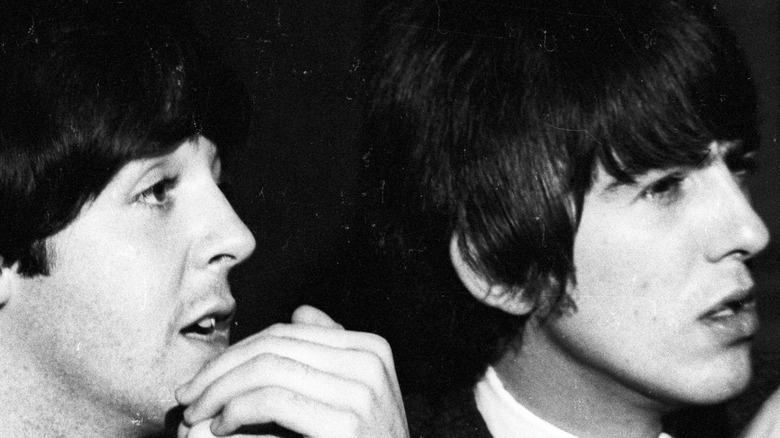 Michael Ochs Archives/Getty Images
Paul McCartney's songwriting skills and George Harrison's notes on the guitar made for several hits by The Beatles. McCartney and John Lennon took most credits for the band's songs — they had a songwriting partnership with around 180 jointly-credited songs. However, it was Harrison who helped the band discover a new voice with some songs of his own.
There's always enough talk about Lennon and McCartney, as the two were often seen front lining the band during tours and media appearances. But what stays more hidden is the McCartney-Harrison friendship that blossomed right during the early days of the band. 
So how exactly did McCartney and Harrison become friends, and how did their friendship evolve as the band rose to fame? What impressions did it leave on the band? These are some of the questions that The Beatles and classic rock fans might be eager to explore, and we have the answers below.
Paul McCartney and George Harrison's friendship began before The Beatles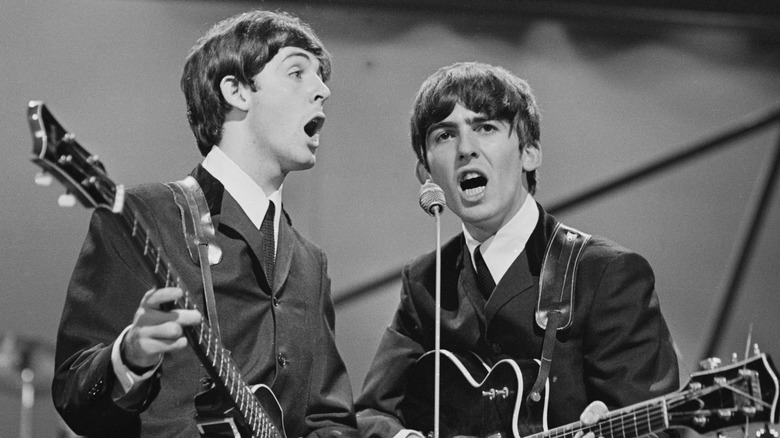 Edward Wing/Getty Images
The bond among the Fab Four looked strong when they first appeared together in the early '60s. The chemistry and synchronicity came with years of collaboration and obsession with music. George Harrison was obsessed with guitars from a young age. According to Rolling Stone, Harrison would fill his notebooks with guitar drawings and later with chord charts and lyrics as he'd practice his way to find a place in a band that would go on to make one chart-topping album after another.
Paul McCartney was Harrison's older classmate, and they met when McCartney needed a guitar player for a new band that he was trying to make with John Lennon. "I know this guy," McCartney told Lennon, as per Rolling Stone. "He's a bit young, but he's good."
An introduction from McCartney was all Harrison needed to make his mark in front of the Liverpool boys. He was accepted and he became a Quarryman — the band was called 'The Quarrymen' in its early stages and later evolved into The Beatles. Ringo Starr joined the band in 1962 after the band fired Pete Best.
George Harrison once grew tired of Paul McCartney, but their friendship endures even after Harrison's death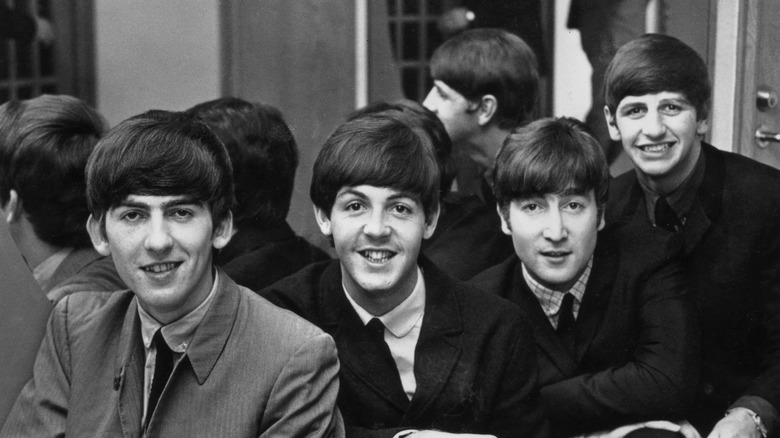 Keystone/Getty Images
George Harrison struggled to get his compositions into the band's album. But when the band decided to break up in 1970, Harrison was able to release his feelings on his album "All Things Must Pass."
"George got stuck with being the Beatle that had to fight to get songs on records because of Lennon and McCartney. Well, who wouldn't get stuck?" Bob Dylan told Rolling Stone, per NME. "If George had his own group and was writing his own songs back then, he'd have been probably just as big as anybody."
The magazine states how Harrison told The Beatles' publisher in 1979 that he was growing tired of McCartney, which led to him working on "Run of the Mill," a song aimed at McCartney.
Both Harrison and McCartney worked solo and with other groups after the band's split. Their relationship aged too, overseeing the frictions of their youth. The surviving members of The Beatles at the time — Harrison, Ringo Starr and McCartney — even briefly reunited at Harrison's home in 1994 to perform some of the band's earliest songs. The friendship now percolates in an evergreen coniferous tree which Harrison gave McCartney before his death in 2001.
" ... Every time I look at it I go, 'That's the tree George gave me.' George has entered that tree for me. I hope he's happy with that," McCartney told NPR's All Things Considered in 2020.