This Is How Prince William Is Taking Steps In Repairing His Rift With Harry
Shutterstock
Prince William and Prince Harry have been at odds for quite some time. Their disagreements extend back to when Harry and his wife Meghan Markle decided that they would step down as senior members of the royal family. During Harry's sit-down interview with Oprah Winfrey, he confirmed such when he described his relationship with his brother as "space," according to The Sun. Since that time, there have been reports — like this one from Us Weekly — that things between the brothers has only gotten worse.
However, after Prince Philip's funeral, William and Harry were seen talking as they walked from St. George's Chapel to nearby Windsor Castle. A body language expert previously told Nicki Swift that there were some positive signs during that chat, and that "there was no sign of tension in their body language," which is clearly a good thing. However, it has been widely reported that William and Harry's rift is still ongoing, regardless of the time they may have spent together in April. Flash forward a few weeks, and it seems that the talk that William and Harry shared after Philip's funeral may have actually held more weight than the world realizes. Keep reading to find out why.
Prince William and Prince Harry talking after Prince Philip's funeral was a 'baby step,' expert says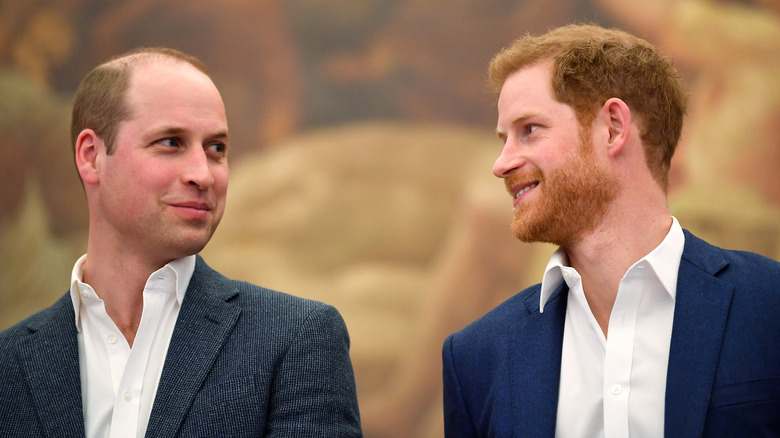 Wpa Pool/Getty Images
A royal expert by the name of Robert Jobson told Us Weekly that he thinks that Prince William and Prince Harry "did actually talk" when Harry was in the UK for Prince Philip's funeral. He told the outlet that doing so was a "baby step" — but still a step nonetheless. "Ultimately, Harry was only there to pay his last respects to his grandfather, who was a great man, and whether or not there was a rebuilding between William and Harry ... that's going to show over time," Jobson explained.
According to People magazine, Harry did not stay with William and his family at Kensington Palace upon his arrival in the UK, Instead, he stayed at his old home at Frogmore Cottage on the grounds of Windsor Castle. And while the public may have tried to make a big story out of that choice, it seems that simply made the most sense for Harry, who may have wanted to be close to his grandmother, the queen. The simple fact that William talked with Harry shows that he's willing to take steps to mend their falling out, Jobson suggests. "In life, siblings fall out, they get back together or sometimes they don't rebuild their relationship. But frankly, a funeral is a time for people to put their problems aside and commemorate the person who's died, and then move on," he told Us Weekly.