The Truth About Siesta Key Newbie Serena Kerrigan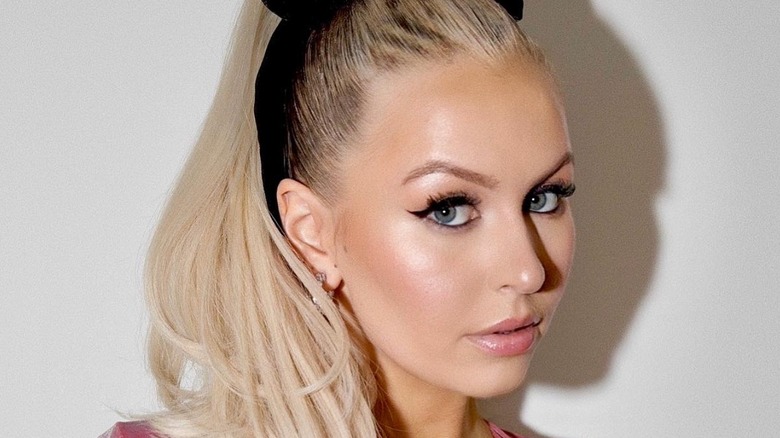 Courtesy of Serena Kerrigan
In the words of Serena F**king Kerrigan, better known as SFK, "Let's f**king 'Siesta Key!'" That's right, the Queen of Confidence is hitting the shores of the hit MTV reality series and she is ready to shake things up, just like the dating game.
For those who follow Serena Kerrigan, you know she is a queen unlike any other. Although she commands the spotlight, she lets it be known that she's saved a seat for everyone at her throne. Proving she has beauty and brains after graduation from Duke University, she has been hustling to build her personal brand as the modern-day Samantha Jones ever since.
The New York native first garnered major attention after quitting her job at Refinery29 to focus on creating her Instagram Live dating show "Let's F**king Date" in the throes of the COVID-19 pandemic. Diving into her brand headfirst, her self-made reality show accumulated nearly 2 million views, per Forbes — not to mention her lucrative card game aimed to get people talking and in the mood.
Despite shaking up the reality TV world on her own terms, Serena is making her way to a slightly bigger screen with her debut on Season 4 of "Siesta Key," premiering on May 12 on MTV. In fact, Serena spilled some tea while speaking exclusively with Nicki Swift and she says we have this cast member to thank for her cameo. Keep scrolling to learn more about SFK and her highly anticipated appearance on the hit show.
Juliette Porter knew 'Siesta Key' needed Serena Kerrigan
As it turns out, Serena Kerrigan is actually good friends with "Siesta Key" veteran Juliette Porter, and it looks like she recruited the confidence coach to be the cast's much-needed voice of reason. "I met Juliette during Fashion Week in NYC years ago and we instantly became friends," Serena exclusively told Nicki Swift. Further elaborating on how her debut came about, she explained how Juliette invited her to "escape the New York winter and spend a month in The Grenadines," which she of course, "jumped at the opportunity," adding, "I was eager to help her with her swimwear brand and get to know the rest of the cast as well."
With her goal to encourage self-love, plus her persona as every girl's dream BFF who's always there to give you a bathroom pep talk, Serena, "naturally became the resident advice-giver on the island." However, it seems like some drama found this queen, considering Serena told a fan her "Siesta Key" experience "was f–king nuts" during a May 6 Instagram Q&A. And from the look of Serena's face in the show's trailer, this season is bound to be one for the books.
"Being part of this journey was an incredible experience, and I'm curious how the audience will respond to having a different perspective from someone outside of 'Siesta Key' on the show," Serena expressed. We can't wait to see the Queen of Confidence take center stage on "Siesta Key"!