The Truth About Angela Simmons And Daniel Jacobs' Relationship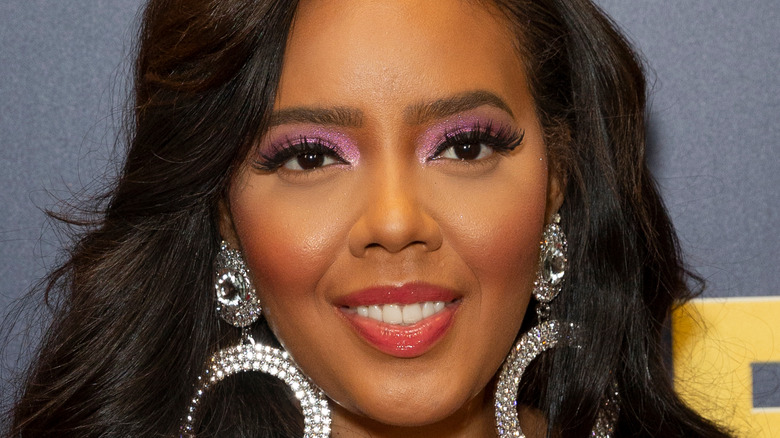 Shutterstock
Celebrity couples are notoriously hard to keep track of, unless of course, the celeb in question is Angela Simmons, who has never been overly private about who she's cozying up with. Still, sometimes the "Growing Up Hip Hop" star can be a little coy about her relationship status, especially with her most recent boo, boxer Daniel Jacobs. 
While the hip-hop world has always rooted for Angela and her sometimes co-star, Bow Wow, it obviously just isn't meant to be ... just yet at least. In August 2020, Angela made her relationship with Jacobs, known as "Miracle Man" in the rings, Instagram official by posting a pic of them all dressed up and heading to a wedding. It was legit, as Bow Wow even spoke to the Shade Room about the news, saying that he was happy for her and given that he's still "outside" most of the time, it wouldn't have been "right" for Angela to settle down with him, implying that he's just not focused and above the fray enough to make a good serious, boyfriend. 
But Jacobs might not have been a great choice either, given subsequent developments in their relationship. Read on to see where they stand with each other now.
Angela Simmons' Instagram may hold all the clues
Given that she hasn't spoken too much about her relationship with boxer Daniel Jacobs, it's hard to know just what went down with him and Angela Simmons. As mentioned, the two went public in August 2020, but by Christmas time the same year, fans began to notice that she had deleted traces of him from her 'Gram. Never a great sign. 
There are still pics of her training in a boxing ring, but not with him, which is a clear sign that maybe she just likes the workout. Per further Insta-investigations, the split seemed to happen sometimes after October 2020, when she posted a video of herself in a "Team Jacobs" sweatshirt. There have been no new updates and for now, Angela appears to be single. 
She deserves some time to herself and son, Sutton Jr. The father of her tot is Sutton Tennyson, who was killed by gun violence in 2018, per Page Six. So it makes sense that Angela might still be healing, taking it out in the ring, and waiting for the next best partner for herself and her son. Maybe Bow Wow needs to get "inside" and make it happen after all.