Why Kelly Clarkson Isn't A Fan Of Miley Cyrus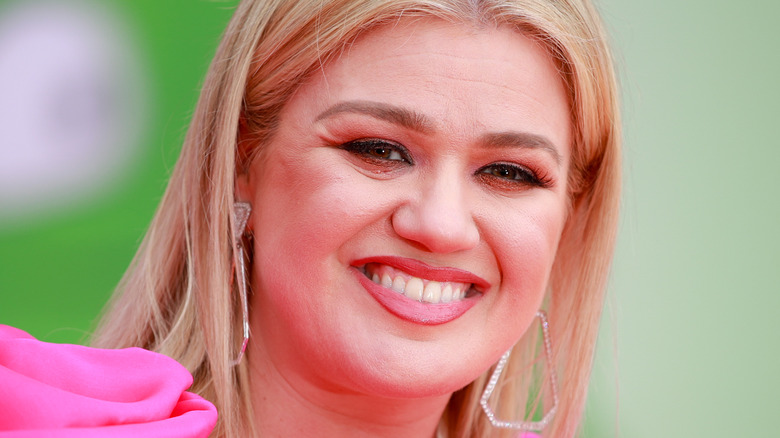 Rich Fury/Getty Images
Ever since pivoting to the talk show world, Kelly Clarkson has turned heads — and made headlines — for her disarmingly candid persona. In April, the superstar singer made a rather alarming (yet not unrelatable!) latrine-based confession on "The Kelly Clarkson Show" to guest Clint Black. "How many of us haven't peed on stage?" Black said, to which Clarkson replied, "There was one time, it wasn't pee, my friend." She then dove into her own anecdote. "I got ... wrecked up from some kind of food," Clarkson explained. "And we were in an arena... and I shouldn't tell this story but like I said my man, I don't have a filter. I had to run backstage to my quick-change. I grabbed this poor trash can and boy I destroyed it." Wow. And that's why we love her, folks!
Another star famous for her longtime lack of self-censorship would be, of course, Miley Cyrus. The star made her sixth appearance, per Yahoo! Finance, on "Saturday Night Live" on May 8 alongside controversial host Elon Musk. Leading up to her performance, the "Wrecking Ball" rider posted an Instagram video of herself hiding amidst a sea of luggage. "How many wardrobe trunks are you bringing to the show tonight Elon? @nbcsnl... F*** the moon. I just wanna go to Gucci," she wrote. She was "just being Miley!"
So it's not a shock — even if Clarkson isn't necessarily one for negative press — that these two have clashed. Read on for their dramatic tiff.
Kelly Clarkson seemingly took aim at Miley Cyrus in 2013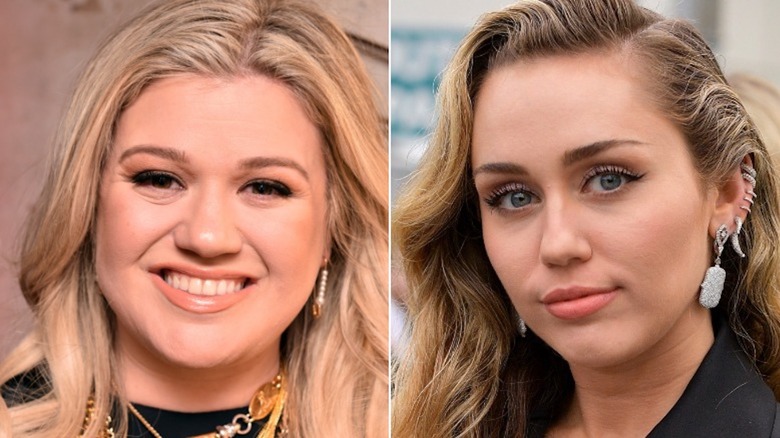 Jared Siskin, Matt Winkelmeyer/Getty Images
So, what happened between Kelly Clarkson and Miley Cyrus? Though Clarkson has since covered Cyrus' megahit, "Wrecking Ball," in 2019 (henceforth seemingly burying any hatchet), the host landed in hot water over a tweet that many took as her dissing Cyrus' twerk-heavy (and teddy bear-heavy) 2013 MTV Video Music Awards performance. 
In a now-deleted tweet, per the Daily Mail, Clarkson quipped to followers following the infamous moment, "Just saw a couple of performances from the VMAs last night 2 words.... #pitchystrippers." Amongst the many internet users interpreting it as a direct shot at Cyrus, one mused, per the Daily Mail, "Kelly Clarkson called Miley a pitchy stripper. Do you think she's mad because her past few singles flopped and wasn't asked to perform?'" This was certainly nicer than one Twitter user who simply called Clarkson, "bitter." 
At last, Clarkson was asked about the incident by Andy Cohen during a 2018 interview with "Watch What Happens Live." "I never said Miley Cyrus. The fact that I tweeted 'pitchy stripper' and people thought Miley Cyrus is not my problem. I'm just sayin'," Clarkson said. That sounds like a lot of 'tude for years of hindsight, but we respect Clarkson for holding her ground! Nevertheless, the two have gone quiet on each other, and Clarkson's 2019 musical tribute shows she's apparently moved on. Guess music does heal after all!