How Did William And Harry's Feud Develop?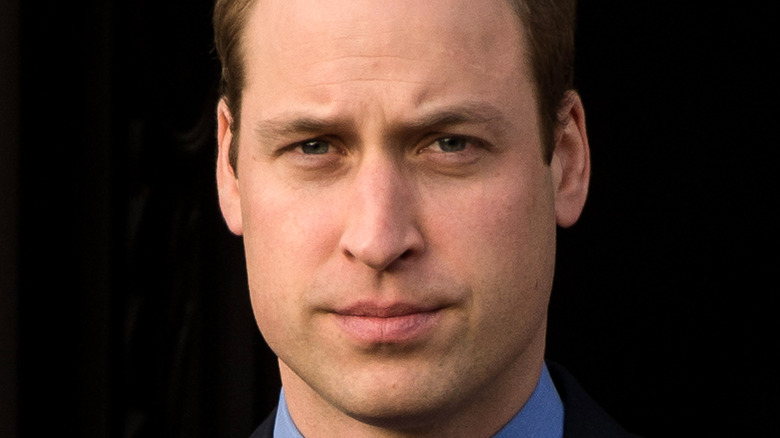 Richard Stonehouse/Getty Images
Prince William and Prince Harry have been at odds for more than a year. While there had long been rumors that the brothers weren't on the best of terms, Harry confirmed such during his interview with Oprah Winfrey that aired on March 7. "You know, as I've said before, I love William to bits. He's my brother. We've been through hell together. I mean, we have a shared experience. But, you know, we're on different paths. The relationship is space, at the moment. Time heals all things, hopefully," Harry told Oprah, according to The Sun.
Harry's life has pretty much been a whirlwind since he fell in love with Meghan Markle. Shortly after the two went public with their romance, they announced their engagement. That, of course, was followed by a royal wedding in May 2018, and then a baby announcement, all of which happened over the course of just a couple of months. Meanwhile, William has been focused on his own family; he shares three children with his wife, Kate Middleton. He has also been keeping up with his royal duties as he is set to become the future king of England. 
The brothers have been notoriously close over the years, but something went wrong somewhere down the line, causing a feud that has torn them apart. Keep reading to find out how that feud started.
Prince William and Prince Harry's feud may have started in 2018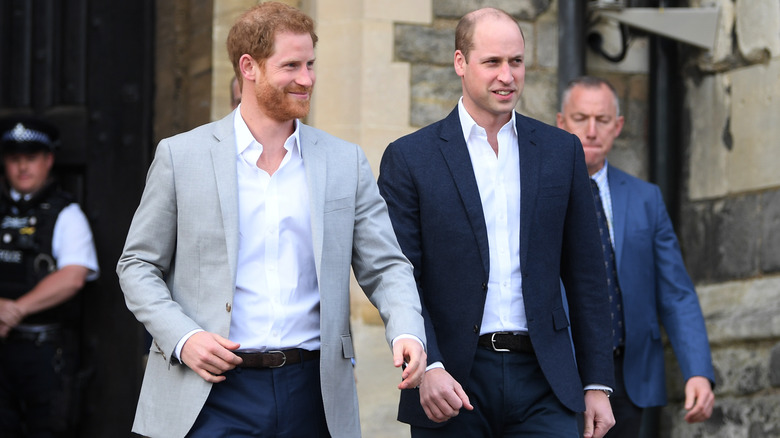 Shaun Botterill/Getty Images
Prince William and Prince Harry have seemingly grown apart, perhaps due to the fact that they are simply in different places in their lives — or on "different paths," as Harry told Oprah Winfrey, according to The Sun. Their rift began in late 2019 or early 2020, according to Tom Bradby, a longtime friend of both William and Harry. In a May 2021 interview, Bradby told the London Times that things between the brothers deteriorated slowly. "It used to be quite a straightforward thing, right, because they weren't arguing and life was simple. And then it just slowly descended into something that was difficult — personally and publicly — really over the past year and a half," he revealed.
Back in 2018, The Sun reported that Harry and Meghan Markle decided against living close to William and Kate Middleton at Kensington Palace. "The initial plan was for Harry and Meghan to move out of their cottage in the grounds of Kensington Palace and into one of the main apartments, but there has been a bit of tension between the brothers," a source told the outlet. This was really the first sign that things weren't going swimmingly between William and Harry. The Duke of Sussex's new relationship was often blamed for that aforementioned tension.
Then, in November 2018, royal reporter Katie Nicholl wrote an article for Vanity Fair in which she uncovered the very first link to William and Harry's ongoing feud.
Distance may be causing Prince Harry and Prince William's rift to grow
Wpa Pool/Getty Images
Prince William and Prince Harry started growing apart after Meghan Markle came into the picture. Fans of the royal family will probably remember the time when Harry would tag along with his older brother and his sister-in-law, but once he fell in love, he was determined to do things on his own. And while that might have been all well and good, William and Harry's close relationship suffered.
In an article for Vanity Fair, Katie Nicholl cited a source who told her that the feud between William and Harry started because Harry didn't feel as though William was "rolling out the red carpet for Meghan and told him so." The source said that the brothers had "a bit of a fall out which was only resolved when Charles stepped in and asked William to make an effort." And although William may have tried to smooth things over, tensions continued to flare.
When Harry and Meghan decided to step down as senior members of the royal family and leave the UK, a source told the London Times that William was "really sad and genuinely shocked." William and Harry's long distance relationship was further strained by the global pandemic — and then Harry sort of mucked things up more when he sat down with Oprah Winfrey to air out some dirty laundry. And thus, with the seed of the feud planted, it has continued to germinate and grow.