The Real Meaning Behind 'Blame It On You' By Jason Aldean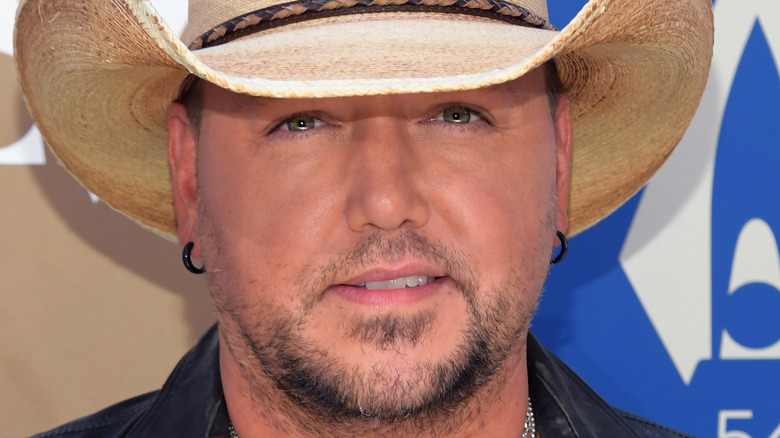 Jason Kempin/Getty Images
Jason Aldean might just be one of the most successful country music artists working today and he doesn't look to be slowing down anytime soon. If his Instagram feed is any indication, the hitmaker is currently hard at work on his tenth studio album, a still-to-be-announced project that is expected to follow the success of his previous album 2019's "9." 
"Early on I always thought if we ever got to make nine albums, I'm going to call it 9," Aldean said, per The Boot, speaking on the milestone importance of the song collection. "It was my baseball number growing up, and it's just kind of always been my lucky number. I remember cutting the first album and thinking, 'That's forever away,' and now here we are. I don't know, it's really special we made it this far — so, it's more for me than anybody else – but, it means a lot."
Given the significance of the LP, it's only fitting that "9" features a medley of songs celebrating what country music means to Aldean. From "I Don't Drink Anymore," which pays homage to the genre's roots, to the anthemic single "We Back," the album houses something for every kind of country music lover. In particular, the third track, "Blame It On You", is particularly notable. Though it seems like a typical breakup ballad on the surface, there's more to it than first meets the ears. Let's take a closer look!
'Blame It On You' is a new spin on a country classic
David Becker/Getty Images
Songfacts calls "Blame It On You" a "tears-in-my-beer ballad" that details the end of a relationship. With lyrics like "I could blame it on the whiskey / I wouldn't blame you if you didn't even miss me / Gave you a million reasons, girl, not to be with me," Jason Aldean is coming to terms with the fact he only has himself to blame for the demise of a relationship. And the dramatic music video, which depicts a cinematic storyline following a 1940s-era couple, only adds to the emotional sucker punch of the song.
But while "Blame It On You" is classic country at its core, it showcases Aldean's ability to revamp classic themes and sounds with edgy melodies and modern technology. "When I hear songs like 'Blame It On You' that have more of a pop side but are still killer ... I always want to see what we can do with it," the singer explained of the songwriting process, per Sounds Like Nashville. "The demo had this really cool auto-tune in the background that I immediately knew we needed to leave in there. We ended up cranking it up ... It's just really cool. I've always said that just because it's a slower song, it doesn't mean that it can't be edgy. You can still have some attitude to it." 
Break-up anthem it may be, it still manages to deliver the gritty aesthetic for which Aldean is known!