Inside Queen Elizabeth's First Major Public Ceremonial Duty Since Prince Philip's Death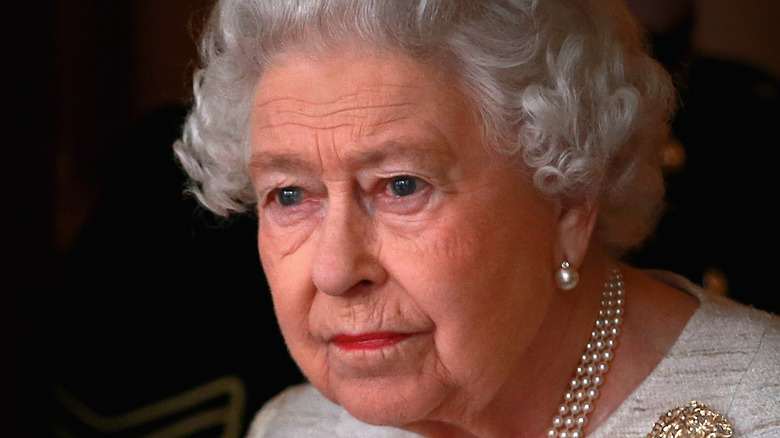 Chris Jackson/Getty Images
Queen Elizabeth put her best foot forward at the State Opening of Parliament ceremony. The occasion was the British monarch's first major public ceremonial duty since Prince Philip died on April 9 and it was decidedly different from previous events. This seems to be in keeping with the queen's new way of doing things following the death of her husband. For one, she is not using the traditional black-edged stationery to signify the death of Philip, and she has already moved to Windsor Castle, where it is alleged she will spend the rest of her days.
Of course, the solemn event was earmarked by the absence of the Duke of Windsor. For the first time in 120 years, the consort's throne was removed from the ceremony, according to the Daily Mail. The throne dates back to 1901 when Queen Alexandra, wife of King Edward VII, accompanied her husband to the House of Lords for every State Opening. Philip and Elizabeth continued the tradition, but at the 2021 state opening, the queen was seated by herself for this prestigious occasion. 
The Queen was accompanied by Prince Charles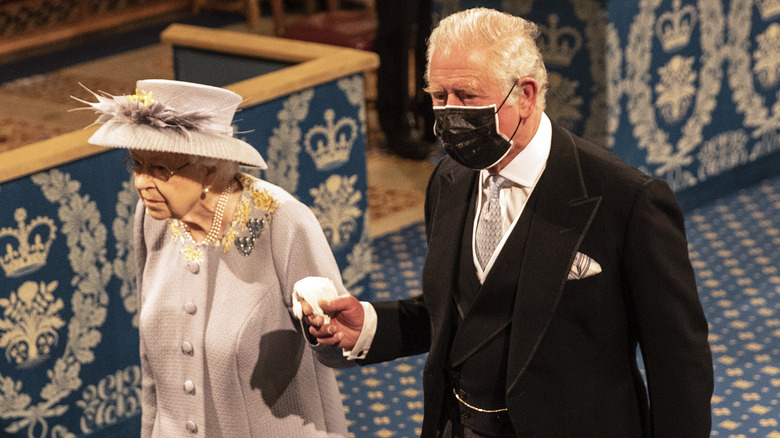 Wpa Pool/Getty Images
Queen Elizabeth entered the House of Lords on the arm of her eldest son, the Prince of Wales, per Daily Mail. In previous years, when Prince Philip did not attend the British State Opening of Parliament, Prince Charles would sit on the consort's throne. However, Charles and Camilla, the Duchess of Cornwall, were seated to the side. Those who watched Philip's funeral will remember the forlorn picture of the queen sitting by herself. Similarly, she was alone at the State Opening ceremony.
The queen arrived by car from Windsor Castle and was accompanied by her lady-in-waiting during the trip. She also decided to forego her two-pound Imperial State crown and ceremonial robes. (She hasn't worn the crown since 2016.) Instead, she wore a coat and a hat. Although social distancing protocols were in place, the queen was the only participant who did not wear a face mask. Everyone who was present did have to produce a negative COVID-19 test, however. Between the absence of Philip and the pandemic protocols, the stripped-back ceremony seemed to indicate the somber mood of the British monarch and the United Kingdom as a whole. Nonetheless, it was undeniably a historic day!