Diamond Expert Reveals Shocking Price Of Porsha's Engagement Ring - Exclusive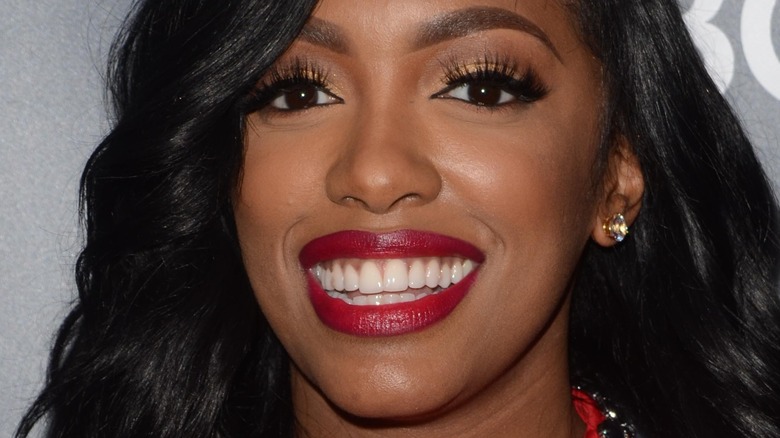 Shutterstock
Anyone still saying that all the drama on reality TV is the same has clearly not seen the news: "Real Housewives of Atlanta" star Porsha Williams just got engaged to co-star Falynn Guobadia's estranged husband, Simon Guobadia, after a month of dating. Porsha announced the relationship on her Instagram, which included in the caption, "Falynn and I are not friends, and Simon's divorce has been settled. Our relationship is a positive, loving step forward in everybody's lives."
We can wait to watch the drama unfold on the next season of the show, but we cannot wait that long to discuss the Atlantic iceberg of a diamond engagement ring Simon showed off on his own IG. So, obviously, we went to an expert, GIA graduate gemologist and applied jewelry professional with Rare Carat, Kimberly Abruzzo.
"Porsha's ring is a large emerald cut diamond, following in the footsteps of her RHONY peer Bethenny Frankel," Abruzzo tells Nicki Swift. "Paris Hilton also got an awesome emerald cut diamond recently. 'Step cuts' like emerald, Asscher, and antique cuts have always been classic but are becoming increasingly popular with celebs."
Scroll on for the deets.
Porsha's rock is no joke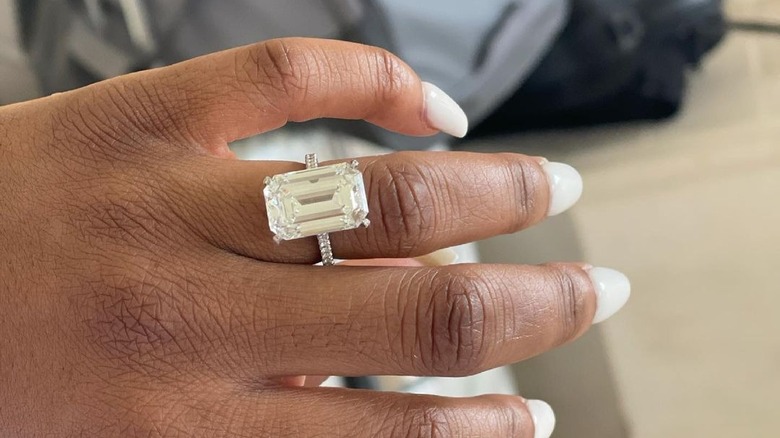 Simon Goubadia/Instagram
Diamond expert Kimberly Abruzzo estimates that Porsha Williams' diamond engagement ring is somewhere in the neighborhood of 12 carats. Yes. 12.
As for what a ring like this would cost, Abruzzo lists a number of factors that could contribute to the cost of the diamond, including color grade and clarity. A diamond's color grade is measured on an alphabetical scale of D to Z, with D being the closest to colorless which is ideal. "We're seeing a variety of stats and prices thrown around for this ring. It's been suggested this is anywhere from an E to a K color grade," Abruzzo says.
"Personally, I don't think this could be an E color with that yellowish hue showing face-on. While it's true that a diamond will throw off more unwanted tint as it gets larger, this one has too much warmth for a 'colorless' range. Key word there is colorless: those are the D, E, F diamonds," she explains. "I think it's more likely an I or J diamond."
As for clarity, Abruzzo rates Porsha's rock a VVS1 or VVS2, which is just a notch below flawless. "For clarity, they wouldn't go below a VS1 here," Abruzzo estimated. The diamond is way too big to camouflage inclusions, and imperfections are amplified in cuts with large tables (the table is the top facet of the gem)."
All told, Abruzzo estimates, "this could've cost between $700K-$1M."
Well damn.