Is Porsha Williams Dating Falynn's Ex-Husband, Simon Guobadia?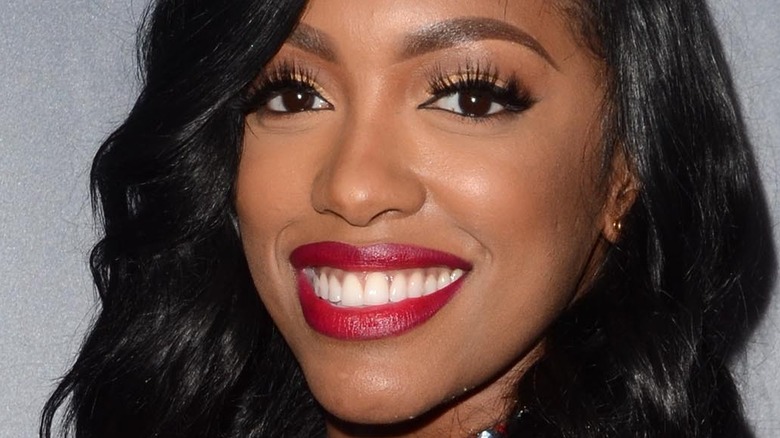 Shutterstock
Porsha Williams always brings the drama (and the headlines) on "Real Housewives of Atlanta." Who could forget the wild year she spent with ex-fiance Dennis McKinley before their September 2018 engagement?
Their whirlwind romance came to a crashing halt when Dennis' cheating allegations came to light. He reportedly cheated on Porsha when she was pregnant with their daughter Pilar Jenha and admitted to his actions in a 2019 episode of "Real Housewives of Atlanta." Porsha struggled to deal with the fact that Dennis would attend cast member Cynthia Bailey's wedding. "I tried to tell Dennis that I didn't want him to be invited," Porsha said on the series (via People). "Him finding out that I didn't necessarily want him to be at the wedding, he felt like I was going to bring a date."
The exes have clearly moved on, and Porsha made it very clear that she never had any intention to get back together with Dennis. "Dennis, it's not that I'm afraid," she said. "If we didn't have a baby, you and me probably wouldn't even be talking anymore, because you'd be f***ing over me and I'd be over you." Ouch.
With McKinley in the rearview once and for all, fans think there is something going on with Simon Goubadia. Keep reading for more details.
Porsha's Instagram post has fans asking a million questions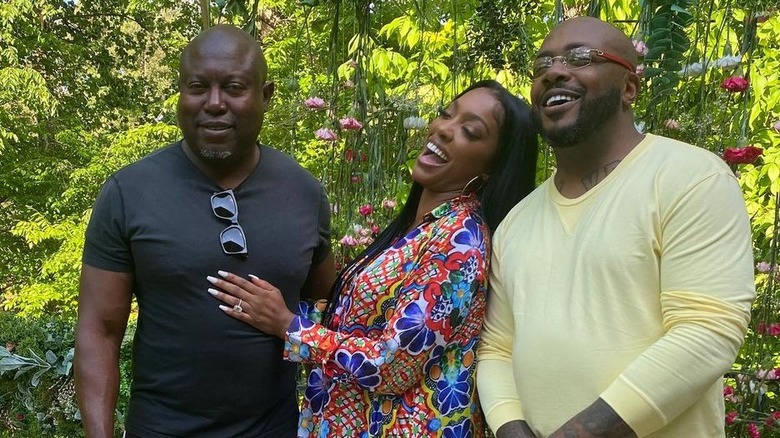 Porsha Williams/Instagram
It looks like love is in the air for Porsha Williams! The "Real Housewives of Atlanta" star raised eyebrows when she posted an Instagram photo standing next to ex-fiance Dennis McKinley and Simon Goubadia, the estranged husband of show "friend" Falynn Goubadia. Fans were quick to note the placement of Porsha's left hand on Simon's chest, which could potentially suggest an intimacy level beyond more than just friends. Another detail that caused a frenzy? A ring on Porsha's finger.
The ring on Porsha's hand sent fans into overdrive, with some fans thinking it's different from the engagement ring McKinley gave her in 2018. One fan wrote, "What the hell is going on with Porsha and Simon??? I'm so confused LMAO these are two different rings."
And that's not all — fans also noticed that Dennis left a suggestive comment on her Instagram post. "Congrats P! Cheers to your next chapter! Happy Mother's Day," he said. Porsha responded with "Thank you," which has fans asking another question: what, exactly does this next chapter entail?
Simon and Falynn filed for divorce in February and they publicly acknowledged their split in April. Simon alleged Falynn was unfaithful in the marriage and requested the court to "enforce" their prenuptial agreement, per Bossip.
Porsha has not said anything else about Simon, so we'll stay tuned for updates!