How Jason Tartick Originally Wanted To Propose To Kaitlyn Bristowe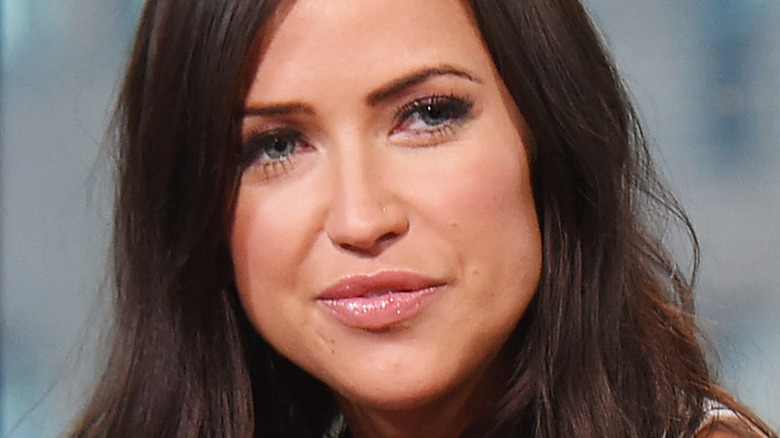 Michael Loccisano/Getty Images
They're going to the chapel anddddd they're gonna get married — and by "they" we mean Bachelor nation alum Kaitlyn Bristowe and her now-fiance, Jason Tartick!
The happy couple shared their good news during an exclusive interview with ET. "It was everything I could have asked for," Kaitlyn exclaimed to host Rachel Smith. "The words that came out of his mouth were insanely beautiful. We've never locked eyes like that in our lives. We were holding hands, so intense, and I was listening to his every word, but still blacked out," she divulged.
The story goes that Jason devised a plan to propose during what Kaitlyn thought was just a routine recording of her popular podcast, "Off the Vine." Halfway through recording, however, Jason turned to Kaitlyn and told her that they were not actually recording a podcast after all. After accusing Jason of forgetting to hit "record," she quickly learned that he was guilty of something much bigger — surprising her with a whopping 5.09-carat oval-cut engagement ring! 
Alas, it appears Jason actually had very different plans on how he initially wanted to propose to his girlfriend of more than two years. Keep reading to learn all of the deets about his first plan. 
Jason Tartick wanted to propose in Mexico
As reported by ET, Jason Tartick initially wanted to propose to reality television personality turned podcast host Kaitlyn Bristowe during an upcoming romantic getaway to Cabo San Lucas, Mexico. But after some trepidation about getting the engagement ring discreetly through customs he decided to 86 that plan. 
Even bride-to-be Kaitlyn expected a proposal of that kind, which made the true proposal that much more surprising and special. "I really did think a Jason way of doing it would have been something extravagant and really big. I actually thought he was going to do it maybe in Mexico, on the beach, and I would have saw it coming," Bristowe confessed during the exclusive interview. "I really wanted it to be intimate, so I loved that it was just during our podcast." 
One thing she didn't love about the proposal: her engagement attire. "I was trying to be present but I was so overwhelmed, and I was so embarrassed, because I was wearing a T-shirt that said, 'Tequila for Breakfast,'" Kaitlyn dished. "I was like, 'This feels very on brand, but also very inappropriate!'"
Congrats to the happy couple!