Why Seth Rogen Once Felt Humiliated By Beyonce's Security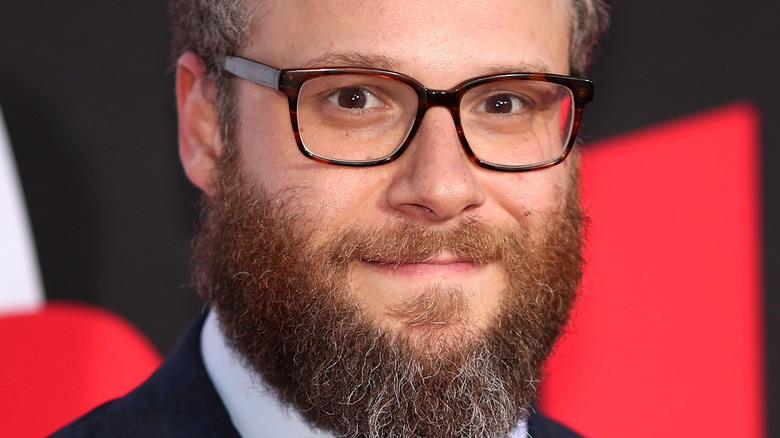 Christopher Polk/Getty Images
When stumbling upon Beyoncé in real life, it's easy to be fangirling — even if you're a celebrity like Seth Rogen. On May 11, while speaking with E! News' "Daily Pop" show about his upcoming memoir "Year Book," Rogen described his hilarious attempt at approaching Beyoncé while backstage at the Grammy Awards many years ago.
After seeing the superstar with Gwyneth Paltrow, Rogen told "Daily Pop" host Justin Sylvester that he immediately rushed over to say hi ... which wasn't a good idea. "You're a very smart guy, I know it. I felt it," Sylvester told Rogen. "Until I heard that you tried to say hi to Beyoncé backstage. Then I was like 'okay, this motherf****r might be stupid."
He wasn't wrong, as the actor learned firsthand what happens if you ever try to approach Bey. After rushing over to the "Black Is King" star, Rogen told Sylvester that he was immediately stopped by her personal security, who left him feeling straight up "humiliated."
Beyonce's security caused Seth Rogen to spill his drink all over himself
Kevin Mazur/Getty Images
As soon as Seth Rogen approached Beyoncé, her security hit him so hard that he spilled his screwdriver cocktail all over his suit. "I got what I deserved ... I was humiliated and I didn't get to meet Beyoncé," he said (via E! News). The embarrassment didn't stop there, though, as the hilarious moment happened right before Rogen was supposed to present an award. "And so I had to present a Grammy while literally holding my arms in a very weird position to cover the stain."
This experience left him so scarred that he didn't even think about approaching her at the "Lion King" premiere, even if they both worked on the movie. "I wasn't going to go up to her, mostly for fear," Rogen told Jimmy Kimmel in 2019 (via The Hollywood Reporter). "I was wary of going near her because I look like someone who you would want to keep away from Beyoncé in general. And so I waited for her to approach me."
This time, things went much better. Rogen told Kimmel that security let him through and Beyoncé was "very nice" ... even when his beard got stuck to her sequined dress.