Ellen Gives Emotional Monologue After Announcing The End Of Her Talk Show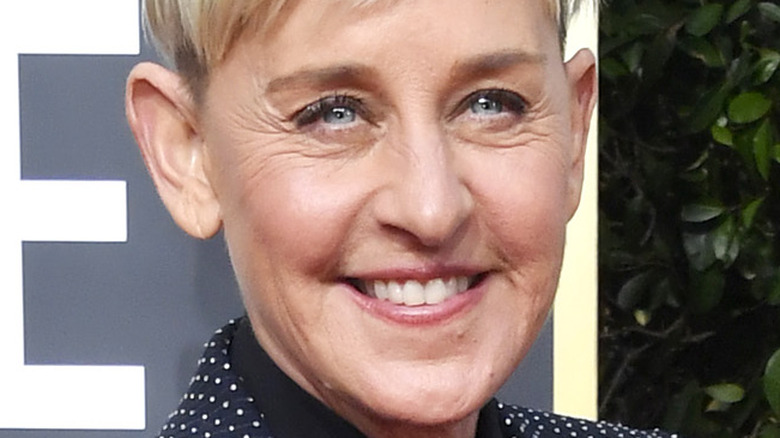 Frazer Harrison/Getty Images
Famous talk show host and comedian Ellen DeGeneres delivered an emotional monologue during the taping of May 13's "The Ellen DeGeneres Show," wherein she explained that the upcoming 19th season would be the last, per Today.
As you may recall, the comedic icon landed in some scalding hot water in 2020 after accusations of workplace toxicity and even claims of racism and bullying surfaced via a bombshell report by BuzzFeed. While most of the accusations involved high-level producers and managers, one past employee did point the finger squarely at DeGeneres.
"She really needs to take more responsibility," the dissatisfied previous employee declared. "If she wants to have her own show and have her name on the show title, she needs to be more involved to see what's going on I think the executive producers surround her and tell her, 'Things are going great, everybody's happy,' and she just believes that, but it's her responsibility to go beyond that," they added.
While DeGeneres tackled the scandal head-on, even vowing to do better, it's reported by Daily Mail that the show was never able to rebound from the bad press and hemorrhaging viewers. Alas, it appears DeGeneres is citing different reasons for pulling the plug. Keep reading after the jump to learn all about DeGeneres emotive monologue.
Ellen DeGeneres chalked the decision up to timing and instincts
As reported by Today, during a sneak peek of the bombshell episode, Ellen DeGeneres spoke candidly about her reasons for ending the variety show. "Today I'm announcing that next season, Season 19 is going to be my last," DeGeneres started off before carefully adding, "The past 18 years have changed my life. You've changed my life." She continued, "I am forever grateful to all of you for watching, for laughing, for dancing ... sometimes crying. This show has been the greatest experience of my life and I owe it all to you. Thank you. Thank you. Thank you."
The popular television host went on to explain how she mulled the bittersweet decision over with herself, her wife Portia De Rossi, Alexa, Siri, and essentially anyone else that would listen before eventually coming to the decision. "The point is, I need to take a break from talking," she explained succinctly.
But why stop at 19 seasons? According to DeGeneres, she always knew she would. After joking about 19 being her favorite number due to the 19th amendment and it being the atomic number for Potassium on the periodic table, DeGeneres got serious and explained the decision was simply a matter of "timing" and following her instincts. "The truth is, I've always trusted my instincts. And my instinct told me it's time," she confessed.
DeGeneres did, however, promise to make the 19th season "fantastic." "Every day will be a celebration," she vowed.