The Truth About The Queen's Relationship With Barack Obama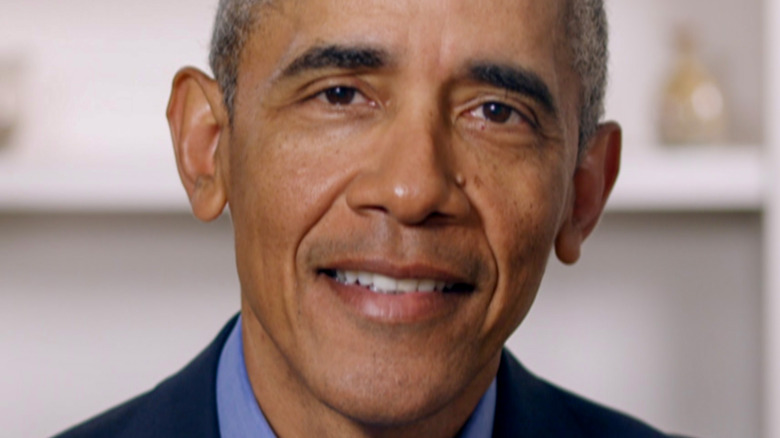 Getty Images/Getty Images
We may receive a commission on purchases made from links.
Like many other presidents that came before him, Barack Obama has had a great relationship with Queen Elizabeth. According to Town & Country Magazine, Elizabeth has spent time with 12 out of the last 13 sitting presidents. Lyndon B. Johnson is the only American president that did not meet Elizabeth during her reign.
Business Insider shares that Elizabeth has been in charge of the monarch since 1952, and at this time, she's been the most prolonged figure in power. Of course, Donald Trump was the most recent president to meet with Elizabeth, and during their meeting, he enjoyed plenty of events, including a tea with Prince Charles and attending a D-Day anniversary celebration.
Before Trump, Barack was in office for two terms as president. During Barack and Michelle Obama's meetings with Elizabeth, a photo of Michelle and Elizabeth with their arms around one another went viral. According to BBC, the gesture went against "royal protocol," but according to Michelle, Elizabeth wasn't bothered by it.
"So I had all this protocol buzzing in my head, and I was like 'don't trip down the stairs and don't touch anybody, whatever you do,'" Michelle said at a speaking engagement in London (via CNN). "And so the queen says 'just get in, sit wherever' and she's telling you one thing, and you're remembering protocol, and she says 'Oh it's all rubbish, just get in.'" 
Keep scrolling for more details on Barack and Michelle's special relationship with Elizabeth. 
Barack Obama and Queen Elizabeth are close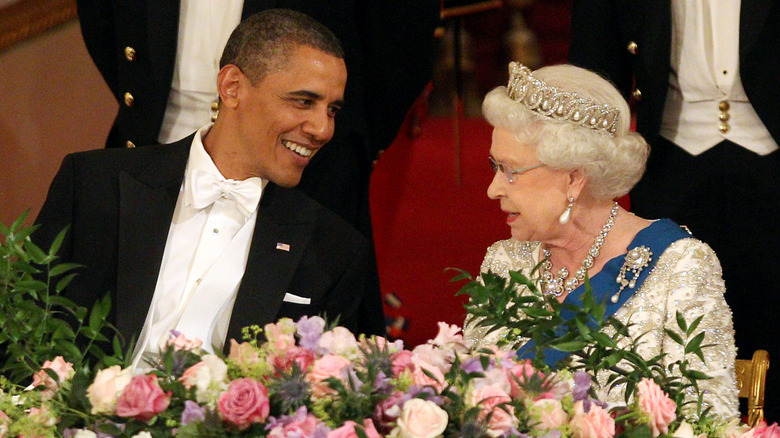 Wpa Pool/Getty Images
Barack Obama and Queen Elizabeth have a great relationship. Barack and Michelle Obama first met Elizabeth in 2009, and it had a profound effect on the queen. According to author Tom Quinn, who authored the book "Kensington Palace: An Intimate Memoir from Queen Mary to Meghan Markle," Elizabeth has been dying to get Barack back to England.
"The Queen has a soft spot for Americans after meeting Barack Obama, who she completely fell in love with – so much so that she has frequently asked her courtiers if they could arrange for him to come to Britain now he is no longer president," Quinn wrote in the book.
Barack also gave Elizabeth a very American gift, according to BBC America. The former president gifted her with an iPod full of photos in 2009. Capricia Penavic Marshall, who served as chief of protocol for the United States, told People another gift to Elizabeth received from Barack and Michelle (a collection of items from King George VI's trip to the States) touched her.
"When she walked over, and she's flipping and looking through the pages, I'm looking at her, and I'm like, 'Oh, goodness, I hope that she likes it,'" Marshall shared. "And I want to say that I saw a little glisten of a tear in her eye after she paged through it a bit. She looked to the president said, 'Thank you so very much for this.'" How sweet!