Who Is D'Andra Simmons' Mother, Mama Dee Simmons?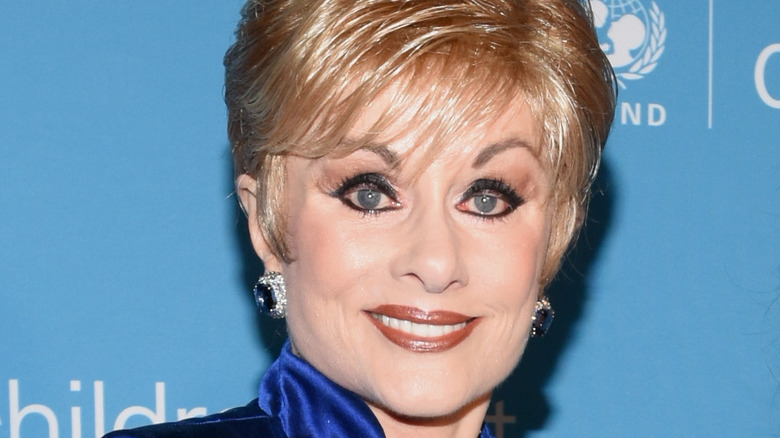 Cooper Neill/Getty Images
D'Andra Simmons' relationship with her mother, Mama Dee, has been one of the unquestionable highlights of "The Real Housewives of Dallas." Inheriting the family's nutrition brand Ultimate Living, and creating the skincare line Hard Night Good Morning, D'Andra has repeatedly butted heads with Mama Dee as they both try to navigate the family empire. Meanwhile, Dee is "one of the crown jewels of the [city's] social scene," as Bravo described, after all!
D'Andra engaged in a verbal spat with her mom at a co-star's birthday bash on a March episode. The barbs were traded over a dispute about why D'Andra changed her surname to her stepfather's (her biological father's name is Callaway, as she revealed to a fan in 2016 on Twitter). "You said that Simmons can take you a lot further than Callaway can," Mama Dee explained on D'Andra's reasoning, which elicited her daughter's ire. "When I changed my name from Callaway to Simmons, it was because my stepfather had taken care of me," D'Andra said on the show, per People. As she told Andy Cohen in 2018 (via People), her birth father, "was always an alcoholic."
Their relationship has had its ups, however. On the April 20 episode of "RHOD," as D'Andra readied herself to reach out to her stepmother Patsy Callaway following her father's death, Mama Dee had Face Timed her daughter and offered her some no-nonsense advice. So, who is this headstrong fan favorite, off-screen? Keep reading for Mama Dee's story! 
Mama Dee's breast cancer inspired her and D'Andra
Mama Dee Simmons has lived a dramatic enough life to be a "Real Housewife of Dallas" herself. Coming from meager beginnings, Mama Dee has often professed her penchant for wealthy men. In a 2018 interview with the Dallas Observer (via Heavy), she said of first hubby Callaway, "I made up my mind that I wasn't gonna be poor all my life. You can get anyone you want. You just have to know how to work the system."
That said, there was no coattail-riding here. The Texas businesswoman took second husband Glen Simmons' business and expanded it. After a 1987 cancer diagnosis, Dee and her daughter did extensive research on holistic healing, according to their nutrition line, Ultimate Living's, website. They traveled the globe for "over two decades," per the site's description, searching for experts like herbalists and naturopaths, and eventually developing their proprietary supplement sold by the brand.
Even when she caused controversy in 2018 by handing Ultimate Living down to D'Andra — knowing the company was within months of bankruptcy — Dee insisted it wasn't with a black heart. "I wanted to see if D'Andra could turn the company around," she had told "RHOD" producers, per Bravo. Well, Mama Dee did seem right about that, as D'Andra gushed on "The Daily Dish" (via Bravo) later that year, "it's really turned around in the last seven months." All's well that ends well, we guess?