The Real Meaning Behind Nicki Minaj's 'Seeing Green' Featuring Drake & Lil Wayne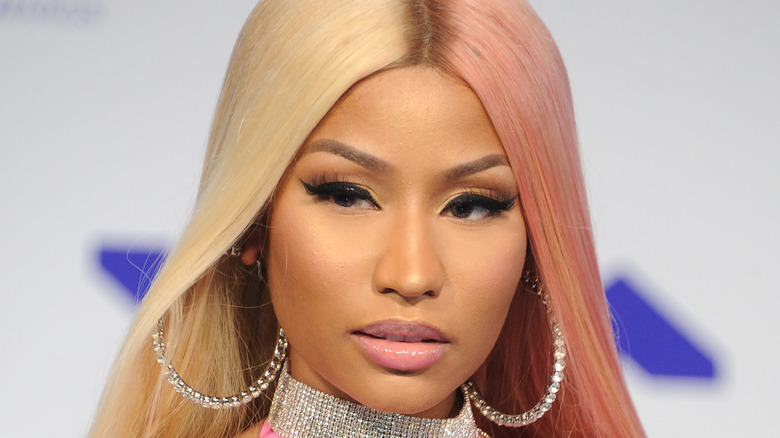 Gregg Deguire/Getty Images
Nicki Minaj has finally made her long-awaited return, after taking some time off following the birth of her first child with husband, Kenneth Petty. On Thursday, May 13, the rapper confirmed that new music would be on the way via Instagram. "New [musical notes emoji] @ MIDNIGHT. Going LIVE from my BEAUTY ROOM @ 11PM EST. DON'T MISS IT," her caption read.
Shortly after her Instagram Live, fans were introduced to the new release – which wasn't all that new. In fact, Minaj released an updated version of "Beam Me Up Scotty," her popular mixtape from 2009. Unlike the original version, however, the project includes a brand new song, "Seeing Green," featuring old friends and Young Money Entertainment alums Drake and Lil Wayne. 
Though fans were expecting to see a collaboration with Rihanna, they still seemed pretty excited about the new song. "'Seeing Green' doesn't sound like NOTHING you hear on the radio today," one excited fan wrote. "I don't think y'all understand how bad THIS was needed for HipHop."
Soon after "Beam Me Up Scotty" surfaced online, the Drake and Wayne-assisted track reached the No. 1 spot on Apple's iTunes. But what's "Seeing Green" all about, though?
Nicki Minaj recalls being black-balled on "Seeing Green"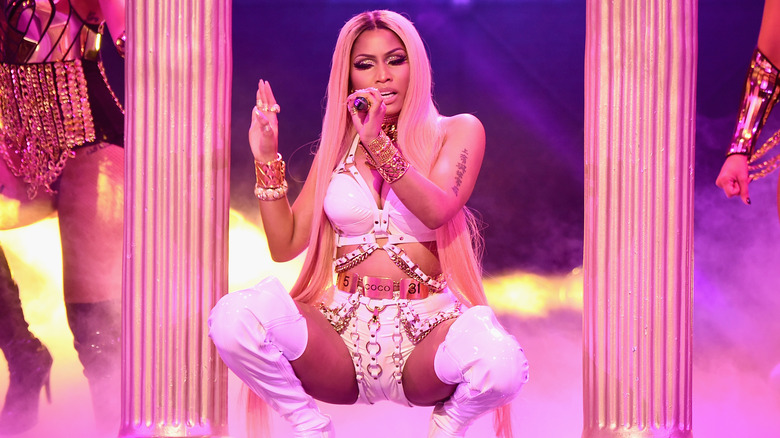 Michael Loccisano/Getty Images
On "Seeing Green," Nicki Minaj, Drake, and Lil Wayne celebrate their much-anticipated reunion. "You now tuned in to the biggest, ever / YMCMB, Tunechi Lee, Young Angel, Young Lion, man,"  Drake raps (via Genius). "Y'all boys get on a track with Onika Maraj, and y'all still dyin' / Man, wassup? We in this b***h." 
Elsewhere, Minaj recalls being snubbed by big corporations, which could be a reference to her being blackballed by radio personalities such as DJ Envy and, allegedly, the Grammys. "No one b***h could be my opp, that s**t offends me," she vents. "It's corporate giants and machines that went against me." In 2019, Minaj called out Grammys producer Ken Ehrlich, after Ariana Grande slammed him over some of his comments. "I pissed off the same man Ariana just called out for lying. Grammy producer KEN," Minaj tweeted. "I was bullied into staying quiet for 7 years out of fear."
While chatting with her fans Instagram Live on May 13, Minaj was joined by Drake, who discussed the "Anaconda" star's comeback. "The song didn't feel right, you not being on it," Drake said. "Nobody does this s**t better than you ... We miss your presence, we miss your bars." Minaj also admitted that Drake helped her out after suffering from a lack of inspiration. "He got me out of my writer's block. He sent me something and it made me feel so competitive again." Thank you, Drake!