Henry Cavill Speaks Out About His Personal Life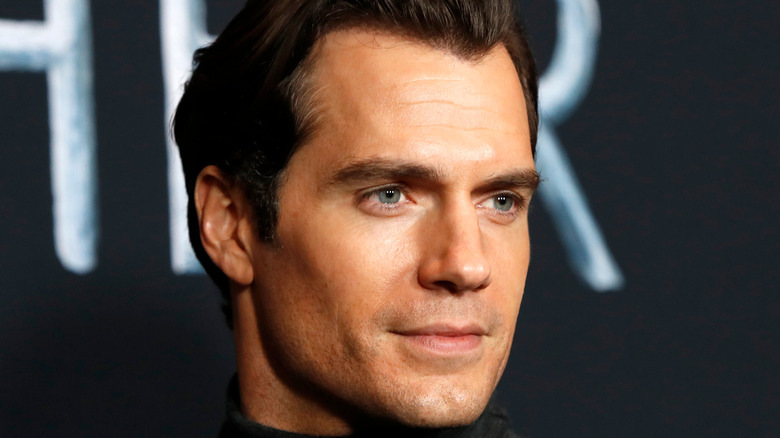 Shutterstock
Actor Henry Cavill has been the subject of social media speculation for a long time. In 2021 alone, the "Man of Steel" star has experienced fans thinking he'd cut ties with Warner Bros.'s DC Comics franchise, per Just Jared, as well as backlash from people who'd found out he once dated controversial actor Gina Carano years ago, according We Got This Covered. Most of all, however, rumors have swirled about Cavill's private life ever since he was spotted on a walk with his new (and then-unidentified) girlfriend in London in early April.
It soon became clear that the new lady in Cavill's life was Hollywood executive Natalie Viscuso, who shared a post celebrating his birthday on her Instagram Stories the following month. But sadly, that sweet revelation about the DCEU star's romantic life seems to have resulted in more gossip and harassment online — leading Cavill to post a lengthy message on Instagram on May 15, 2021, in which he defended the goings on in both his personal life and career. Unfortunately, this isn't the first time Cavill has experienced this downside of fame, telling The Rake in 2017 (via Honey), "As soon as I get into a relationship, a slew of hate, directed at me as well as the girl, saying that 'I've changed.'" He added of this negative attention, "As soon as it starts to affect people in my life, that's when I draw back."
Keep scrolling for more about Henry Cavill's Instagram statement on the latest slew of social media rumors.
Henry Cavill wants fans to stop making 'negative assumptions' about his life
Accompanied by a sweet selfie of himself and his girlfriend, Natalie Viscuso, Henry Cavill has shared a lengthy Instagram message with his fans. "I couldn't help but notice that there has been some social animosity of late," he wrote in part. "It's becoming increasingly prevalent on my feed. There has been lots of, let's call it speculation for now, about my private life and professional partnerships."
While Cavill didn't mention any specific instances of what this "speculation" regarded, the DCEU actor went on to note that he "appreciate[s] the passion and support by those very people who are 'speculating,'" but added that the "gossip" had gotten so rampant that he finally felt he needed to speak up and say "it's time to stop." He added that this "misplaced" passion "causes harm to the people I care about most," adding, "Even your most conservative of negative assumptions about both my personal and professional life just aren't true."
The "Enola Holmes" star concluded the post with a call for "positivity," writing, "I am very happy in love, and in life. I'd be enormously grateful if you were happy with me. If you can't bring yourself to be happy with me, then at the very least try to do yourself proud and be the best version of yourself." Well, we couldn't have said it better ourselves — and considering the post has nabbed over 2 million likes, as of this writing, it seems as though Henry Cavill's fans agree.