The Truth About Jacques Pepin And Julia Child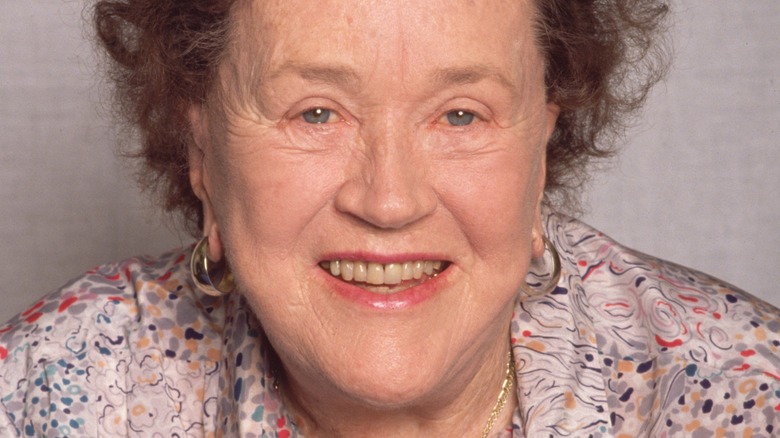 Francesco Da Vinci/Getty Images
You couldn't find two cooks more contrasting yet comparable than Jacques Pépin and Julia Child. While the culinary masters had just one season together for their self-titled show "Julia and Jacques Cooking at Home," their love for wine — they cracked open a bottle almost every episode — and on-screen chemistry was as obvious as boiling water. Their award-winning PBS show saw the French-born chef and California-native cook an array of dishes, from beef Burgundy and boned turkey to the humble hamburger, all within Child's Cambridge kitchen, per The New York Times.
While Pépin previously admitted that he and America's cooking queen had their "small differences," such as their preference in pepper (Child liked white pepper, whereas Pepin used black), they both agreed on the importance of fine, fresh ingredients and being able to have a laugh in the kitchen. "We felt comfortable together, had a good rapport, a good time, and we respected each other," Pépin told NYT in Sugust 2012.
The yin and yang of the kitchen remained close friends up until Child's death in 2004 — from teaching classes together at Boston University to even sharing one final meal in her kitchen, before it was bound for the Smithsonian Institution. But how did these two American-based cooks, with their renowned joie de vivre, even come together? Pépin, who turns 86 in 2021, met Child back in 1960 through the food editor of House Beautiful, Helen McCully — the very woman responsible for the publication of Child's best-selling "Mastering the Art of French Cooking" book.
Jacques Pepin said he was 'slightly jealous' of Julia Child before they met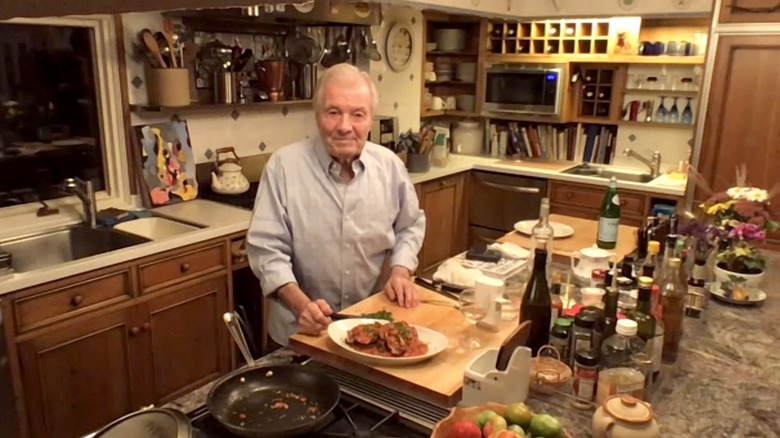 Getty Images/Getty Images
Jacques Pépin and Julia Child's friendship was like a bottle of fine wine — it only got better with age. However, the Frenchman wasn't so warm with her to start. Pépin, who later became a cooking success in his own right, revealed during a tribute piece in The New York Times for Child's 100th birthday in 2012 that he was initially "slightly jealous" of her.
Pépin had arrived in the U.S. just a year before meeting Child and was already quickly making his way up the food chain, but a chance meeting with famous food editor Helen McCully led him to the domestic goddess. The editor of House Beautiful magazine told Pépin she had received Child's manuscript, "Mastering the Art of French Cooking," and asked whether he could provide his expert opinion on it. "I told Helen that I thought the manuscript was really good. In fact, it was the type of cookbook that I thought I would have written someday, and I was slightly jealous of it," Pépin said. 
McCully explained to Pépin that the Massachusetts-based author would be arriving in Boston the following week and asked whether he would like to cook for her. But McCully somewhat warned him about two of Child's most iconic physical traits — her height and voice. "Helen said, 'So why don't we cook for her? She is a very tall woman with a really terrible voice.' This was my introduction to Julia Child," Pépin said. 
Jacques Pépin said he still hears Julia Child's voice in the kitchen
Despite a few (possibly negative) preconceived ideas about Julia Child — the pair hit it off almost instantly. While Jacques Pépin told The New York Times he couldn't remember what he cooked for her — aside from a classic apple galette for dessert — he could recall their conversation, which was mostly in French. "She always joked that we started cooking together in 1949, me in a restaurant apprenticeship and she at the Cordon Bleu cooking school in Paris," he said. "I could relate to her world of cooking and she to mine, as we were both familiar with the names of prominent French chefs, styles of cooking, ingredients, disciplines and equipment of that time." 
From then on, America's créme de la crème of cooking enjoyed almost "half a century" of dinners together with their significant others — according to Pépin, Child's husband Paul was a "great cocktail maker" — taught demonstrations, attended food and wine conventions and, of course, had their own popular show. And while such delicious activities ceased since Child's death, their friendship has apparently never stopped ... Pépin says he still hears Child's "unforgettable" voice in the kitchen. "When I don't put enough butter in the dish. There can be plenty more butter!"