Judge Rejects Robin Thicke's Request For Unmonitored Visits With Son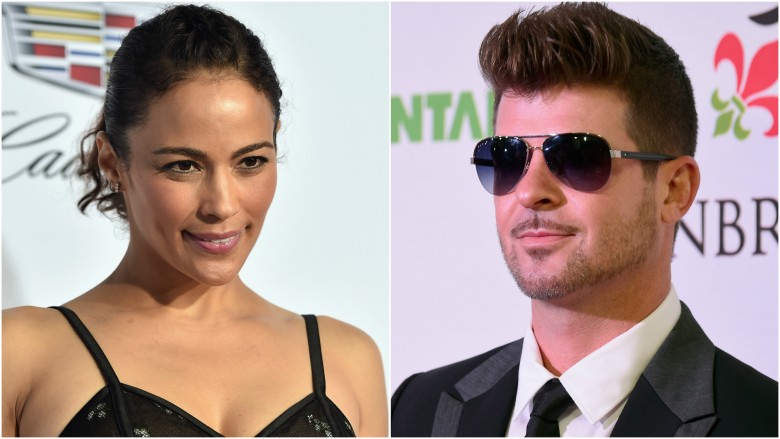 Getty Images
Singer Robin Thicke hit a roadblock this week when he attempted to change his custodial agreement with ex-wife Paula Patton regarding their 6-year-old son, Julian.
As Nicki Swift previously reported, Patton, 41, accused Thicke, 39, of child abuse against Julian as well as physical and emotional abuse toward herself. The actress obtained a restraining order against him as the custody battle stemming from their 2014 divorce continues.
TMZ reported that Thicke has three weekly, monitored visits with Julian on Thursdays, Fridays, and Saturdays for a "few hours" each day. Sources told the site Thicke was upset that he couldn't visit with Julian on Friday, Feb. 3, 2017 because the court-appointed monitor claimed Julian didn't want the visit. Sources also alleged the monitor cut short the visit on Saturday, Feb. 4, 2017, at Julian's behest. According to TMZ, Thicke responded by requesting unmonitored visitation, which a judge struck down. He then requested a new monitor, alleging that the current monitor was biased towards Patton, which the judge also rejected. Finally, Thicke's team requested that the monitor simply be prohibited from canceling or changing visits, and that was denied, too.
In court documents obtained by People, Thicke says there is "no need for a monitor" because he has "never done anything to harm Julian, and [he] never would." In the documents, Thicke claims he "very reluctantly agreed" to end his visit with Julian early because the monitor "indicated that [he] really did not have a choice." He also alleged "Julian whispered to the monitor that he wanted to go to his mom's house" only after Thicke told him that he "had to have a decent meal before he ate more candy...I am especially concerned that [Patton] and the monitor have empowered our six-year-old son with the ability to end a custodial period if he does not like a parenting decisions [sic] I make."
The monitor gave his own reasons for bailing on the visit in court documents, noting, "I felt that we might have made your son feel forced and that we did not listened [sic] to him. I felt that having him go to today's visit may stress him and may cause trauma." Thicke's team claims that "story changed" after Julian went home to Patton's house, alleging, "Julian is either being coached, or telling Petitioner what she wants to hear based on Petitioner's feeling about Julian spending time with his dad."
This he-said, she-said, shows no signs of slowing anytime soon, but you can read more about the real reasons Thicke and Patton divorced on Nicki Swift.