Hideki Matsuyama's Net Worth: How Much Is The Pro Golfer Really Worth?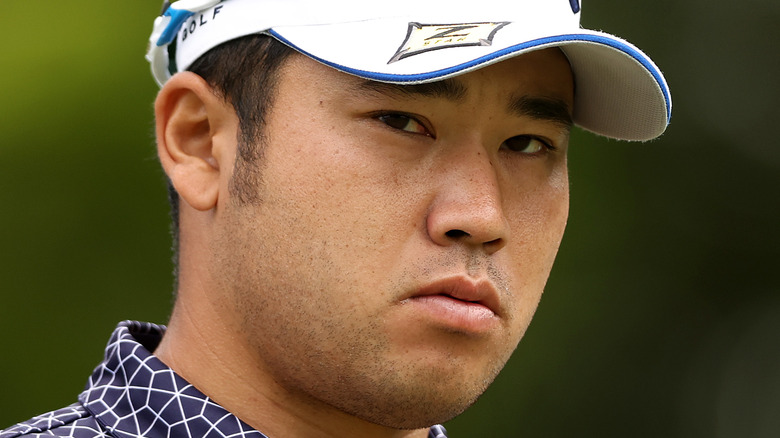 Matthew Stockman/Getty Images
Hideki Matsuyama captured the attention of golf fans worldwide when he won the 2021 Masters, but he had already been a well-known athlete in his native Japan long before his history-making victory. Golf runs in Matsuyama's family, as his father owns a driving range and taught him the game at a young age, per ESPN.
The pro golfer made his first appearance at Augusta National in 2011 when he earned an invite for winning the Asia-Pacific Amateur tournament (via Masters). Matsuyama had cracked the Top 15 at the Masters on four occasions before 2021 which helped his confidence continue to grow. "When I played in my first Masters Tournament as an amateur and made the cut, I felt for the first time that I could compete on the world stage," he said in a 2015 interview (via The Mainichi). "I decided right there at Augusta National that golf would be my lifelong career."
Matsuyama returned to Japan after his landmark victory, and had plenty of time to read about the event as he quarantined for two weeks due to COVID-19 protocols. Although he enjoyed the positive feedback, he said the fanfare was "a bit embarrassing" (via Golf). "I'm not used to all that attention, but grateful that people took notice." According to Matsuyama, he only wore the champion green jacket twice: when he won, and when he met Japan's prime minister.
See the staggering amount Matsuyama is already worth — and the amount experts believe he'll make as a Masters champion.
Hideki Matsuyama has 'limitless' earning potential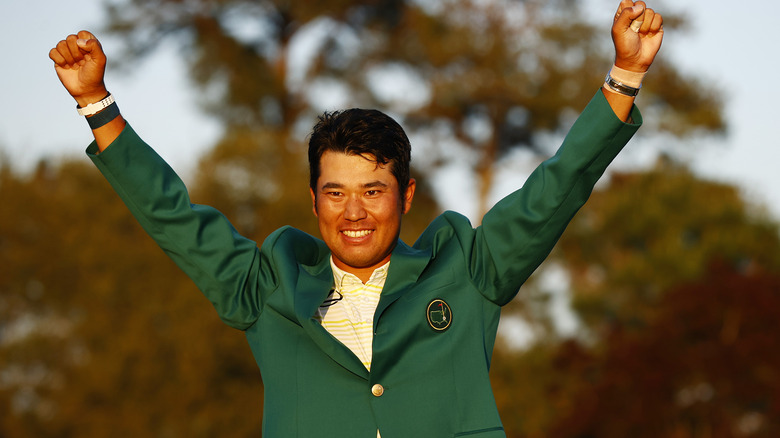 Jared C. Tilton/Getty Images
Hideki Matsuyama earned $2 million for his Masters Tournament victory, but that was only the tip of the iceberg of his potential earnings. The Japanese golfer is worth $35 million, per Celebrity Net Worth, and already had lucrative sponsorship deals prior to 2021. Experts estimated that Matsuyama made between $8 to $10 million a year on endorsement deals with the likes of Lexus, Srixon and Nomura Securities, per Sportico, but they expected those numbers to skyrocket following his Masters title. 
Sports marketing expert Rob Dorfman told Sportico that he expects the golfer to easily triple his endorsement earnings for many years to come. "Barring any career-ending injury or scandal, I'd say a Masters win is easily worth $600 million for Matsuyama," Dorfman said. "He'll be an icon in his golf-mad country." Marketing executive David Schwab echoed those bullish predictions about Matsuyama. "He will have limitless brand deals and corporate requests," the executive told Sportico.
Lexus bought stock on Matsuyama early by inking him to a sponsorship deal in 2014. "His team has a fleet of four LX SUVs at his disposal in the U.S. and 1 RX crossover in Japan," per Automotive News. The luxury automobile company struck "marketing reach" gold when Matsuyama wore a shirt with the Lexus logo when he received the green jacket for winning the Masters. Shortly after his groundbreaking victory, Matsuyama signed a three-year partnership deal with IT conglomerate NTT Data, as covered by their website.