The Real Meaning Behind Bad Bunny's 'Yo Perreo Sola'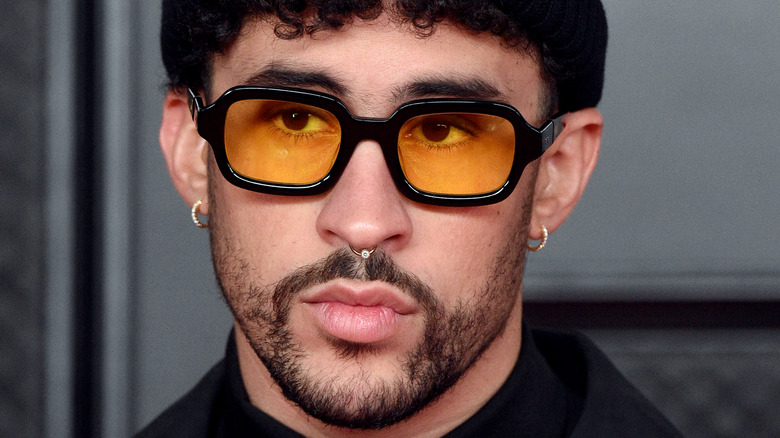 Kevin Mazur/Getty Images
Singer Bad Bunny appears to have the anthem for girls who not only want to go out and dance, but dance by themselves! In March 2020, the Latin Grammy winner dropped his song "Yo Perreo Sola," which translates from Spanish to "I twerk alone." That's right, independent ladies! Bad Bunny wrote this one just for you. He even said, via Rolling Stone, "I wrote the song from a woman's perspective — but I do feel like that woman sometimes."
The song, which came out at the beginning of quarantine in 2020, features Puerto Rican singer Nesi and is off Bad Bunny's 2020 album "YHLQMDLG." While the song's chorus mainly repeats its title, "yo perreo sola," with other lyrics that translate to "no dumb guy get close to her" and "she'll call you if she needs you but for now, she's alone," it appears the singer hit the mark right on for some ladies who simply want to go out and do their own thing.
Yet Bad Bunny did not just stop at an empowering message. He continued to make a statement in his music video for the song. Not only does the rapper appear in full drag for several parts of the video, as if to literally put him in the perspective he sings about, but he also features an array of different women dancing freely — and yes, alone. For Bad Bunny, it seems that "Yo Perreo Sola" is more than just a fun dance song. He's also using it to advocate for women and the LGBTQ+ community.
Bad Bunny sends a powerful message with the music video
Bad Bunny's song "Yo Perreo Sola" is more than just the perfect ladies' night out club anthem, as the real meaning of it goes much deeper. The lyrics stand up to toxic masculinity and reinforce that girls should be able to dance or twerk alone freely, seemingly without men trying to interfere. The music video for the song even ends by sending that message home with a type of PSA that translates from Spanish to English to, "If she doesn't want to dance with you, respect her, she twerks alone."
The reggaeton artist also appears in drag for some of the video, proving once again that he's an ally to the LGBTQ+ community. Whether he dressed as woman to go along with the song's message or to express inclusivity, Bad Bunny does it all with intention. He explained to Entertainment Tonight, "I think, as a reggaeton singer, I have a [fan base] that I think needs that message or that type of education," adding, "so, I decide to talk about these issues because it's important."
When promoting the song on his Instagram, Bad Bunny posted a photo of himself in one of his drag looks. In the caption he wrote that he made "the most badass video" and it's hard not to agree. But as Bad Bunny told W magazine, when it comes to what he's singing about, he said, "I'm simply being myself," and that is something we can definitely get behind!