The Real Meaning Behind Bad Bunny's 'La Noche De Anoche'
Kevin Mazur/bbma2020/Getty Images
Bad Bunny has been a very busy man. The Puerto Rican rapper, whose real name is Benito Antonio Martínez Ocasio, started his music career humbly, posting songs to his Soundcloud account while working as "a packer in a supermarket," according to Genius. Since his 2017 single "Soy Peor," and his 2018 debut album, X 100PRE, his star is on the rise as a singer, songwriter, and producer of Latin trap and reggaeton music. He has since collaborated with artists like Cardi B, Nicki Minaj, and Drake.
His latest album, El Último Tour Del Mundo ("The Last Tour in the World"), was released in November 2020. It's his third album that year! In February 2021, he released a fiery new video— literally — for the single from that album, "La Noche de Anoche," just in time for Valentine's Day. The video is for his collaboration with Rosalía and features the pair literally in flames as they sing in each other's arms in a vast, Dali-like setting.
Now, we're taking a look at the song behind that new video. Let's investigate what "La Noche de Anoche"  is really about.
There's heat now for Bad Bunny and Rosalía, but will the flame die out?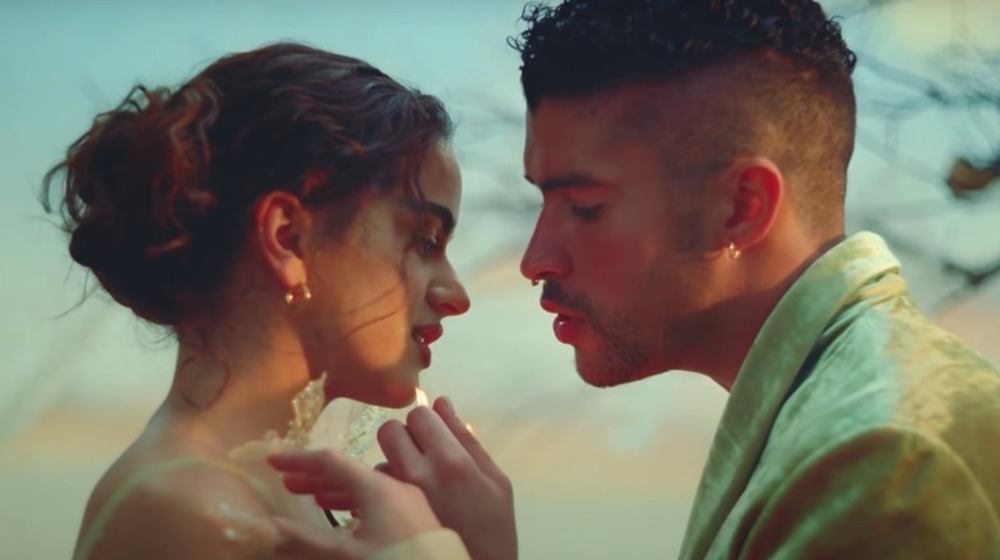 YouTube
In the video for "La Noche de Anoche," Rosalía and Bad Bunny slowly come alight with flames that grow in intensity as they touch and embrace each other. But the vocals of the song seem to deny that fire as the pair fear that their heat will fizzle out. According to Songfacts, the pair play young lovers who talk about the intimate encounter they had "all night last night." They were excited to be together and shared each other's bodies, but now feel insecure and afraid. Lyrics like "Tú y yo junto' creando un imperio ... Pero al final na' 'e lo nuestro fue en serio," which translate to "You and I together creating an empire ... But in the end, nothing of ours was serious," portray first the passion, then the fear, the pair share that this relationship will turn into yet another disappointment. The bond between the lovers in the song was so emotional that it's unlikely they'll have another encounter like this, but their past disappointing relationships make this one likely to fail too.
But these are only roles the two play, and there's no romantic relationship between the two singers. Bad Bunny went Instagram official with model Gabriela Berlingeri, and it's rumored that Rosalía is dating The Weeknd, though it hasn't been confirmed. At least any shippers out there can keep this steamy video in their dreams.