1 In 4 People Think Miley Cyrus Should Date This Celebrity Next
Shutterstock
Miley Cyrus is quite a star, and her dating history shows it too. The "Wrecking Ball" singer has dated several hot celebs over the years — most notably Liam Hemsworth, who she has been with on and off over the last decade, even marrying in 2018. However, their marriage didn't last long, and the couple called it quits in 2019. Afterwards, she dated Cody Simpson until 2020.
Cyrus has also been quite open about her sexuality, defining herself as pansexual (via People). In the past, she's been linked to model Stella Maxwell. as well as Kaitlynn Carter. In a 2020 episode of the "Call Her Daddy" podcast, Cyrus got candid about her attraction to women vs. men.
"Girls are way hotter. We know this. Everyone, I think, can agree that from ancient times d*** makes wonderful sculptures," she said, per People. "Other than that, I'm not as interested. I like d*** as art pieces."
While Cyrus has been in many high-profile relationships, her fans would still love to see her date other people — namely, other stars. Nicki Swift conducted a survey of 579 people in the U.S. and asked them who Cyrus should date next. And the answer turned out to be quite interesting!
Miley Cyrus should date this fellow former Disney star next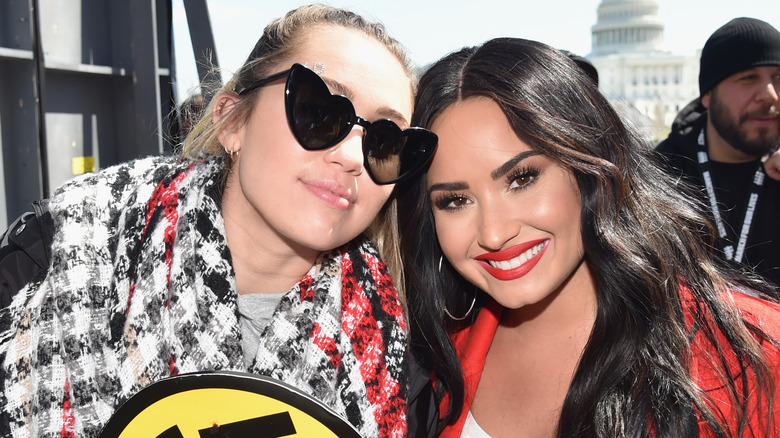 Kevin Mazur/Getty Images
Over 25% of respondents in the survey said that Miley Cyrus should date Demi Lovato next (who also defines herself as pansexual). This answer is interesting, considering Lovato once sparked dating rumors with Cyrus' younger sister, Noah, due to their own close relationship. 
Miley Cyrus and Demi Lovato have known each other from their days as Disney stars, and have gone through ups-and-downs in their relationship. In 2014, Lovato said on a Boston radio show, via Billboard, that she doesn't have "anything in common" with Cyrus anymore. "We're like, we're acquaintances...," she said at the time. "It's life, and people change."
However, it was only a matter of time before they got back on speaking terms. The old friends reconnected on Cyrus' new show, "Bright Minded: Live With Miley," where they talked about their trials with the entertainment industry and body image issues. When Cyrus opened up on how she struggled with her body image after her performance at the 2013 MTV Video Music Awards, Lovato was quick to empathize with her old friend. "[I] didn't know and I feel like we've gone through times where we're closer and then distant — and that's fine, that's what friends do," Lovato said, adding that Cyrus should call her if she feels that way again.
Lovato and Cyrus now seem to be closer than ever, and that could be the recipe for a healthy relationship if they ever decided to go that route.
Should Miley Cyrus date The Weeknd?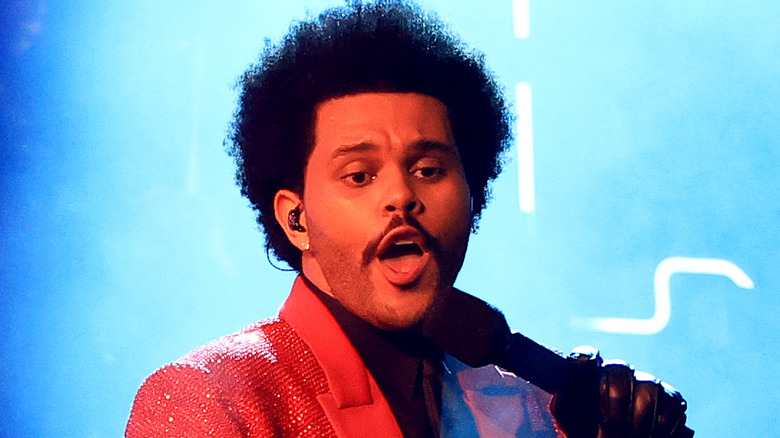 Mike Ehrmann/Getty Images
While Demi Lovato was voted to be a favorite dating prospect for Miley Cyrus in the survey, there are some other interesting names on the list too. Over 23% of respondents said that Cyrus should date The Weeknd next, while over 20% said that Harry Styles should be her next lover. (In 2020, Cyrus herself even said "he's looking real good.") Other celebrities on the list include Shawn Mendes and Cara Delevingne. Respondents gave them each 15% of the vote.
Irrespective of whoever Cyrus chooses for her next date, it's clear that she's not shy of poking fun at her dating life. She recently took to TikTok to share a bunch of headlines about her love life. Some of the headlines read, "Report: Miley Cyrus Drunk Dialing Exes," "Liam Hemsworth Was Sick Of Being Humiliated by Miley Cyrus," and "What Really Ended Miley Cyrus And Nick Jonas' Relationship," among others. The video had a dramatic ending with TikToker King Moxu entering shirtless in the frame and kissing Cyrus on the lips. After the smooch, they stared at the camera and the video ended.
Clearly, Cyrus is having much fun with people talking about her love life. However, it'll be interesting to see if she matches with any of the popular names in the survey. And if she manages to get along with Harry Styles, Demi Lovato, or The Weeknd, then we'd love to see a musical collaboration!