What Kristen Bell And Dax Shepard's Body Language Reveals About Their Relationship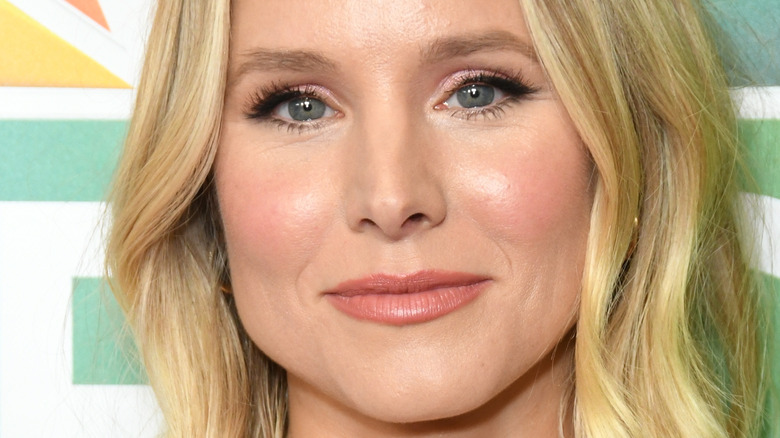 Shutterstock
Kristen Bell and Dax Shepard met at a dinner party in 2007, but, at the time, Bell felt "no sparks whatsoever," according to a 2019 interview with Today. However, a couple of weeks later, she and Shepard were at the same hockey game, and they got to talking — and flirting. They started dating shortly thereafter, but things weren't all rainbows and butterflies for two people who fell "madly in love," as Bell told Harry Connick Jr. in a 2017 interview. She revealed that her relationship with Shepard was riddled with arguments. About three months into their relationship, Shepard broke things off.
"We were dating for about three months, and I already knew that I was in love with him and he was hesitant because he knew he was still dating other people. He sat me down and said, 'I can't have this right now. I think you're wonderful, but I am still dating other people.' And then I, like, liquefied and fell to the ground, but I felt incredibly respected that he had the balls to tell me we weren't in the same place," Bell told PopSugar in 2017. That didn't last long, however, and Shepard came back a few days later, realizing he made a mistake. According to People magazine, Bell and Shepard went to couple's therapy, and agreed to work on their relationship. However, it was at that time that Bell was forced to make a major compromise. Keep reading for more.
Kristen Bell and Dax Shepard got married in 2013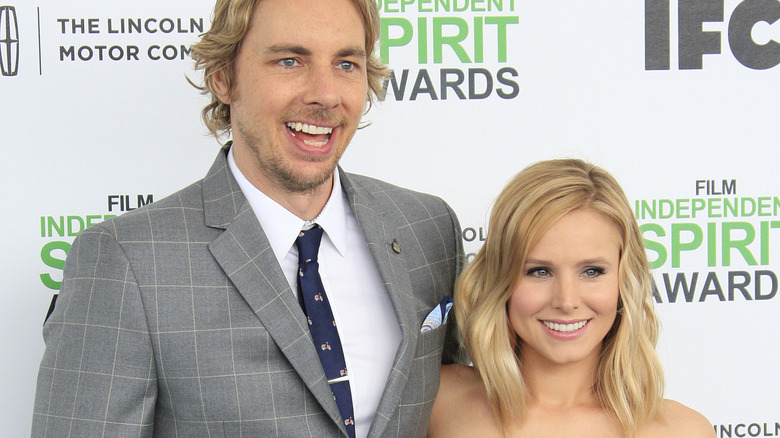 Shutterstock
According to People, Dax Shepard didn't believe in marriage, so Kristen Bell basically had to be okay with the fact that she would never be his wife. "He has a great argument that the state having a piece of paper doesn't mean he's going to be nice to me and by my side for the rest of my life. [Rather], that is going to be evidenced by how we treat each other and the commitment that we make. I had surrendered, like 'Okay, well, I'm never going to get any sort of traditional marriage out of this, and that's okay because I trust him.' I really, really trusted him and believed that we were going to go the long haul," she told the outlet. 
However, in 2009, Shepard popped the question. "Forget the tradition or history of marriage as a concept, you knowing I was doing something that I didn't want to do because I loved you was a big sign for you," Shepard told People about his decision to propose. Bell and Shepard got married in 2013 in an intimate courthouse ceremony. That same year, they welcomed a daughter named Lincoln, and about a year after that, daughter Delta made them a family of four. The actors seem to have one of the strongest marriages in Hollywood, so Nicki Swift wanted to dig a little bit deeper into their relationship by chatting with an expert.
Dax Shepard and Kristen Bell are 'aligned,' expert says
Shasta Townsend, a specialist in relationships, intimacy, marriage, love, and sex, was recently ranked in the top 50 sexologists in the world, so Nicki Swift thought she would be the perfect person to do a little bit of analysis when it comes to Kristen Bell and Dax Shepard's relationship. "The first thing to note in any couple is simply the direction of their bodies in relation to each other. Are they leaning in toward each other and do they appear to be supporting each other?" Townsend asked. She then took a peek at Bell's Instagram to provide an example.
In one particular photo (above), Townsend noted that "Bell [had] her arm Shepard, [which is] a classical supportive pose." It's "refreshing to see a woman offering support to her man. Shepard is fully receptive to this. He is leaning in toward her," Townsend pointed out. Looking closer at the image, Townsend paid attention to the couple's shoulders. "They are in perfect alignment. Their shoulders are exactly lined up, going in the same direction and almost looked symmetrical despite the difference in their size. This suggests great harmony," she explained.
"Not only are their bodies leaning toward each other but they are also harmonized and aligned. This is subconscious. You can't fake this. This small detail suggests they are on the same page," Townsend added, suggesting that the two are "in sync" because they are lined up without even "looking at each other."
Do Kristen Bell and Dax Shepard have a good sex life?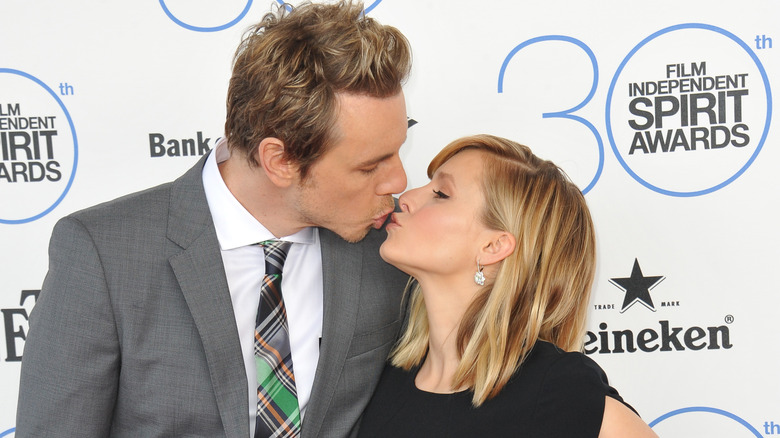 Shutterstock
Kristen Bell and Dax Shepard's body language reveals a lot more than what meets the eye. Shasta Townsend told Nicki Swift that she is really good at figuring out if a couple has a good sex life or not. "I know who has a good sex life and who is not satisfied at all with one glance," she said. "Couples and individuals who don't make eye contact with you or the camera aren't satisfied in the bedroom. An unwillingness to make eye contact denotes a lack of connection, a lack of intimacy and possibly a lack of trust in the bedroom," she explained.
In speaking directly about Bell and Shepard, Townsend noticed that the two are "always looking fully at each other or fully at the camera which is a sign of total transparency, intimacy, and perhaps even sizzling sex." And that seems to check out. In a May 3 interview with Self, Bell opened up about her marriage, and revealed that she's still super in love with her hubby. "The stupid s*** he does just by being him is so attractive to me. The beautiful thing about him is he finds the comedy in everything," she told the outlet.