Inside The Devastating Death Of AC/DC's Bon Scott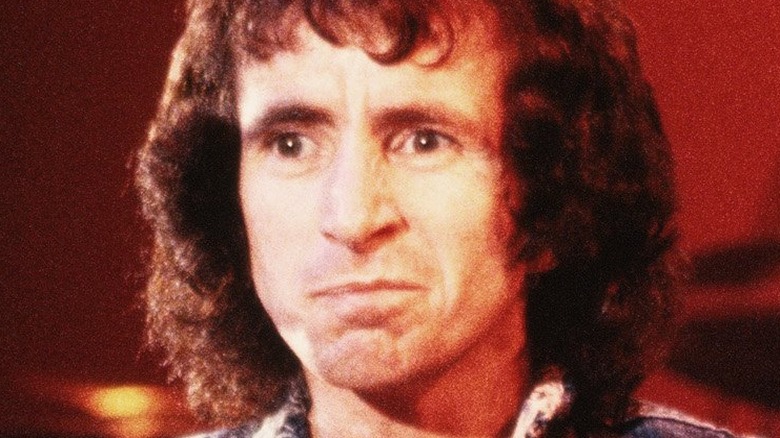 Michael Ochs Archives/Getty Images
Bon Scott was an original singer for the rock band AC/DC. The Australian rocker joined the hard rock band in 1974 alongside founding brothers Angus and Malcolm Young, per Blabbermouth. Scott was the singer on the band's first six albums, which included hits like "TNT," "Dirty Deeds Done Dirt Cheap,"  and "Highway To Hell."
Scott was known for his distinctive, gravelly voice, which his former wife once said was the result of a motorcycle crash he was involved in earlier in 1974, before he joined AC/DC. At the time he was working with the band the Mount Lofty Rangers. In her book "My Bon Scott," Irene Thornton wrote that her then-husband suffered a neck injury, broken collarbone, and a cut throat and that his singing voice never sounded the same following the accident. "He was doing a lot of melodic singing before, had a beautiful tone in his voice, but I don't think that was the voice he ended up with or ... was the AC/DC voice everyone knows," she wrote (via Rock N Roll Insight).
That accident proved to be a grim foreshadowing of his untimely death just years later. In early 1980, Scott had just started working with the Young brothers on music for what would eventually become AC/DC's breakthrough "Back in Black" album. He never got to finish the album or see AC/DC's biggest success as a band.
Bon Scott's death rocked AC/DC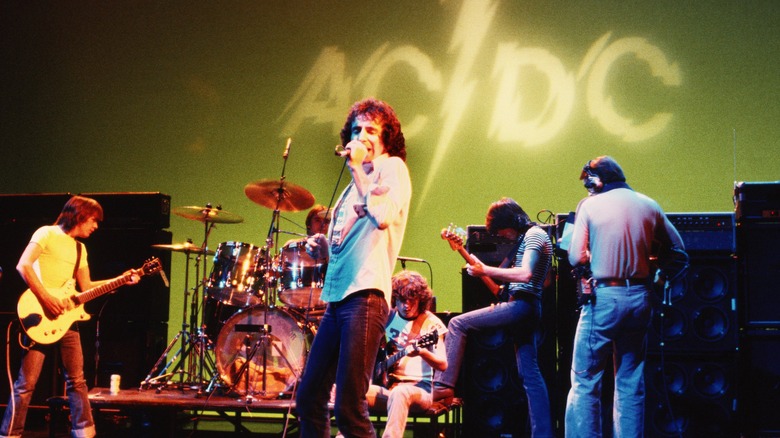 Michael Ochs Archives/Getty Images
On February 19, 1980, Bon Scott and a friend, Alistair Kinnear, went to a club in London and drank heavily. Kinnear said that a drunken Scott passed out on the ride home and he was unable to wake him, so he reclined the seat back and left him in the car to sleep things off, per Ultimate Classic Rock.
The next day, Kinnear was still unable to wake Scott and he rushed him to the hospital, where the singer was pronounced dead on arrival. Scott was just 33 years old and his cause of death was listed as "acute alcohol poisoning," but it was concluded that the rocker choked to death on his own vomit, per The Bay Online.
Upon Scott's death, the rest of the band was lost. "That was probably the hardest moment for us as a band at that time — whether we continue or stop," Angus Young later told Paste. "Because, you know, Bon Scott, when he died — with his own unique style and character and how he performed—we knew we were not gonna find somebody as unique who'd lived that character."
Young revealed that it was at Scott's funeral in Australia that the late singer's father, Chick, told the band that Bon loved working with them and would have really wanted them to go on. "And that was good for us," Young said, "because it felt like we had his blessing." AC/DC eventually hired Brian Johnson, released "Back in Black, and the rest is history.