Who Is Charles Grodin's Wife?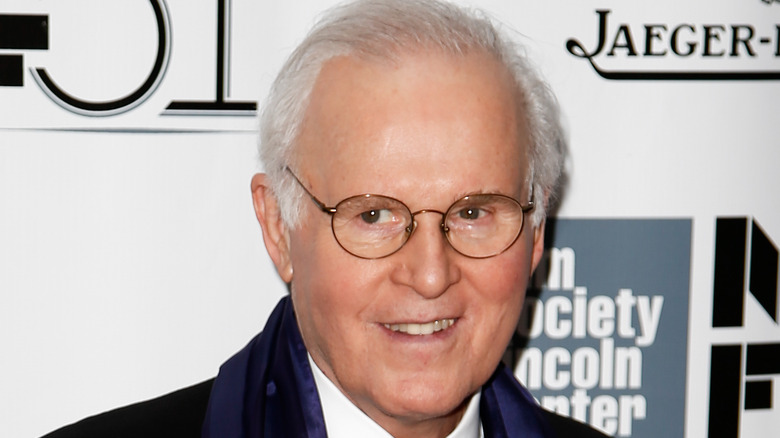 Shutterstock
Charles Grodin died from complications with bone marrow cancer in his home on May 18, according to The New York Times. The actor was known for his comedic talents and left behind an unforgettable body of work including a starring role in 1972's "The Heartbreak Kid," 1986's "Midnight Run," and the "Beethoven" movies. In addition to his numerous film roles, he was an accomplished television actor, and was renowned for his late-night appearances. He is survived by his wife Elissa Durwood Grodin, their son Nicholas, and his daughter Marion (via Entertainment Weekly). He was 86. 
Elissa and Charles had a "meet cute" that seemed plucked from the pages of a Hollywood rom-com. While working as a freelance journalist for American Film Magazine, she interviewed Charles, who asked her out, per Huffington Post. In fact, he did more than that; he asked her to marry him on the spot. "I was expecting it. I know it sounds weird, but there you go. We were star-crossed," she told HuffPost. "We really hit it off. It was a deep connection. So in a way, it was life imitating art, imitating fiction." They were wed a year later in 1983, and the spark never gave out. 
So who exactly is the woman who "hit it off" with Charles in such a magnetic way? Scroll down to find out more. 
Elissa Durwood Grodin's father was famous too
Elissa Durwood Grodin's late husband, Charles Grodin, was known for his prolific career, but her father may have had an even bigger impact on the film industry. Her dad was Stan Durwood — the founder of AMC Entertainment — who was widely credited with creating the modern multiplex theater, per Huffington Post. Elissa said one of the fondest memories of her childhood was being able to see countless movies for free, per The Kansas City Jewish Chronicle.
Elissa continued writing throughout her 30-year marriage to Charles. She became a novelist and wrote six children's books before crossing over to murder-mystery in 2012 with "Physics Can Be Fatal," per KCJC. The heroine of that book is the character Edwina Goodman, who Elissa said was loosely based on herself. "My protagonist is my total alter-ego," she told The Wilton Bulletin in June 2012. "I couldn't pass geometry, but she's a theoretical physicist." She continued the adventures of Edwina in multiple more murder-mystery books (via Amazon). 
Even after blockbuster success, Charles "continued to live in his small studio apartment," per Hamlet Hub. Elissa finally convinced her beau to give up New York City, and the two moved to Connecticut. Though they didn't fully let go. In 2006, the Grodins bought a two-bedroom, two-bathroom apartment in Manhattan. Per Dirt, the couple listed the Upper West Side apartment in 2018 with a hefty price tag of $3.2 million.