The Real Meaning Behind Maluma & The Weeknd's 'Hawai'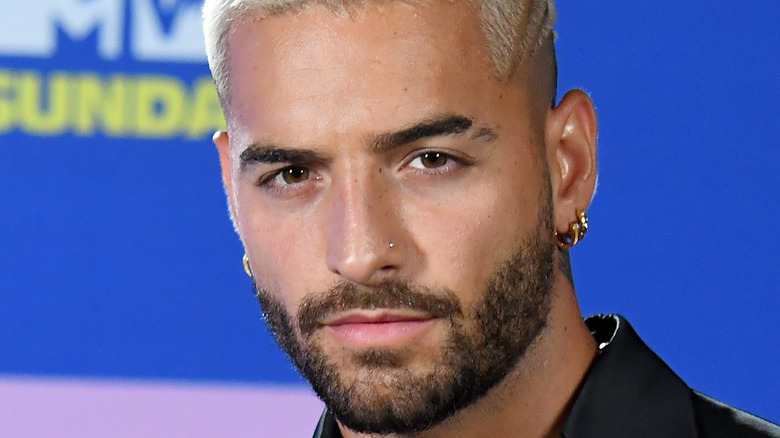 Jeff Kravitz/mtv Vmas 2020/Getty Images
If you're a fan of Maluma, then you were surely excited when he released "Hawái" in July 2020 alongside his fifth studio album, "Papi Juancho." And you were likely just as thrilled when he teamed up with The Weeknd for a remix of "Hawái" that November. Frankly, the Colombian reggaeton and Latin trap singer had a fiery hit on his own, but when he brought the Canadian crooner on board ... fuggedaboutit. 
"I have always admired The Weeknd so it feels nothing short of a dream come true to have him collab on 'Hawái' remix," Maluma said in a statement, per Rolling Stone."[H]e brought another flow to it and sang in both Spanish and English which is impressive." The outlet noted that The Weeknd "adds a characteristically tender and compelling vocal performance to the song" when he sings lines like, per Genius, "So now he's your heaven (Oh, yeah) / You're lying to yourself and him to make me jealous (Oh, no) / You put on such an act when you're sleepin' together / All this 'cause I said I don't want marriage..."
As for Maluma, he sings, "Miéntele a todos tus seguidore' / Dile que los tiempo' de ahora son mejore' / No creo que cuando te llame me ignores / Si después de mí ya no habrán más amores / Tú y yo fuimo' uno." But... what does that translate to? And what is the song really about?
Is 'Hawái' about famous ex-girlfriends?
When you listen to "Hawái" from Maluma and The Weeknd, you'll probably be able to understand part of it yourself. The tune — which was written by a massive team that included both singers, per Genius — is clearly about a past relationship. In fact, if you listen to the lyrics, you'll know that the duo is singing about an ex who's moved on with someone new.
How do we know? Well, while some of the lyrics are in Spanish, Genius provided an English translation. According to the outlet, Maluma sings, "Lie to all your followers / Tell him that the times are better now / I don't believe that when I call you, you'll ignore me / If after me, there won't be anymore loves / You and I were one." He goes on to implore his ex, telling her, "If I did something bad, then forgive me / People will believe you, you play that role well / Baby, but you're not happy with him."
So, who is this ex? While The Weeknd has famously been in an on-again-off-again relationship with Bella Hadid, Maluma also has a famous former flame. He was previously with Natalia Barulich. However, he revealed to People that "Hawái" isn't about either model. "I think that everybody has these kinds of relationships or this kind of way to end a relationship," he said. "I didn't have an exact situation on my mind when I wrote the song."