How Much Was Comedian Paul Mooney Worth At The Time Of His Death?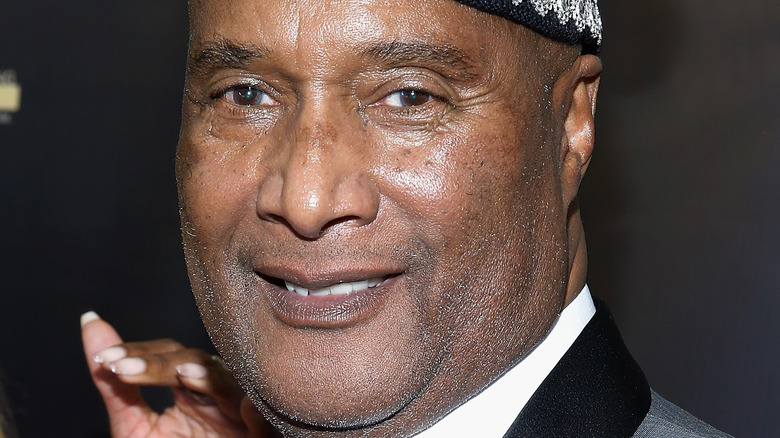 John Lamparski/Getty Images
Comedian Paul Mooney died on May 19 after he suffered a heart attack, according to the New York Daily News. He was 79 years old at the time of his death. A message on his Twitter account read, "Thank you all from the bottom of all of our hearts ...you're all are the best!...... Mooney World .. The Godfather of Comedy – ONE MOON MANY STARS! .. To all in love with this great man.. many thanks."
Celebrities like Ashley Nicole Black and Marc Lamont Hill were some of the notable figures who paid tribute to Mooney on Twitter. Black wrote, "I remember, as a little kid, my dad showing me Paul Mooney's stand up for the first time and I was just blown away. My dad said, 'Now THIS is comedy.' And he was right." Hill added, "Rest In Peace to the legend Paul Mooney."
Mooney had a prolific career in comedy and is arguably best known for his work on "In Living Color," "The Richard Pryor Show" and "Chappelle's Show," per IMDb. Fans might be wondering how much he was worth when he died. Keep reading for more details.
Paul Mooney amassed a small fortune, but didn't 'worship money'
Paul Hawthorne/Getty Images
Paul Mooney is worth an estimated $500,000, according to Celebrity Net Worth. Mooney made a name for himself in the comedy world when he wrote for Richard Pryor. The pair collaborated on Pryor's 1982 film "Live on the Sunset Strip" and co-wrote the 1986 movie, "Jo Jo Dancer, Your Life Is Calling with Rocco Urbisci," per the New York Daily News.
Mooney opened up to NPR in December 2009 about what life was really like before he hit it big. "I was living at a very cheap apartment on Sunset in Hollywood, where Gladys Knight and the Pips stayed," he said. "A bunch of people would come and stay because nobody had any money, and we let them all sleep on the floor and in the bathtub or wherever they wanted to sleep."
Mooney's work spanned decades, and his role as Sam Cooke in the 1978 movie "The Buddy Holly Story" won an Oscar, per the Daily News. According to the Herald Tribune, Mooney wrote for "Sanford & Son" and "Good Times," "which are now considered to be groundbreaking for being the first sitcoms to feature African-American families." Mooney clearly loved comedy and wasn't motivated by money, telling the outlet, "People think you're crazy if you turn money down ... people worship money ... (but) money's an illusion ... because you never see a Brinks truck following a hearse."
Mooney also wrote for "The Patti LaBelle Show, "Roseanne," and even starred in the 2016 movie "The Blacks," per his IMDb.