The Craziest Moments Of The 2017 Grammy Awards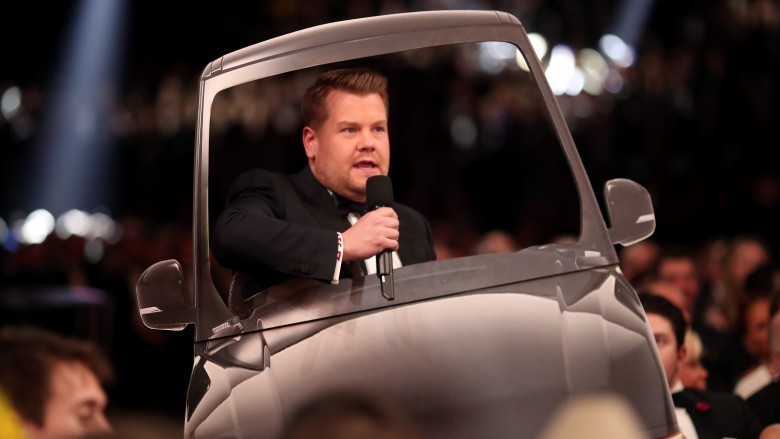 Getty Images
The 2017 Grammy Awards were hotly anticipated for a few reasons: Lady Gaga, fresh off her stellar Super Bowl halftime performance, taking the stage with Metallica; Beyoncé performing with twins in her womb; the Prince and George Michael tributes; Adele's vocals—there's a reason why it's "Music's Biggest Night." Here are the best moments from the show, which was hosted by late night host James Corden
Adele's amazing opening number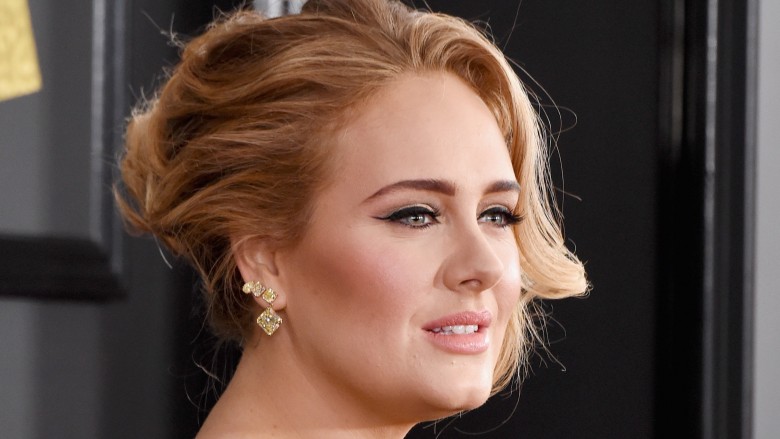 Getty Images
Adele redeemed herself from her ill-fated 2016 Grammys performance of "All I Ask," which suffered technical difficulties that were out of her control at the time. She opened the 2017 Grammy Awards with her hit without a hitch, but that wasn't the extraordinary part. The special moment came at the end, when the ultra-private chanteuse gave her son, Angelo, a shout out. The moment was too cute and prompted a well-deserved standing ovation.
Cee Lo Green's outfit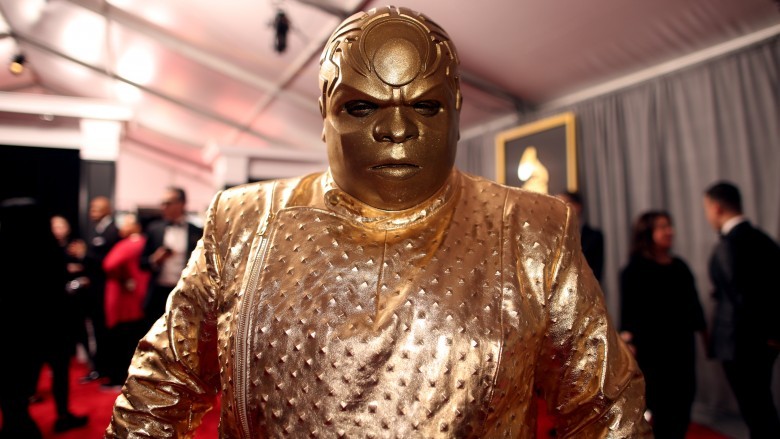 Getty Images
Cee Lo Green has never been afraid to make a statement, whether it's with Muppets onstage or a cat on The Voice. The singer outdid himself at the 2017 Grammys, showing up in literal head-to-toe gold to debut his new persona, Gnarly Davidson, though he looked more like an Oompa Loompa that got lost in Trump Tower.
Beyoncé, obviously
Beyoncé delivered a soaring rendition of her ballad "Sandcastles," as well as "Love Drought" and some poetry off her Lemonade album. She wore glittering gold (though not quite as much as Green), including a regal headpiece, as she and her dancers created an ethereal, Earth-mother vibe onstage and on the glimmering screen behind them. Queen Bey did all of that while carrying twins, which is no small feat.
Beyoncé's own mother, Tina Lawson, introduced the performance. "I am blessed to have daughters, wonderful daughters all of whom make me proud with everything they do—all Grammy winners tonight too. That's not in the script," Lawson said with a chuckle. "I am proud of their accomplishments, their self-confidence and their desire to make a difference. What makes me most proud and why I'm here tonight to introduce Beyoncé is the devotion and love I see in her for her daughter, [Blue Ivy, 5], and the way she has always expressed love to all of those around her..." (Also, how cute was Blue Ivy's hot pink jacket in the audience?)
Twenty One Pilots drops its pants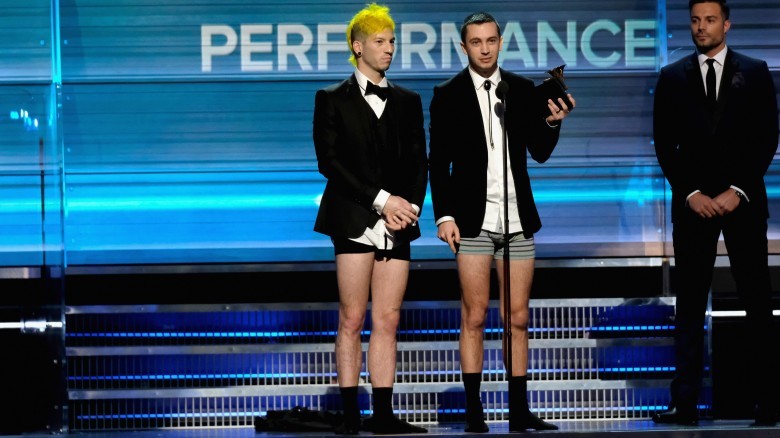 Getty Images
Musical duo Twenty One Pilots accepted the Grammy for best pop duo/group performance without pants. While it sounds obnoxious and silly, there was actually a pretty fun story behind it.
"This story, it starts in Columbus, Ohio. It was a few years ago. It was before Josh and I could make money playing music. As we were watching [the Grammys], we noticed every single one of us was in our underwear," lead vocalist Tyler Joseph told the crowd in his acceptance speech. "We said, 'If we ever win a Grammy, we should receive it just like this!'"
Host James Corden joined in, stepping onstage in a dress shirt and boxers and telling the audience, "If I ever hosted the Grammys, I would also do it in my underwear."
The 'Sweet Caroline' sing-along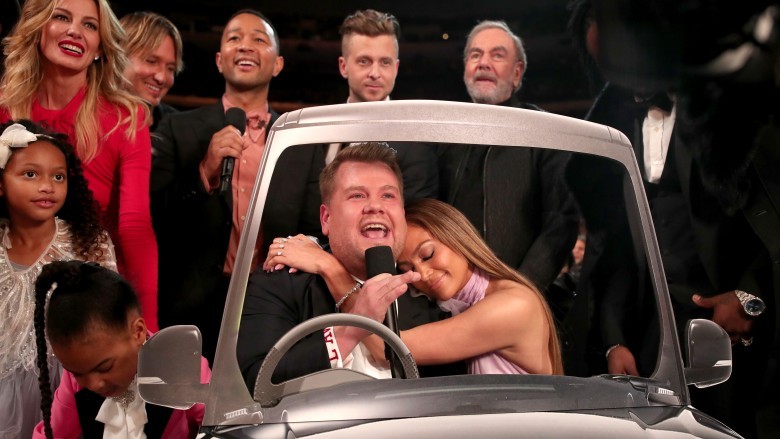 Getty Images
Playing off of James Corden's popular "Carpool Karaoke" video clips, audience members Tim McGraw, Faith Hill, John Legend, Keith Urban, Ryan Tedder, Jason Derulo, Jennifer Lopez, Neil Diamond, and, most importantly, Blue Ivy—Blue Ivy!—launched a "Sweet Caroline" sing-along from their seats. It was everything. Everything.
Adele's mini-meltdown during the George Michael tribute
Adele has good luck winning Grammys but bad luck performing at them! While her opening performance of "Hello" went off without a hitch, she found herself facing technical issues during her cover of "Fast Love" during a George Michael tribute. She started the song, then stopped and said, "I know it's live TV, I'm sorry," followed by a slew of bleeped expletives. "I can't do it again like last year," she lamented. "I'm sorry for swearing and sorry for starting again, can we please start it again? I'm sorry, I can't mess this up for you. I'm sorry." She apologized profusely to the crowd, then started over, and brought the audience to tears. She later apologized again during her acceptance speech for song of the year, and all was forgiven when she took home both record of the year and album of the year.
Metalli-Ga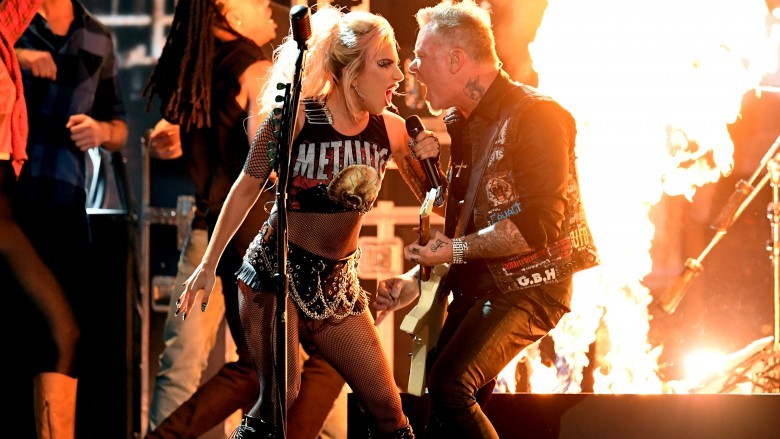 Getty Images
One way you could tell Lady Gaga was stoked to perform with metal legends Metallica? She got a new giant moth tattoo on her back, inspired by the heavy metal band's "Moth Into Flame" single. Frontman James Hetfield had mic issues at the start of the performance, but he and Gaga, being the seasoned professionals they are, made it work by sharing a microphone and bringing the house down.
Beyoncé's inspiring acceptance speech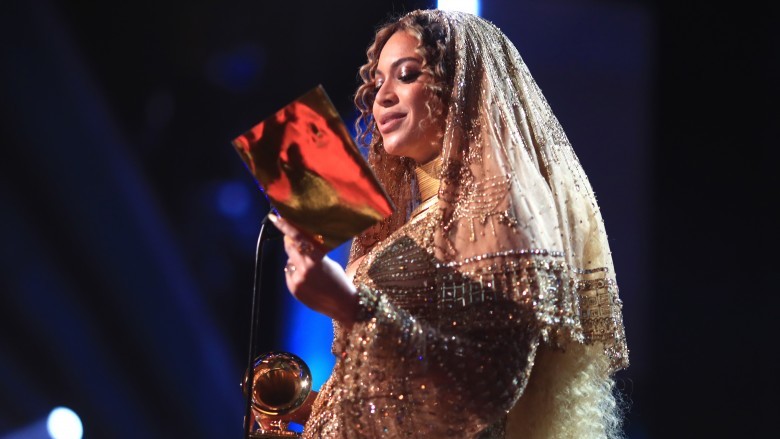 Getty Images
When Beyoncé took the stage to accept the award for best urban contemporary album for Lemonade, she spoke volumes (from a golden booklet.) "Thank you to the Grammy voters for this incredible honor, thank you everyone who worked so hard to beautifully capture the profundity of deep Southern culture. I thank God for my family, my wonderful husband, my beautiful daughter [and] my fans for bringing me so much happiness and support," she said.
"We all experience pain and loss and often we become inaudible. My intention for the film and album was to create a body of work that will give a voice of our pain, our struggles, our darkness and our history," she said. "To confront issues that make us uncomfortable. It's important to me to show images to my children that reflect their beauty, so they can group up in a world where they look in the mirror—first through their own families, as well as the news, the Super Bowl, the Olympics, the White House and the Grammys—and see themselves and have no doubt that they're beautiful, intelligent and capable."
She concluded, "This is something I want for every child of every race and I feel it's vital that we learn from the past and recognize our tendencies to repeat our mistakes."
The Bee Gees tribute
Demi Lovato slayed with "Stayin' Alive," and the Bee Gees tribute performance only got better as it went on, with Little Big Town, Tori Kelly, and Andra Day each paying their respects to the disco legends, and when they all came together for the final chorus, it was epic.
A Tribe Called Quest gets political
A Tribe Called Quest's medley with Anderson .Paak closed with a big statement. As the instrumentals for their song "We the People" began, Busta Rhymes snapped into the mic, "I just wanna thank President Agent Orange for all of the evil that you've been perpetuating through the United States." At that moment, the rest of the members of A Tribe Called Quest, .Paak, and dancers wearing hijabs busted through a wall onstage. Q-Tip ended the performance by yelling, "Resist!"
Bruno Mars' Prince tribute
Bruno Mars didn't need to say much in his Prince tribute. His "Let's Go Crazy" cover and his epic guitar solo said it all—and so did the crowd, who gave him a standing ovation.
Chance the Rapper gets godly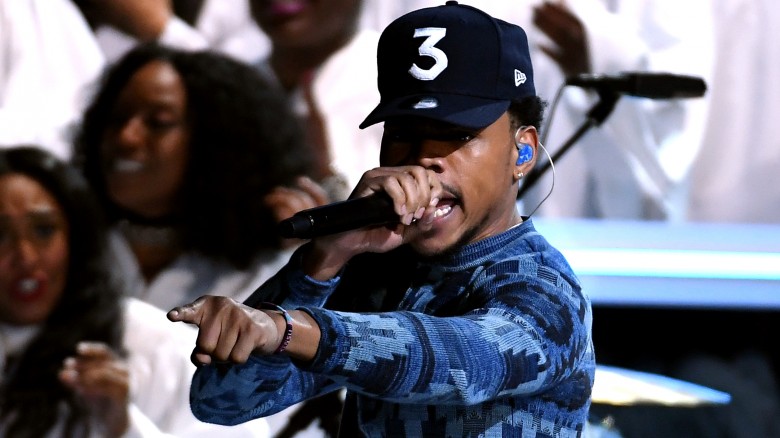 Getty Images
It was a big night for Chance the Rapper. He became the first African-American hip-hop artist to win best new artist since 1999. He also took home best rap album. Then, towards the end of the night, joined by Kirk Franklin, Tamela Mann, and a gospel choir, he took us all to church.