Why Fans Are Going Wild Over Nicki Minaj's 'Seeing Green' BTS Video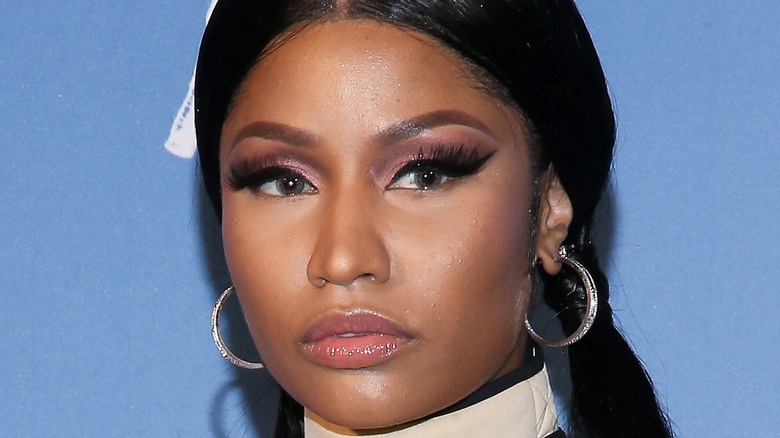 Paul Zimmerman/Getty Images
When Nicki Minaj marked her return onto the music scene on May 14, following a six-month-long maternity break, fans went absolutely wild. "New [musical notes emoji] @ MIDNIGHT," Minaj wrote on Instagram. "Going LIVE from my BEAUTY ROOM @ 11PM EST. DON'T MISS IT."
During her Instagram Live, Minaj chatted with fans and premiered her new much-anticipated project. It wasn't all that new, though, as Minaj ended up re-releasing her 2009 mixtape, "Beam Me Up Scotty," on streaming platforms. Unlike the original release, however, the 2021 version includes three new tracks, such as "Seeing Green" featuring Drake and Lil Wayne.
That same day it dropped, the new song claimed the No. 1 spot on the U.S. iTunes chart, according to Chart Data. To further support the release, Minaj shared a behind-the-scenes look at the making of "Seeing Green" on May 20, which garnered almost 1.4 million views in just one day
Although fans are obviously very excited about Minaj's musical and visual comeback, they're currently going wild about one particular cameo in the video.
Nicki Minaj shared new footage of 'Papa Bear'
As soon as Nicki Minaj's behind-the-scenes video for "Seeing Green" surfaced on YouTube, fans noticed new footage of "Papa Bear" (as Nicki Minaj affectionately calls him), her newborn son with husband Kenneth Petty.
In one scene, the rapper can be seen picking up her son, who's wearing a Burberry onesie jacket. Fans also caught a glimpse of a cute family picture, seemingly taken around Christmas, featuring Minaj's son wearing an adorable all-white tuxedo. As expected, Minaj's Barbz immediately took to social media to share their reactions.
"I'm still not over seeing papa bear," someone wrote on Twitter. "just realized papa bear had a tuxedo on I'm about to pass out I can't take this," another fan wrote. Meanwhile, others are affectionately calling Minaj's son their "nephew." "My nephew is so cute. I wanna hold him," one person commented under The Shade Room's Instagram post. "It's the Burberry baby for me," someone else said about the child's outfit.
Though Minaj has yet to share her son's name, she revealed what she almost named him during an episode of "Queen Radio" (via ET Online). "You know what his name was supposed to be? ... A lot of people said they liked it, but I said, 'Nah,'" she said. "His name was going to be Ninja." For whatever reason, she decided to go with a different one. "I changed it at the last minute."