What Is Kylie Jenner And Travis Scott's Relationship Status Today?
Allen Berezovsky/Getty Images
Reality TV star-turned-entrepreneur Kylie Jenner and rapper Travis Scott delighted fans around the world when they went public with their relationship at Coachella in April 2017, reported Us Weekly. They continued their romance with many more public outings, including at basketball games, birthday parties, the Met Gala, and some of Scott's concerts, according to Us Weekly. The then-couple also got matching butterfly tattoos to supposedly celebrate their relationship and the rapper's "Butterfly Effect" single, which was released in June 2017, reported Us Weekly.
But the real icing on the cake was the surprise birth of their daughter, Stormi Webster. Jenner and Scott were able to keep the pregnancy mostly out of the public eye (despite the persistent rumors), and surprised everyone with a YouTube birth announcement in February 2018. The two seemed to be just as in love with each other as they were their new baby, but the couple soon called it quits on their relationship in October 2019, six months after cheating allegations towards Scott, per Us.
But at the time, a source told Us Weekly that "Kylie still loves Travis and this isn't considered a full breakup to either of them." Is that really true? Now that reconciliation rumors are on the rise, find out what's happening with their relationship now.
Kylie Jenner and Travis Scott have rekindled their romance... maybe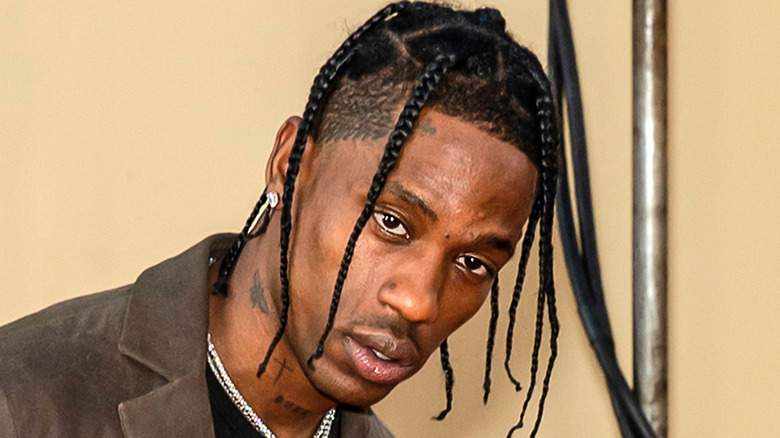 Shutterstock
While Kylie Jenner and Travis Scott supposedly called it quits on their two-year-long relationship in 2019, that's not really the end of their romantic time together, TMZ reported on May 21. While the two have been successfully co-parenting for years, now, Jenner and Scott may actually be rekindling their romance after being spotted together on multiple occasions recently. Not only did Jenner fly down to Miami to celebrate Scott's birthday, have gone on a triple date with Hailey and Justin Bieber as well as Kendall Jenner and Devin Booker, but they also took their 3-year-old daughter, Stormi, to Disneyland earlier this month, per TMZ.
It looks like Jenner and Scott are spending more and more time together for them to be just exes and co-parents. But while it may seem like it, the couple is "not fully back together," a source told People on May 3. "They are great co-parents and love hanging out. They share a fun life with Stormi, but have separate homes."
Still, the insider continued, "They haven't dated anyone else seriously since they split though. It always seemed possible that they would get back together." And they might have but on different terms that work better for their relationship in 2021 than in 2019. 
Jenner and Scott could be back together but in an "open relationship," another source told TMZ on May 21. While it's not certain what's going on with Jenner and Scott, hopefully, they'll figure it out soon.