Pink's Daughter Just Blew Fans Away At The Billboard Awards. Here's How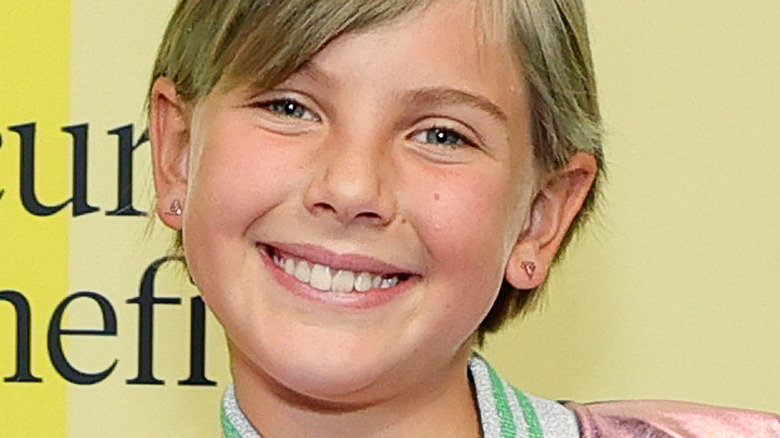 Rich Fury/Getty Images
During the 2021 Billboard Music Awards on May 23, Pink won the Icon award, the tenth person to win this award, and the youngest ever recipient, per Billboard. Pink joins other huge names in music, like Celine Dion, Stevie Wonder, Cher, and Garth Brooks as winners of this prestigious award, which was presented to her by her friend and fellow musician Jon Bon Jovi. As the recipient of the Icon award, Pink performed a medley of her songs, including "So What," "Who Knew," and "Just Give Me A Reason." However, her performance didn't just include her biggest hits; she also sang two of her newest songs. Per People, she performed her most recent single, "All I Know So Far" as well as her recent duet with her daughter, Willow Hart, "Cover Me in Sunshine." 
Pink and Willow released the duet in February 2021, saying upon its debut, per People, "Willow and I find comfort in music, so we're putting this song out for no other reason than we hope that it brings you sweetness, sunshine and comfort too." So it's no surprise that Pink invited her daughter onstage with her for a performance of the song, though it's safe to say Willow blew the audience and viewers away. Keep scrolling to find out how.
Willow Hart's impressive strength and vocals were on display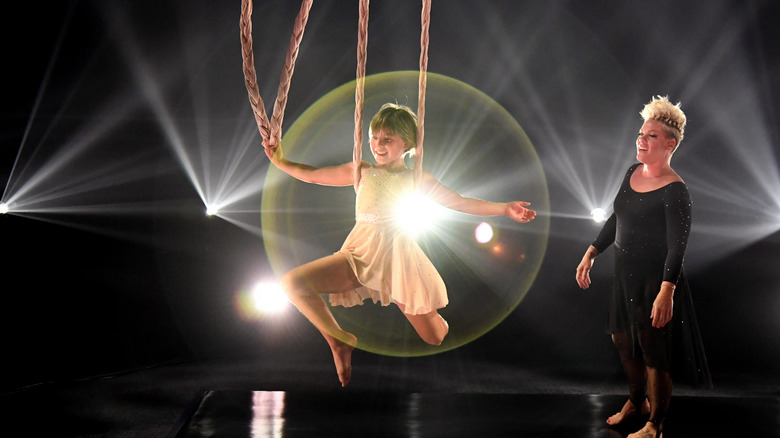 Kevin Mazur/Getty Images
Pink began her Icon award performance carrying her daughter, Willow Hart, in her arms, then laying her gently on the stage before prepping the ropes they'd use for their song. Fans of Pink know that she often includes aerial elements in her shows, and this performance was no different. However, this time she shared her aerial moves with Willow, something she has rarely done before. Willow was confident in both her singing and her aerobatics, showing the world that she is essentially just like her mom. She soared above the stage with ease and kept pace with her much more experienced mother, showing off her strength and incredible talent.
Fans weren't shy about showing their support for Willow's part in Pink's performance. Many took to Twitter to express their admiration for the youngster, who, at just 9-years-old, handled her Billboard debut with aplomb. "Pink, your performance with Willow at the BBMAs was spectacular. You made me cry! I can only imagine how proud you are of her. Thank you for being you and thank you for sharing Willow with the rest of the world," one person tweeted. "What a performance Pink!! Your performance with Willow made me [crying emoji]!! Your music means so much to me. Keep doing what you do!!" another wrote. "Willow was amazeballs!!! Beautiful job sunshine!!" a third person posted.
It's probably safe to say that Willow may someday win an Icon award of her own.