The Real Meaning Behind Pink's 'All I Know So Far'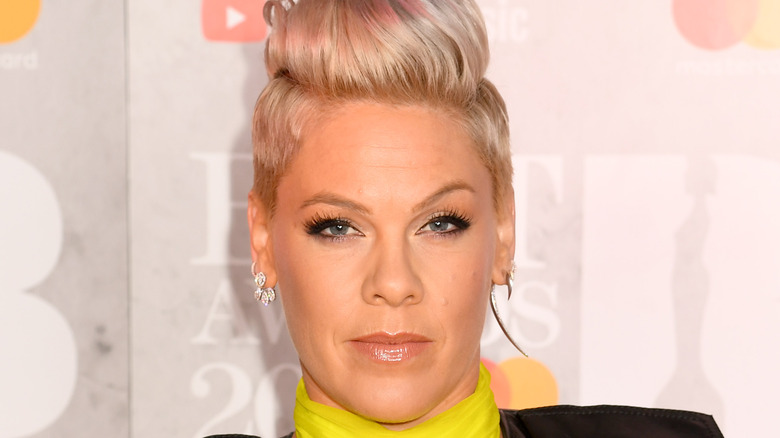 Dave J Hogan/Getty Images
Pink is giving fans multiple — and pretty moving — reasons to "Raise Your Glass." The star has announced a part-retrospective, part-live album, "All I Know So Far: Setlist," dropping on May 21. Along with it comes "Pink: All I Know So Far," a documentary being released on the very same day on Prime Video. The film was shot during Pink's "Beautiful Trauma" tour in 2019, per The Wrap, and she recruited director Michael Gracey — who helmed "The Greatest Showman" — to take it on with her. It's composed of behind-the-scenes footage and interviews as she, "balances family and life on the road," per its description. We're excited! 
Prior to the release of her album and film, Pink dropped the title track, "All I Know So Far," on May 7 along with a simply stunning music video. The artist recruited long-time collaborator Dave Meyers to direct the video, per Variety. It depicts the star embarking on a courage-testing (CGI-filled) adventure and meeting an angelic Cher. It's a wild ride! The two originally worked together in 1999's "There You Go," and this song marks their 16th collaboration. "He's truly a genius and I am full of gratitude for our friendship and to experience all the times we've been able to work together," Pink said in a video announcement, per Variety.
Keep reading for the meaning behind Pink's new, impactful hit song and how her recent health struggles inspired it.
Pink's father influenced the lyrics to her new song
"All I Know So Far" opens with Pink telling a bedtime story to her daughter Willow, referencing "Princess Bride," per Variety. This is meaningful imagery for the star, as she was gravely ill with COVID-19 in 2020. "What do I need to tell them if this is the last time I get to tell them anything," she shared with Heart radio's Mark Wright. "So that was kind of this song. ... It was really, really bad, and I rewrote my will. I thought it was over for us," she added. 
The tune is also a way for Pink to tell Willow her life story. "This song is sort of the story of my life and a letter to my daughter," she said in a video announcement prior to its release (via Variety). That certainly tracks in its lyrics. As the chorus goes, per Genius, "I wish someone would have told me that the darkness comes and goes / People will pretend but baby girl, nobody knows." And as she later sings, "Even I can't teach you how to fly/ But I can show you how to live like your life is on the line." 
The accompanying documentary also inspired lyrics for this beautiful single. "Like the line 'Throw your head back and spit in the wind,'" the singer told Rolling Stone. "My dad used to tell me that when I was a little girl." Pink is pretty brave for sharing.