Did Kat Dennings Just Admit She's Pregnant?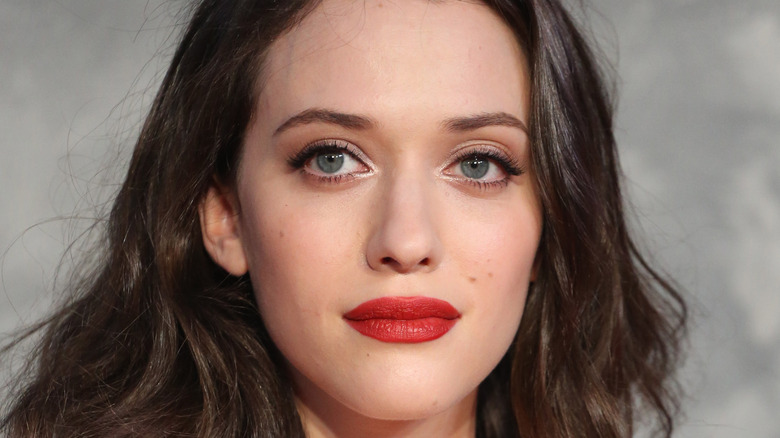 Shutterstock
Kat Dennings and Andrew W.K. suddenly began flooding their respective Instagram accounts with lovey-dovey posts in early May, and by the end of the month, Dennings' is already getting pregnancy rumors. While the relationship reveal came totally out of left field, we have to admit that these two falling in love might just be the most compatible celeb matchup in history. Like if Olivia Rodrigo and Jaden Smith suddenly began dating, or Kristen Stewart and Phoebe Bridgers.
Dennings first posted pictures on Instagram of W.K. on April 29 and then followed it up with a photo of the musician kissing her forehead on May 2 (with no caption). Then just to keep us all on our toes, Dennings posted an engagement ring with W.K. on May 13, with the caption, "Don't mind if I do."
While we were all busy trying to do the math on how long this engagement has been in the works, Dennings dropped another vaguely worded post that has folks wondering if she's also pregnant. After the ride we've just been on, it's not exactly a wild idea.
The couple is keeping their message cryptic
On May 23 (that's less than a month after the relationship was first made public, for those keeping track), Kat Dennings posted to her Instagram another photo of herself and her fiance Andrew W.K. This one is a romantic close-up of the couple's faces, with Dennings planting a sweet smooch on her lover's nose. But it's the caption that's raising eyebrows.
"Think outside the bun," she wrote. Cue the eyeball emojis.
Pregnant-lady emojis, tummy-holding photoshoots, sonograms, and other ~traditional~ baby announcements don't exactly seem like Denning and W.K.'s style. What does seem their style would be to announce a pregnancy with a bit of complicated wordplay. When Dennings uses the word "bun" rather than "box" is she indicating that she has a "bun in the oven?" Or she has a bun outside the oven? Or are we supposed to be thinking outside the hair bun? Honestly — it's confusing.
Heading over to W.K.'s Instagram, he posted the same image to his stories, with an animated skull over the bottom half of the pic — which seems more like a couple's inside joke than a secret message.
There has been no confirmation from either party about a pregnancy, and if history is any indication, they'll probably announce their baby on the kid's third birthday with another cryptic description.